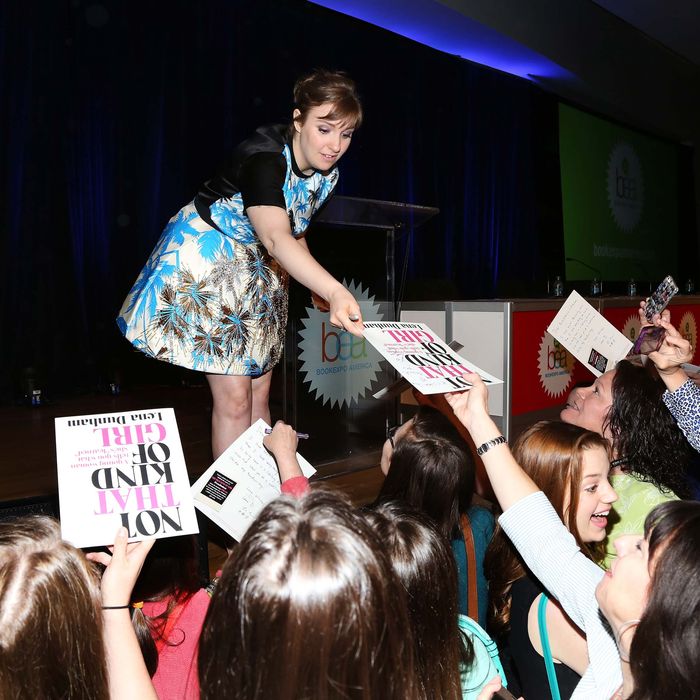 Photo: Taylor Hill/Getty Images
This year's iteration of Book Expo America, last week's trade book fair at the Javits Center, borrowed some of the populist, cross-fertilizing spirit of its newly expanded, very pop-oriented consumer day, BookCon. You definitely got that sense, at least, from talking to booksellers, publishers, and librarians about the forthcoming titles they were most eager to get ahold of for themselves and their customers.
HISTORICAL BREAKTHROUGH
The Miniaturist, by Jessie Burton (Ecco, August)
One of a couple of books touted on the always-swamped "Editors' Buzz Panel" to resonate in the days that followed, the British writer-actress's debut novel mines seventeenth-century Amsterdam for a slowly closing vise of historical suspense, which its editor compared to the best of Sarah Waters and Emma Donoghue — and which checks off several touchstones of the hit historical crossover: gender issues, class struggles … and a possibly clairvoyant miniature-furniture designer.
YA FORAYS
Belzhar, by Meg Wolitzer (Dutton, September)
Skink—No Surrender, by Carl Hiaasen (Knopf, September)
Two known authors with very different styles and followings seemed destined — at least judging by their autograph lines — to bring their own fans and hobbyhorses into the thriving young-adult market. Florida satirist Hiaasen transports one of his oldest characters, the ex-governor Skink, into the genre, pairing him with a teen in search of the latter's loose-cannon cousin. Wolitzer, meanwhile, drags in loose associations with Sylvia Plath (Bell Jar, get it?) and general emotional distress. Both touch on the particular horrors of boarding school.
NONFICTION THAT'S HARD TO TAKE AND HARD TO PUT DOWN
The Short and Tragic Life of Robert Peace, by Jeff Hobbs (Scribner, September)
The writer follows the sad trail of his former Yale roommate, who made it out of the blight of urban Newark, where his father was serving time for murder, and seemingly into the meritocratic elite — only to return to his native city, lead a double life as a schoolteacher and major pot dealer, and become the victim of a drug-related killing.
STANDOUT THRILLER
The Wolf, by Lorenzo Carcaterra (Bantam, August)
The best-selling crime-writer hardly needs a boost, but at BEA his name was invoked most often in his popular corner of the publishing universe, probably because his latest, narrated by a super-criminal on the run from even more super-criminals, links the mob with worldwide terrorism and binds a strong confessional voice with a taut revenge plot.
LITERARY FANBOY FREAKOUT
The Bone Clocks, by David Mitchell (Random House, September)
Every new Mitchell novel is an event, but there's a reason the lines at his signing and his BookCon appearance were unusually long and winding this weekend. Following a more straightforward novel and a work of translation, Mitchell returns to the genre-skipping, globe-trotting, techno-spiritual ambitions of his astonishing Cloud Atlas, taking even greater risks at even greater length.
GREAT-AMERICAN-NOVEL ASPIRANT
We Are Not Ourselves, by Matthew Thomas (Simon & Schuster, August)
Heavily promoted by both the publisher (the title was printed on BEA badges) and fellow authors (a "masterwork," per Joshua Ferris), the high-school teacher's first novel, ten years in the making, charts an Irish-American family's archetypal mid-twentieth-century struggle to reach the upper middle class — to graduate, in other words, from Queens to Westchester — until illness and the Great American Reality intervene.
CELEBRITY HOW-TO FOR THE NEW MILLENNIUM
Not That Kind of Girl, by Lena Dunham (Random House, September)
The Girls creator and serial self-exposer has been through so many backlashes (some of them over getting $3.7 million for this book) that she'll probably be in the clear by the time this snappily designed next-next-generation Helen Gurley Brown sendup hits bookshelves. She helped sell herself by reading for the first time from the introduction at a BEA breakfast, and it turned out to be very good.
LITERARY WESTERN
Painted Horses, by Malcolm Brooks (Grove Press, August)
Grove Atlantic's veteran head Morgan Entrekin has been pushing this, tentatively, as comparable to Charles Frazier's Cold Mountain, a book he discovered. Which would be easy to dismiss if no one agreed, but plenty do. Given its focus on a female archaeologist slowly seduced by the history and natural beauty of 1950s Montana, its proto-feminist hook and historical-social sweep should help the debut author own late summer.
INDIE DYSTOPIAN CROSSOVER BREAKOUT
Station Eleven, by Emily St. John Mandel (Knopf, September)
Following three smart, voicey thrillers published with a small press, Mandel makes the leap to Knopf and to ambitious, fantastical storytelling, with a narrative that jumps in time around a flu that wipes out most of humanity, leaving scattered settlements and, oddly, an itinerant Shakespeare troupe —ensuring a sympathetic eye from booksellers longing to believe that even if society crumbles, literature will survive.
*This article appears in the June 16, 2014 issue of New York Magazine.