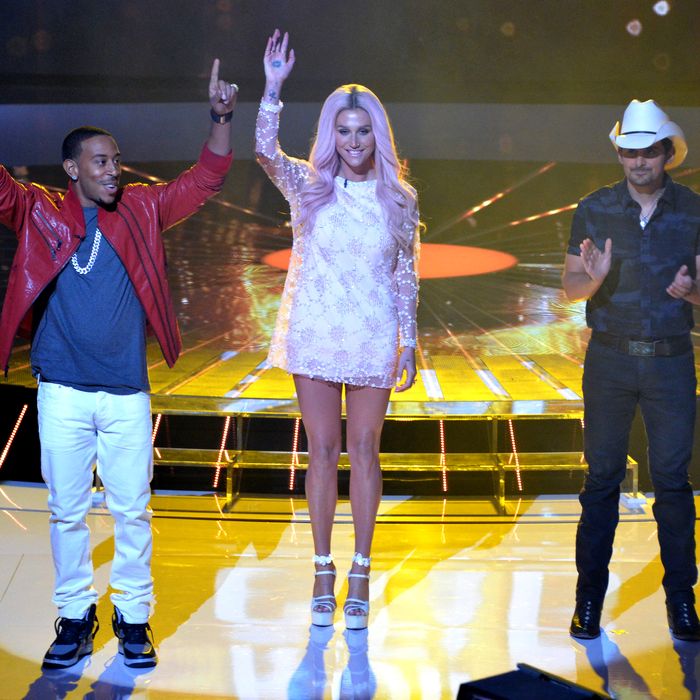 RISING STAR - ABC's "Rising Star" premiered Sunday, June 22 (9:00-11:00 pm ET/PT). (ABC/Eric McCandless) LUDACRIS, KESHA, BRAD PAISLEY
Photo: Eric McCandless/ABC
Despite the recent cancellation of The X Factor and American Idol's steady decline over the past few years, ABC still thinks it can get America interested in a new singing-based talent show. Its trick? Live voting. Rising Star premiered last night, and by the looks of it, ABC is seriously betting on the catchiness of its Rising Star app — which allows viewers to swipe (see: Tinder) and vote live on whether a giant digital wall rises (success!) or doesn't rise (failure!). If you tuned in last night, you'll know that they spent maybe 40 percent of the show explaining how to vote. To save time on upcoming episodes, I made America a handy voting FAQ:

How do I get the app?
Download it from the App Store. (Or the Android store. Or the Windows Phone store. Or whatever store your phone uses.) You can also supposedly Shazam your TV to get the app, but if you knew how to Shazam, you probably wouldn't be reading this. Then stretch your fingers, as the app commands.
Okay, I have the app. What are the rules, again?
1. Download the app.
2. Open the app.
3. When the app tells you to "check-in to vote," swipe.
4. After you're checked-in, swipe YES or swipe NO.
5. Feel the power of democracy.
In picture form, here's your process (with three different artists):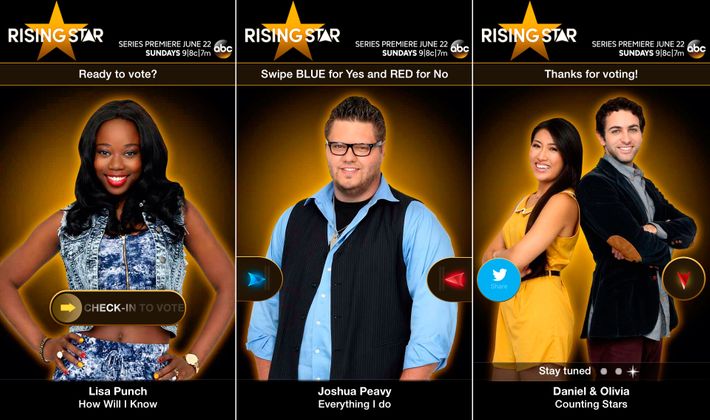 What about the West Coast? Do our votes count?
They say you count, but no, you cannot possibly count.

If America is in charge, why are there even judges?
The judges are there for color commentary, and their votes count as an added 7 percent.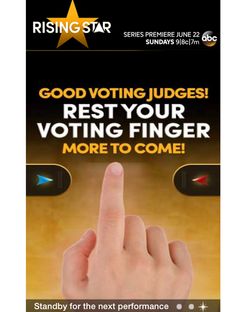 How many votes does a singer need to move on?
They need 70 percent of votes for the Wall to triumphantly rise.
What happens when they don't get 70 percent?
They get to hear Ludacris tell them why they sucked. They don't move on to the next round.
What happens in the next round?
I haven't figured this part out yet — and I'm not sure Rising Star has, either.
Is Josh Groban going to survive this thing?
It seems unlikely.
Why won't my app work?
What do I look like, IT?
Can you explain the directions again?
Why don't you just pick another talent show? I think The Voice is still on.
I miss The X Factor.
Sorry.