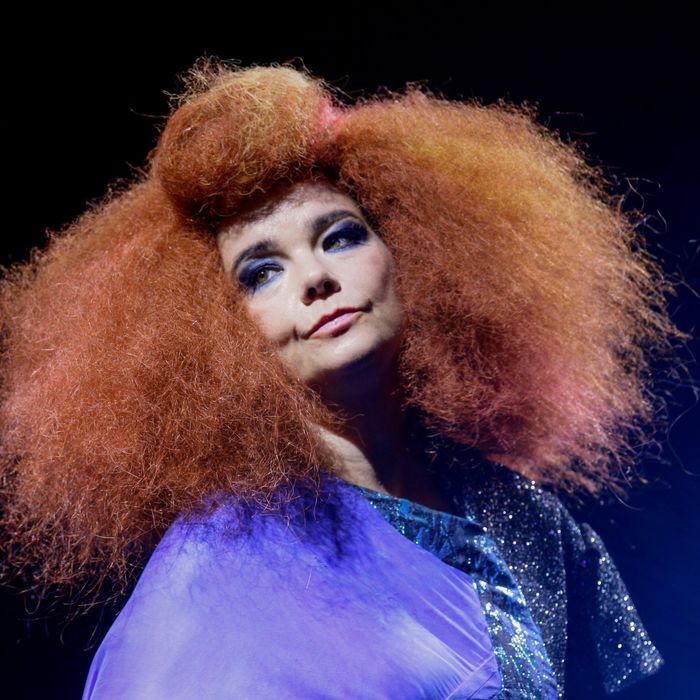 MoMA and Björk do not belong together.
Photo: Mark Horton/WireImage/Getty Images
Today the Museum of Modern Art crawled deeper into cravenness, announcing the upcoming "full-scale retrospective" of Björk. Don't get me wrong: I love Björk and her fabulous amaranth persona, her videos, and her music. All Is Full of Love is often on repeat on my Spotify. Do not mock her fabulous swan costume around me. This isn't about her greatness or about museums' exhibitiions about pop stars or celebrities. It's about MoMA's further damaging its credibility (with the permission of its trustees), riding on the backs of generations of artists and curators as it makes a suicidal slide into becoming a box-office-driven carnival. Tilda Swinton sleeping in a glass vitrine; Queen Marina staring at smitten viewers in the atrium; the trashy Tim Burton show; last season's gee-whiz Rain Room; and of course, the wrecking ball Diller Scofidio + Renfro is about to swing: All are signs of a deep institutional rot.
She deserves serious attention, but Björk's archival materials and costumes, here curated by Klaus Biesenbach, will essentially only tell us what we already know: that she's an incredibly innovative pop musician. We all understand and appreciate that a museum allows curators to pursue their passions. (I love his energy and drive, but Biesenbach's enthusiasms have gotten a bit predictable.) More important, though: Are there no other artists MoMA could think of for such a show? Not one? Living or dead? Really? This is the museum's idea of "contemporary programming"? It's hard to imagine a more tone-deaf institution right now. I have not met one artist who doesn't think that MoMA is lost at sea — even when it mounts important shows of great artists. In its mad marriage of Rock and Roll Hall of Fame and amusement park, MoMA is acting like Hernán Cortés, publicly burning ships in front of troops so that they know there will be no going home.