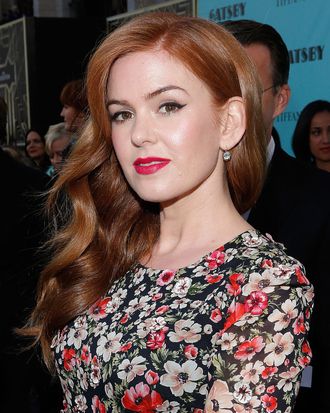 Actress Isla Fisher attends "The Great Gatsby" world premiere at Avery Fisher Hall at Lincoln Center for the Performing Arts on May 1, 2013 in New York City.
Photo: Jemal Countess/Getty Images
Isla Fisher and Rebel Wilson have joined the cast of Louis Leterrier's spy spoof Grimsby, which stars Kick-Ass's Mark Strong as an elite British spy forced to team up with his football hooligan brother (Sacha Baron Cohen). No word on what roles the two women will play, or whether Fisher and Baron Cohen will reprise their real-life roles as husband and wife. (Fisher as a football hooliganess? We can see it.) Still, it's like they always say: The couple that stars in a spy spoof together, stays together.