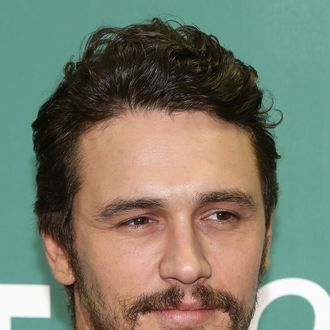 The story — called "Bungalow 89" — is published in Vice's Fiction issue, but since it is written by James Franco and therefore obligated to follow weird performance-art rules, it bears an uncanny resemblance to his real life "Lindsay Lohan Wanted to Sleep With Me" story from a few weeks ago. As in, he uses Lindsay's name and talks about how she wouldn't leave him alone at the Chateau Marmont. Here is the bit about James Franco reading Lohan a story (as mentioned on "Howard Stern"):
Once upon a time a guy, a Hollywood guy, read some Salinger to a young woman who hadn't read him before. Let's call this girl Lindsay. She was a Hollywood girl, but a damaged one. I knew that she would like Salinger, because most young women do. I read her two of the Nine Stories, "A Perfect Day for Bananafish" and "For Esmé—with Love and Squalor." "Bananafish" was great because it has a nagging mother on the other end of the phone line, nothing like Lindsay's real mother, but still, the mother-daughter thing was good for her to hear.
And then here is a bit about a demon who appears to James Franco and explains to him that fame creates many different realities, or something:
"I live on the power of celebrity, and I am celebrity. I am the power bestowed on people like you by all the myriad reflectors of your celebrity: the tabloids, the blogs, the fan pages, the way we sit in fans' minds, the way people read us through your roles in films, etc…Your physical self lives above their heads, in the dream hotels, in the chateaus of rarefied space, and your spirit inhabits their minds, while your teeth and cock feed on their bodies."
It is actually one of the better pieces of technical writing that James Franco has published in a long while? Anyway: "truth is complicated" —James Franco.