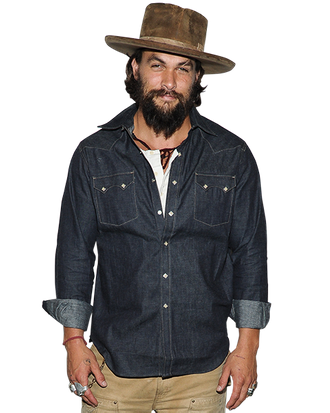 Jason Momoa.
Photo: Rommel Demano/Getty Images
In cast interviews included with the first-season Game of Thrones DVD, Jason Momoa, who played the Dothraki warlord Khal Drogo, stands out from his mostly foreign co-stars in part due to the many American colloquialisms he uses to describe the show, such as referring to his hulking character as "a pimp." Since exiting Thrones, Momoa has portrayed the titular warrior in 2011's Conan the Barbarian and Philip Kopus on the 2014 SundanceTV series The Red Road. But the gentle surfer-bro of Hawaiian-German-Irish-Native-American descent also found time to fit in his directorial debut, The Road to Paloma, which arrived July 4 on VOD and hits theaters today.
In the buddy/road-trip/revenge picture, he plays Robert Wolf, a renegade Native American on the run after killing his mother's rapist-murderer, who had otherwise gone unpunished. Momoa and his writing partner and co-star Robert Homer Mollohan hope to shine a light on a lamentable quirk of American justice that he discussed with Vulture in a recent interview. We also asked him about his wife, Lisa Bonet, who co-stars in the movie, as well as how his Game of Thrones character would have stacked up to some of the other brutes we've seen on the show over the years.
You're known for playing forbidding, grunting warriors butchering their way across fantasy landscapes, like Khal Drogo and Conan the Barbarian. Is the Road to Paloma where you're examining your actual heritage?
I have a little tiny bit of Native American blood on my mother's side, but this movie has more to do with shedding light on what's going on in the reservations. I'm a father, a son, and a grandson, and if anyone messed with my wife, mom, or grandmother, and if the law didn't care about it, what would I do? Would I be defined by that action? Would you? I want to be good man and a good citizen, but I would be fucking crazed if someone hurt my mother like that. I'd probably do the same thing.
What is the specific issue you're dealing with in this film?
This is a unique legal loophole in the U.S.: If a non-native comes on a reservation and commits any crime, the non-native should be prosecuted by a federal court. Tribal law can arrest and hold someone for a year, but tribal law cannot prosecute non-natives. So since the federal courts are so overloaded, some of the cases get tossed out. And there are also not enough cops on reservations to handle the amount of crime.
Can you give us a spoiler-free plot synopsis?
Bob Wolf, the protagonist, is on the run for six months, and keeps to himself. He wants to get his mom's ashes and take them to their ancestral resting place as his last goal. In this situation, you're gonna be on the run, or in prison, or you're gonna die, but you know he's not going to jail. He's saying good-bye to his life and the people in it, and he's going to live on inside the people he cares about. It's how big you live and how hard you love.
Your character is on the run throughout the American West on his motorcycle. While you grew up in Iowa, you had spent a lot of time in the West, correct?
I went rock climbing in all of the locations in the movie — California, Arizona, Colorado, Utah, Nevada. I was living out of my car at the time. I wanted to show the Sierras and those other spots I've loved all my life in the movie.
One of the film's co-distributors is the WWE. Is there a clause in their contracts specifying that there be ass-kicking in any film they have some skin in?
[Laughs.] Maybe? We saw that the WWE had a great promotional apparatus: They can show it to their fans. They feel like the movie has a little bit of everything, like wrestling: story, action, comedy, love, rock and roll, heartbreak. All very human.
You've seen Angel Heart, right? The movie in which your future wife, America's sweetheart, has some shit happen to her character that Bill Cosby would not approve of?
Oh, yeah! Come on, now!
Well, you were 8 when it came out.
I saw it when I was in my teens. I thought the movie was awesome, and like every other man in the world, I thought she was awesome.
So you still watch Game of Thrones?
I'm obsessed with it like everyone else. It's the greatest show on TV! I texted David [Benioff] and Dan [Weiss] right after the goddamn finale and said, "That was 52 minutes, not 60!"
Would Khal Drogo have been able to take the Hound or the Mountain?
He'd fuck all those guys up. They had to poison Khal — otherwise he'd go across the ocean and kill every one of 'em.
Oh, so, Drogo wouldn't prance around, showboating for a crowd, and let the Mountain push his eyes into his skull?
The Mountain would be dead in a heartbeat.
To read more about The Road to Paloma and its spotlighted issue, visit the movie's official site and this Instagram.
[Note: Five days after this interview, unconfirmed rumors emerged on the worldwide nerd network that Momoa would be cast as Aquaman in the emerging DC Cinematic Universe films that will be rolling out over the next several years. Vulture had actually asked Momoa to address rumors about whether he was being considered for the part of the Martian Manhunter or another character in the DCCU, and he replied, "I haven't been offered anything. There's nothing." Coyly played, Momoa!]