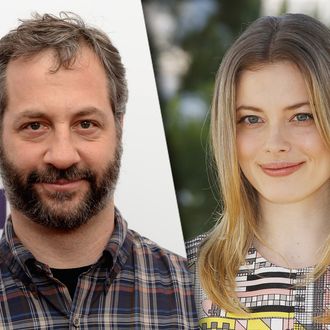 Photo: Valery Hache/Getty Images, Andrew H. Walker/Getty Images
Stepping up its efforts to compete with Netflix and Amazon with original programming, Hulu may be close to landing a big one: Vulture hears the streaming network is in advanced discussions to buy a comedy series written, produced, and (scheduling permitting) directed by film and TV mogul Judd Apatow. A pilot script for the project, tentatively called Love, has already been co-written by Apatow, Brooklyn Nine-Nine writer Lesley Arfin and actor/writer Paul Rust (Super Fun Night). Rust is attached to co-star, and there's talk that Community star Gillian Jacobs — who has a recurring role on season four of the Apatow-produced Girls — has also been approached to star. (One possible stumbling block: Jacobs is locked into Community, at least through Monday; if Sony and NBC find a way to save the show, things could get awkward. Unless, that is, Hulu ends up with Community, though reports say it won't.) Assuming the deal closes — and it has not — we also hear Brent Forrester, a veteran of The Simpsons and The  Office who also worked with Apatow on his late, great, and short-lived Fox series Undeclared, is being eyed to serve as a co-showrunner.
As for what the potential series is about: A person familiar with the pilot script describes Love as a character-based comedy revolving around relationships, romantic and otherwise, with one (very messed-up) couple in particular at the center. And, because this is Judd Apatow, the pilot script has a couple of bad words and talks a little bit about s-e-x. Should Hulu close the deal for Love, it would be a big get for the new content team at the streaming service, led by former Fox and Warner Bros. exec Craig Erwich. It would also underscore just how much digital players such as Netflix, Hulu, and Amazon have arrived: A couple years ago, the idea of Apatow doing a full-fledged show for the internets would've been deemed ridiculous by most Hollywood insiders. Now? Pretty common. (Thanks, House of Cards!) All that said, because there's no closed deal yet, it's possible all our Hulu excitement is misplaced: Talks could fall apart (as they seem to have with regards to the notion of Hulu buying Community), so there's a chance this project could end up at another streaming service or a more traditional cable network. But with the talent involved, it seems a safe bet to predict this project will end up in development somewhere. Reached late Thursday, a rep for Hulu refused to confirm details and declined comment.