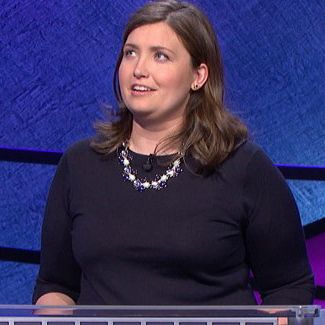 Julia Collins's monster Jeopardy! winning streak ended at 20 yesterday, when she let a customarily large lead vanish and then missed the Final Jeopardy clue asking for the name of the author who won an Oscar for adapting his own novel into a screenplay in 1999. (It was John Irving.) She departs the show in second place for most consecutive victories, after Ken Jennings, who won 74 straight games in 2004; she also takes home $428,100 in winnings, the third-highest total ever, which makes Collins the winningest female Jeopardy! champion of all time by a wide margin. That distinction, as well as her cheerful personality, earned her legions of fans, a sharp contrast to another recent Jeopardy! star, Arthur Chu, who was widely villainized during his 11-game streak earlier this season for his aggressive style and rumpled appearance. Vulture reached Collins, 31, on Tuesday morning to discuss her victorious run and what the out-of-work supply chain manager plans to do with her winnings.
How sick are you of talking about the fact that you're a woman?
I try to steer the conversation towards the bigger picture — that I'm in second place of any player who's ever played. That's a bigger deal.
You went down on an Oscars question — and to a man! Does this put to rest the debate over whether there are "feminine" and "masculine" categories, and increasingly more of the former?
I tried to answer the questions I knew regardless of the category. There was a category on NBA nicknames, and I was all over a bunch of those. So, yeah, you never really know what you're going to end up knowing. I'm not a huge movie buff, actually, and Brian, who is a the new champion, he said the only reason he knew [that Irving won for The Cider House Rules] was because it was about New England and he lived in Boston. So it's the luck of the draw.
What was it like for you when somebody like Rosie O'Donnell tweets a photo of you on her television in her house?
That was pretty surreal. If she still had a show, I would have gone on it! That would have been so much fun. I had friends who sent me pictures like that, but somebody I didn't even know and has other things to do with her time, that was pretty cool.
Are you comfortable with being glamorized for having brains? You're a role model now …
I've gotten some nice emails from girls who tell me they sometimes feel like they have to dumb themselves down. One that was funny — somebody made a Twitter about my sweaters? So, even in this objective competition, a lot of conversation has been about my clothes, and that's something that's a very gendered thing. Male contestants all wear the same thing, which is the same thing every man wears in every white-collar workplace.
Well, people talked about Arthur's clothes, too, because they were always a mess.
That's true. That was something with him. But I feel like I got a little more attention for what I was wearing than was necessary. I was just trying to be comfortable onstage.
I did wonder if you lost because on Monday you stopped wearing your signature sweaters and necklaces!
I had other outfits planned to deviate from the tired formula because I thought I was getting a little bored. I'd worn all my sweaters a few times. But then I didn't get a chance to wear all my outfits this week. I think I felt like I was beyond the point where I could be jinxed by something like that.
Given that these shows were taped in January and February and didn't start airing until May, it must have been a surreal couple of months for you. How do you prepare three months in advance for overnight notoriety?
It was very strange. The closer we got to the airdate, the more apprehensive I was. It was a little strange to know you were going to be out there and people were going to feel safe to say anything that popped into their minds online. I've been fortunate that I've been getting overwhelmingly positive feedback from strangers. But I also wasn't sure if there would be a bit of Jeopardy! media fatigue from Arthur Chu earlier this year and the Battle of the Decades finale [which aired in May amid her streak]. So I wasn't sure what to expect. But I was a little nervous.
You were really interesting, in part because you were live-tweeting your matches. Now you have 10,000 followers. What will you do with that?
I don't even think I'm going to keep tweeting very much. I don't really have a ton of things to say to the Twitter universe.
Did you see that a winner of Big Brother snarked at you last night on Twitter that winning  $428,000 was nice but he'd won $500,000?
Yeah, I have no idea what that was about. I don't know who that was. There was a whole conversation going on and I don't understand what was happening.
By the time you were taping your episodes, some of Arthur Chu's games had been on and there was all this backlash against him. Did you watch that with any sense of dread?
I remember we were sitting in the Sony commissary during our lunch break and seeing him on CNN, thinking, I don't think I'm going to get this level of attention because I'm not really doing anything out of the ordinary as a player. Not after just three games. And that's what happened; nobody really paid much attention to me until I won more than ten games. We have very different approaches to the game and it seems like very different personalities, although I don't know him personally.
I've seen that some former Jeopardy! champions are already trying to get you to give some of your money away to their charities. What do you want to say to everyone who wants to know what you're doing with all that cash and if they can have some?
I don't have any of the money yet. That's the bottom line. I think I get it in August. I don't have any money for you. You're welcome to ask, but I don't have anything to give you.
Ken Jennings became a brand. [Battle of the Decades champ and all-time money-winner] Brad Rutter lost a ton of weight and went Hollywood. Arthur Chu is now, evidently, a national expert on the awkward social relationship between nerdy men and beautiful women. What's your pop-culture calling going to be?
That's an excellent question. I'd like to do something for education for girls. That's something I care about a lot. Education has been the most important thing in my life. I want to encourage girls to be as smart as they are. I don't think I'm going to try to make it in Hollywood.
Which question do you feel stupidest about getting wrong?
Oh, there are a bunch. There was one very early on. It was something to the effect of "he drove the snakes out of Ireland." And I rang in thinking, "Everybody knows this. I know this. Everybody knows this." And then, once I had gotten called on, I thought, "Oh, no. I don't remember." It's St. Patrick. I have Irish family background. I'm also Catholic. It's a real no-brainer, but I said St. Francis. So that I felt pretty dumb about. And then I had a Daily Double about Beethoven, and it involved a piano, Bonn — which is where he lived — and an ear trumpet. It could not have been easier, and I also drew a complete blank. I felt pretty silly about those two.
How annoying is it that the first line of your obit will probably be written in the form of a question?
If that's the most notable thing about me, that I was a Jeopardy! champion, then that's not too shabby.
How does Alex Trebek smell?
I have no idea. I don't remember. I'm sure he smelled fine.
Were any of the contestants you beat ungracious to you?
There was one contestant who was out of sorts to my face. I don't know what they said when I wasn't there, but nobody likes to lose. But to me, people were gracious above what was socially necessary.
That's lovely, but tell me about the person who was mean to you.
It was like, "If you hadn't gotten that one question, I would've won." That actually colored my memory of the game, but watching the game later on TV, I realized this is not how things went down. This person said it when we were talking at the end and Alex says, "Well, sometimes you get a tough break and that's what happens." I don't remember if I said anything, but Alex tried to smooth things over.
On Monday, you were winning big after the first round, looked like you were coasting, and then you just went off the rails. It really happened very suddenly. Did you have that sinking feeling in earlier games?
A lot of games, I thought, I really need to get things back in my control. I was in quite a few close games — the 9th and 11th games I played. It's not like every game was a sure thing and this was the only one that wasn't. In my first game, I didn't take the lead until the last question. And that happened last night. We were going back and forth, but then he got that $2,000 question which was "What is an auk?" That's a bird I'd never heard of. I just didn't know that. Nothing would have made that information appear in my mind. I stayed to watch today's game and I'm kind of disappointed I didn't get that board. Those are the breaks.
During the Battle of the Decades tournament in May, announcer Johnny Gilbert introduced Ken Jennings by saying that his record streak "may never be broken." Was that a spoiler?
The Battle of the Decades had filmed after I was done, so they did know. But I have a new appreciation for what Ken Jennings did. It's exhausting. I mean, he had a job and had a family. He went home, went to work, spent time with his family. I was just exhausted. I spent the Thursday through Sunday between weeks at home, kind of catatonic, just wiped out. And he did that over and over and over again. I don't want to overstate how tiring it is because, you're on a game show, all things considered it's an easy way to win a lot of money. But it's kind of intense.
Tell the truth — after you hit No. 20, did you seriously start to imagine eclipsing Ken Jennings's record? Did that idea dance in your head?
Even after I won 20 games, that possibility was so remote. I played four full days of games. I thought it would be great if I could do it, but that's a long way away. That's almost four times as many games as I won.
So I heard you had drinks last Friday night in New York with [Jeopardy! tournament champs] Roger Craig, Celeste DiNucci, Dan Pawson, and Keith Williams. What was that like?
It was really fun to meet them. I'd been watching the Battle of the Decades, and I had already lost before most of it aired. So watching it, I thought it would be such fun to be on a tournament like this. I was a little bit envious that they all kind of know each other and got to hang out and play against each other. I'm looking forward to meeting other Jeopardy! greats.
So what do Jeopardy! champions do to haze each other?
There wasn't really any hazing. It's kind of a nerdy crew.