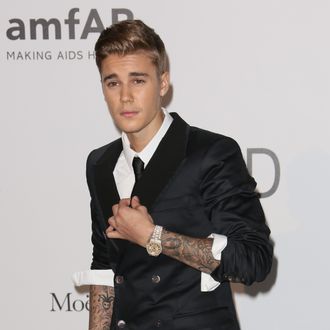 Photo: Tony Barson/2014 Tony Barson
Not a day goes by lately without some sort of Justin Bieber news. After old videos of the pop star being super racist were released into the world, TMZ is reporting that Biebs spent a week "doing intense Bible study" before getting baptized in a New York bathtub.
Things have been quite strange in the World of Bieber lately. Last week, a video showing a 15-year-old Bieb casually telling a racist joke leaked onto the web. TMZ reported that a man who had previously worked on "one of Bieber's video projects" had asked Bieb's camp for $1 million to keep the video under wraps.
Guess they didn't take the deal, because not only did Bieber's bad joke hit the web, soon after, another (arguably much, much worse) video did, too. It's unclear whether the same person was responsible for this second video, in which a young Bieber sings his hit "One Less Lonely Girl," replacing "girl" with a racial slur. TMZ reports a bit of the context: "When Justin was 14 … he had seen a random video online in which a comedian parodied his song, "One Less Lonely Girl," but the guy replaced the word 'girl' with the n-word. Justin then parodied the parody … right on camera." What makes the situation more complicated is a report, by Defamer, that claims TMZ held onto the first video for years, using it as their own form of blackmail "in exchange for appearances on TMZ's media properties and cooperation with stories."
Bieber quickly issued an apology ("As a kid, I didn't understand the power of certain words and how they can hurt. I thought it was okay to repeat hurtful words and jokes, but didn't realize at the time that it wasn't funny and that in fact my actions were continuing the ignorance.") and since Instagram has been deemed the best form of crisis PR, he filled his feed with Bible verses touching on themes of forgiveness and salvation.
Since then, it's been a flurry of celebrities either coming out against Bieber or standing by him. Team Bieber includes Young Money, Mike Tyson, and, mostly importantly, his mentor Usher — who even released a statement on Bieb's behalf: "At my core, I am a person that supports growth and understands without judgement, that growth often comes as a result of pain and continues effort. As I have watched Justin Bieber navigate difficult waters as a young man, I can tell you that he hasn't always chosen the path of his greatest potential, but he is unequivocally not a racist."
Oh, and then he got baptized in a New York City bathtub. Why a bathtub and not a church? Because apparently he wanted to keep the whole thing private. Because he's been able to keep everything else about this situation so far very private. It's been a bad week for Justin Bieber.