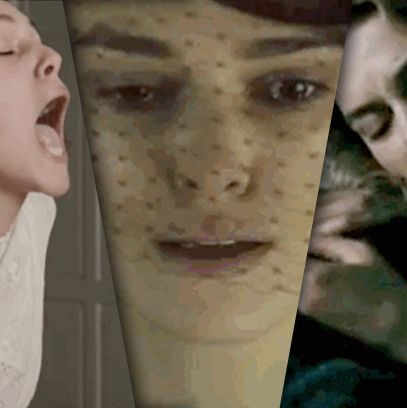 Keira Knightley doesn't die in her latest film, out this weekend. Begin Again is another earnest musical comedy from Once director John Carney and concerns a shy singer (Knightley) who busts out of her shell after meeting a charming guy played by Mark Ruffalo. It's just the kind of uplifting role Knightley needed after a stretch of depressing films that all seemed to end with her in a casket. "I thought I'd really like to do something where I either don't have to go through some emotional turmoil or die," she told Entertainment Weekly. Just how grim has it been in Knightley land? In seven of her last ten movies, she's died; in two others, she's ended up sad and lonely. Vulture fired up the GIF machine and documented the despair.
The movie: Anna Karenina (2012)
How she dies: Convinced that her lover is cheating on her, she throws herself under a passing train in an act that ends her life and makes commuters late.
The movie: Seeking a Friend for the End of the World (2012)
How she dies: With an asteroid on a collision course with Earth, she embraces her fate and explodes into nothingness.
The movie: A Dangerous Method (2011)
How she dies: After a bout of "hysteria" that gives us the spastic GIF below, she eventually becomes a physician herself. At the end of the film, she's given the most undignified death of all: an epilogue that tells of murder by Nazis.
The movie: Never Let Me Go (2010)
How she dies: She is a vessel that was only born to donate organs. After three donations, she dies on the operating table with little fanfare.
The movie: The Duchess (2008)
How she dies: The brutal epilogue strikes again: She not only dies but gives her husband permission to marry his lover.
The movie: Atonement (2007)
How she dies: The London tube station that was supposed to serve as her shelter ends up doing her in when it fills with water after a bomb hits during the Blitz.
The movie: Silk (2007)
How she dies: She dies of one of those fevers that would now be cured with a pill and some Gatorade.