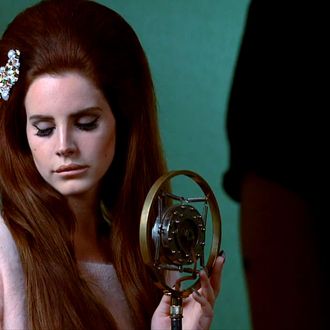 Last week, when Lana Del Rey told Guardian writer Tim Jonze, "I wish I was dead already," she was referring to a slew of ill-fated performers he brought up — Kurt Cobain, Amy Winehouse, Janis Joplin, Jimi Hendrix — as inspirations. Jonze lead with that quote (as you would), and it quickly spread throughout the web (as salacious things also naturally do). In response, Lana took to Twitter to clear things up, sort of: "Alexis was masked as a fan but was hiding sinister ambitions and angles … Maybe he's actually the boring one looking for something interesting to write about. His leading questions about death and persona were calculated." (Clarification: She means Jonze, not Alexis Petridis, who wrote the Guardian's Ultraviolence album review and whose name is confusingly displayed in larger font above Jonze's on the offending article.) In turn, Jonze posted the recording of their conversation.
In the recording, you can hear her giggle when she says to him, "I wish I was dead already" — something Jonze chooses not to mention in his piece. Then — to my ears, anyway — it sounds like she hears the absurdity of what she just said and consciously decides to take it a step further: "I do! I don't want to, like, have to keep doing this. But I am." But whether or not he's misinterpreting her gallows humor, the audio does have him quoting her accurately. He does not seem too worried about Lana's complaints:
Ultimately, the problem with Lana's complaint is that she doesn't seem to know what she's actually complaining about. She's not alleging that I made up her quotes, nor is she claiming that they've been "twisted" or that we've printed them out of context. Instead she seems annoyed by the fact I wanted her to say interesting things and asked questions that caused her to do so. Well sorry, Lana, but that's just me doing my job.