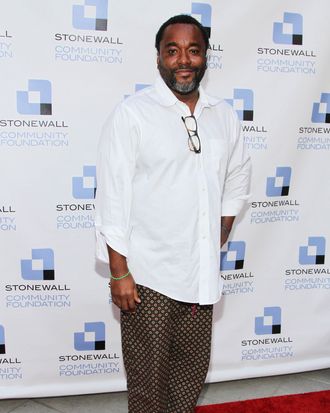 Photo: Rob Kim/Getty Images
Last night at the Stonewall Community Foundation's Vision Awards, filmmaker Lee Daniels was honored  "for his confidence, courage, and creativity." Bevy Smith, the co-host of Bravo's Fashion Queens and one of the emcees for the night, introduced him, and when Daniels ambled up onto the stage in his signature pajama pant, Smith told him on the sly that the award looked "like an ovary" — something Daniels immediately announced to the audience. Then he gave a speech about how kids these days don't know their LGBT history, being selfish as a filmmaker, and dedicating the award to his partner, Fisher, who has to endure street harassment every day.
I go to these things and I normally don't get nervous, but I am nervous. I'm nervous because I'm with family, and it's a deeply deeply important moment for me, and I want to thank everybody at Stonewall for giving me this award tonight. Homeboy [Jason Collins] took my speech from me. Because the real heroes are the people here at Stonewall. I asked my kids yesterday whether or not, I told them, can you stay? My daughter is going to Paris. Or is in Paris now. And I asked her, could she stay an additional day for the Stonewall award? She's 18. She's spending my money in Paris. And she said, what is Stonewall? Bitch, what the fuck? Then I realized, that just like the Civil Rights movement, she knew nothing of what happened in Selma. And then I got an idea. Stonewall the movie. And then I was just informed backstage that I was beaten to the punch. Somebody's trying to do it.
 
This award is dedicated to my boyfriend. You know, being a filmmaker is very selfish. It's a selfish thing. It becomes about you. You, you know, you're pregnant. You feel pregnant. You really are. You are creating. So you discard your health often, you discard your family, you discard your lover. And then you come back nine months later with a great film, but sometimes, not so good relationships, with my parents, my mom, my boyfriend, and my kids. Can you come up here? Where's my boyfriend? Come here, come here. [Audience awws.] Hurry, quick! We got three minutes! Say hi Fisher. This is Fisher.
 
We live in midtown, and this award is for him, because I'm here to protect him. He gets harassed every day. He gets the faggot word at him going to work every day. I wish a motherfucker would call me faggot. I have not been that unlucky. I'd probably end up in jail or the New York Post or something like that, but this is dedicated to him, because he tolerates my insanity when I go down deep and I'm creating and I'm not there. I love you, and it's for you, kiddo.