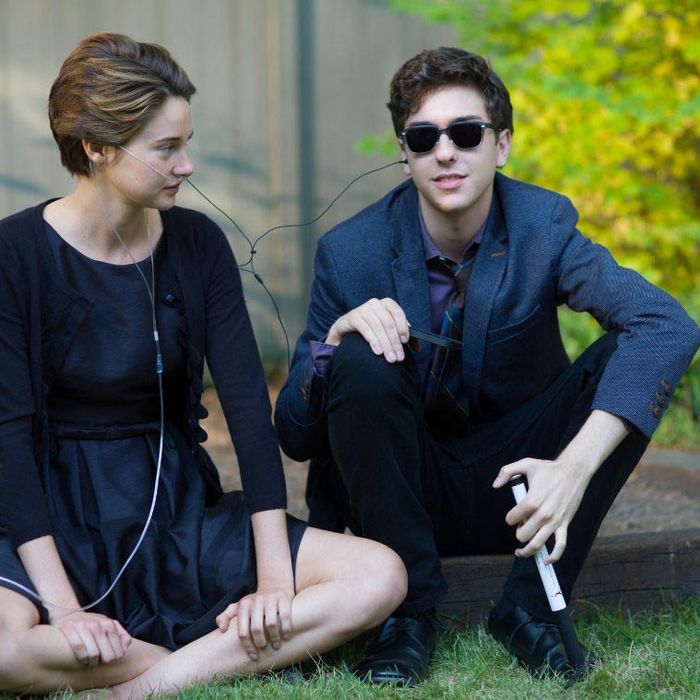 Photo: Twentieth Century Fox
What's better than one successful movie adaptation of a YA book? All together now: four movies based on a YA book. In any other YA scenario, the box office success of Fault in Our Stars — $48 million on its opening weekend — would surely guarantee an onslaught of sequels, but Fault is not a series; there are no more books to adapt. So Vulture has dreamed up five possible spinoffs and sequels for the good people in Hollywood. We would watch all of these! Especially the ghost love triangle.
Augustus Waters: The Prequel
Before he was Hazel's annoyingly perfect boyfriend with one leg and minimal interior life, Augustus Waters was … another girl's annoyingly perfect boyfriend. In this prequel, Gus and Caroline fall in love, then her brain tumor flares up and she becomes a total bitch until she dies on him. (This is all from the book! We're not even making this up!) Gus learns that love is difficult but worth fighting for, even if you have to chain yourself to a girl who doesn't totally like you. See also: The Fault in Our Stars
A spinoff starring Mrs. Lancaster (Laura Dern)
Since Laura Dern took the "Hazel's Mom" character to such new heights, it's only fair that she get her own sequel. We learned in The Fault in Our Stars that "Mom" had started attending social work school, putting all those years of counseling her daughter through cancer (and keeping herself sane) to use. Mrs. Lancaster, whose name you finally learn is Christine, starts working as a counselor in same cancer ward where her daughter spent so many sick years.
Hazel and Isaac: The College Years
Inspired by the memory of Gus and his enthusiasm for life, a relatively healthy Hazel decides to go to real, away-from-home college. At the pre-term "Students with Special Concerns" mixer, Hazel runs into Isaac, and their shared grief for Gus eventually turns into a tender romance. Obligatory love-triangle twist: Gus's ghost shows up and fights for Hazel's affection. Whom will she choose?! (She will choose herself, Kelly Taylor style.)
A spinoff starring Patrick the Support Group counselor (Mike Birbiglia)
Remember the ball cancer Patrick so wistfully mentioned, every week at group, while sitting ("literally") in the heart of Jesus? It comes back. Oh no! He's now faced with losing his remaining testicle and slipping back into his pre-Jesus depression. Can he hold onto his faith? Can he still find a way to remain in the "literal heart of Jesus"? The Support Group will now have to support him.
Fault in Our Stars 2: Hazel Does Amsterdam
Once she goes into remission, Hazel is immediately drawn back to Amsterdam. She reaches out to Van Houton's former assistant, Lidewij, who is now working at the Anne Frank House (funny how things work out like that!) as a foreign ambassador, and Lidewij gladly hires Hazel as her assistant.  While confronted with memories of Gus at every step, Hazel has to learn to let his ghost go … And find new love in unexpected places.