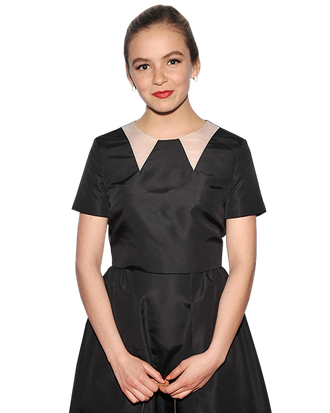 Morgan Saylor.
Photo: D Dipasupil/Getty Images
Sure, erratic CIA agent Carrie Mathison and charming traitor Nicholas Brody were the main focus of Homeland's first three seasons — but many viewers also had a secondary fascination with Brody's teenage daughter, Dana, who became something of a lightning rod for critics and fans distracted by her sullen, erratic, and, dare we say, teenage behavior. Morgan Saylor, the actress who played Dana Brody, says she was largely able to avoid the hype and the haters, managing to live a relatively normal life as a high-school student in the Atlanta suburbs when she wasn't shooting. "I was more focused on my math tests" than on being a TV star, she tells Vulture, adding that she went to football games and prom like everyone else.
After graduation, Saylor moved to New York to pursue a full-time acting career, and later this year, she'll co-star in Sundance entry Jamie Marks Is Dead and the Disney movie McFarland (in which she plays Kevin Costner's daughter and, she says, "wears a lot of pink"). But first comes a new challenge: theater. On Tuesday, she began a run at Manhattan Theatre Club in When We Were Young and Unafraid, a searing look at the impact of domestic violence written by Sarah Treem and directed by Tony-winner Pam MacKinnon. Saylor plays Penny, who has grown up underneath the watchful eye of Agnes (legendary stage star Cherry Jones). She's enjoying every aspect of the experience, but tells Vulture that it wasn't easy to get the part.
Were you seeking a role in theater, or did this one just come to you?
I knew theater was an option if I was here in New York, but I hadn't thought about it seriously until I saw this script. It really stood out — the story grabbed me and I loved Penny. But I had to work really hard to get the role.
Work hard how?
I went to the first audition and there all these people doing theatrical warm-ups. It was kind of intimidating. Then I went in and didn't really know all the lines. I know it sounds silly, but in auditions for film or TV, the words aren't as important — you need to get into the character and have the gist of the scene. But in theater, if you don't do it word for word, then you throw off your scene partner. It took two more auditions over the next month. They weren't sure if they wanted to hire me because I didn't have the theatrical way of playing a scene — I didn't speak loudly or clearly enough and I wasn't as consistent from take to take. So they said first I had to work with a vocal coach, Deborah Hecht. And I worked so hard on each thought and each moment.
How was the rehearsal process after your years of doing series TV?
The first day, I felt like the odd one out, but everyone was so great. And you get to sit at a table and just talk about the script and go through each line, which you never have time for in TV or movies. I learned a lot from Cherry Jones, from the questions she asked and the opinions she had.
You get your face "slapped" hard during show. There were gasps in the audience last night. How easy is it to pull that moment off and to act shocked when you obviously know it's coming?
I asked at first if Zoe [Kazan] could really slap me. I said, "It'll be real, it'll be great."  And everyone said you'd get a bruise across your face from doing it every night. So we practice the fake slap before the show every night. She swings at me, I turn my head and clap my hands. It works great about four nights out of five, but sometimes I just don't clap my hands quite right and it isn't loud enough. I can't look down at my hands before I do it, obviously.
Okay, I have to ask: What did you think of Brody's death at the end of the last season of Homeland?
We knew he was supposed to die, so that made it easier. It was still intense. But those writers are smart and make bold choices.
Will you be back in season four at all?
They started filming yesterday, and there are no plans right now. But [showrunner] Alex Gansa says he hopes I'll be back. And Dana will have a half-sister.
Was it difficult being a TV star and high-school student at the same time?
My teachers and parents' friends watched the show, but most kids at school didn't — it was a grown-up show. After the Golden Globes, one kid said, "I saw you on TV." I said, "Oh, cool," and didn't say, "But you know I'm on every week and do much more than just stand briefly on a stage." My close friends watched, and when I made an annoyed or grumpy face, they would say, "Oh, there's Dana."