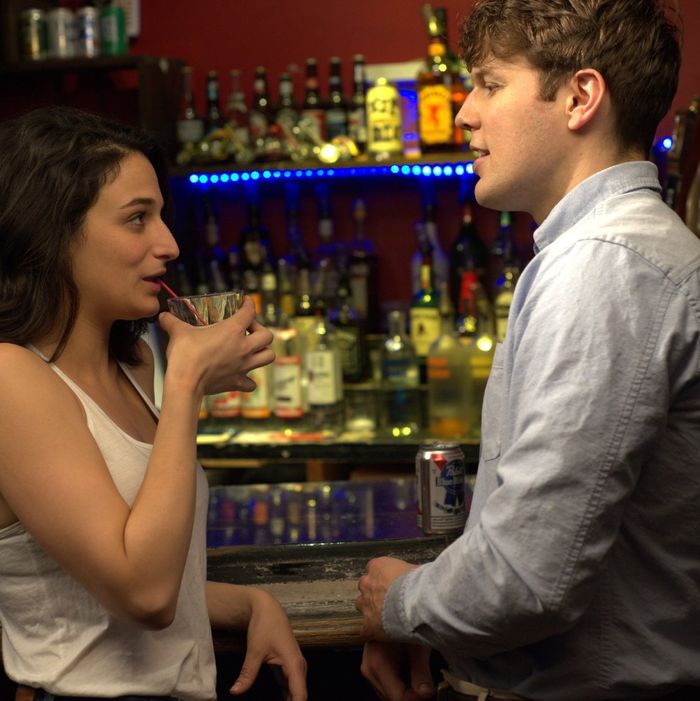 It's a sign of how far mainstream culture has been shoved to the right that a female protagonist having an abortion — a legal procedure, at least the last time I checked — is enough to turn a clever, modest comedy like Gillian Robespierre's Obvious Child into a Momentous Event. In context, its modesty becomes it.
The child of that odd title (borrowed from a Paul Simon song) isn't an embryo but Donna Stern (Jenny Slate), an aspiring stand-up comedian in her late 20s who's hopelessly out of her depth in the grown-up world. As she stands before the mike in a Williamsburg bar making fun of her Jewish features and her farts and implying it's a miracle she even has a boyfriend, the boyfriend in question is standing in the back, scowling — and about to deliver the news that he's sleeping with her blonde friend. At that point, Donna begins the downward slide that will land her (smashed) in bed with a (smashed) stranger whose command of his condom is a trifle inexact.
Slate famously blew her SNL debut by blurting "fuck" on live TV, an event I found so endearing that I wished they'd given her a show of her own. They didn't (she barely lasted the year), but the sense we have watching her that anything could pop out of her mouth gives the movie its hum. She's all frizzy little coils of neurotic energy.
I imagine some audiences won't have much patience with the mixed-up, helpless Donna. She lets herself be babied by her adorable leftist teddy-bear puppeteer dad (Richard Kind) and patronized by her super-competent business-professor mom (Polly Draper). And she's repeatedly propped up by her loving roommate (Gaby Hoffman) and the bar's gay emcee (Gabe Liedman) — without seeming to give very much back. She stalks her unimpressive ex but repeatedly blows off the earnest, Vermont-bred business student, Max (Jake Lacy, best known from the last season of The Office), who seems genuinely to like her. On the subject of abortion, she's glib, at least at first.
But the audience with which I saw Obvious Child — a packed house of young Brooklyn hipsters at the BAM Cinematheque — was with the film and its heroine from first laugh to last sniffle: Donna was someone they knew, maybe someone they were. She was privileged but bereft, self-hating but assured enough to walk onstage with nothing but her roiling emotions — determined to make something out of that self-hatred.
She's also a measure of something vital in pop culture now: women who at last are demanding the right to parade themselves before the world in all their … whatever. There's a risk — and a cost — when an actress like Slate talks about her Anne Frank face and her flatulence, just as there's a risk when Amy Schumer has someone in a spy parody give her character the code name "Butterface," just as there's a risk when Lena Dunham says, here I am, all of me. Male clowns have long gotten away with spinning their self-doubts into comedy gold. Now every Dunham or Schumer or, in Obvious Child, Slate, moves the boundary posts.
Which brings us to abortion. It's one thing to support a woman's right to choose. It's another in a mainstream culture in which the procedure goes largely unmentioned — unless it's heartwarmingly rejected as an option by the heroines of, say, Knocked Up and Juno — to put it on the big screen in all its blunt, ugly reality. Yes, ugly. At this point in time, Donna is no way no how ready to be a mother, with the baby's biological father or anyone else. But Gillian Robespierre is brave enough to be ambivalent.
The beauty of Obvious Child is that there's nothing obvious about it.