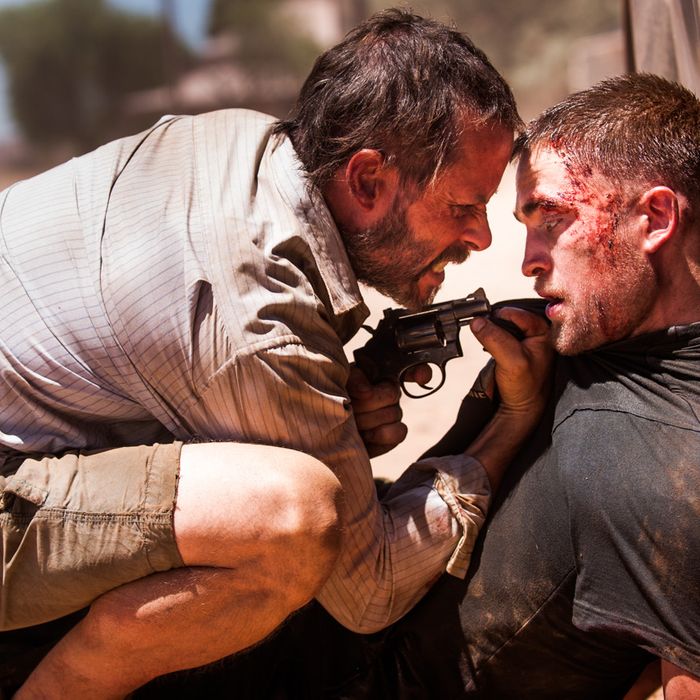 The Rover is the handiwork of Aussie David Michôd, whose overpraised 2010 Animal Kingdom was memorable chiefly for the nightmarish mother-son tag-team of Jacki Weaver and Ben Mendelsohn. This one is even darker — but also sillier, easy to watch at arm's length and easier to shake off. It's overbaked art-pulp. You're always thinking, What fresh horror is around the next bend?
Guy Pearce is Eric, a stuporous loner who moves through a flat section of Australia, ten years after "the crash" (whatever that is). He's drinking at a bar when thieves, fleeing a disastrous hold-up, demolish their pickup truck (the wittiest thing in the movie is the sight of the tumbling truck through the bar's window) and make off with his car. This injustice makes him angry. Like the absurdly indignant protagonist of Point Blank and Payback (both derived from a Donald E. Westlake's The Hunter), he will recover that hunk of automotive junk no matter how many people he has to slaughter.
The Rover lost me early when Eric, with no preamble, blew out the brains of a dwarf who wouldn't give him a good price on a gun. Michôd wants you to register (in a big way) that his hero has no code of honor whatsoever — so that later, when sentiment does creep into the movie (in a small way), you'll blink back a tear or two for the better angels of our nature that get crucified and left for buzzards. There is, by the way, an actual guy on a crucifix left for buzzards, seen from a passing car — postapocalyptic mood music. There is no beauty in this world. The colors bleed together; the palette at the intersection of snot green, dried-fecal brown, and dental-rot yellow.
The film will be of interest to the mainstream audience for Robert Pattinson, who plays Rey, the simpleminded brother of one of the robbers (Scott McNairy). He's left for dead at the crime scene with a bullet in his gut and bewildered by the injustice of that — so much so that he's willing to help Eric track his brother and two accomplices down.
Pattinson's hair is shaved to the skull and his teeth artfully mottled. His diction is American Deep-South mush. He's not convincing, but I'm impressed that he's willing to go, as Kirk Lazarus in Tropic Thunder would say, "the full retard." He and Pearce have a sweet moment when Rey says he can't believe his brother would leave him behind and Eric says the only connection between them is that "you and him came out of the same woman's hole." The connection actually turns out to be a good deal deeper, which means the climax isn't merely a grotesque shoot-'em-up but a grotesque shoot-'em-up with a throbbing heart. And you know what that means: tears and hemorrhages.