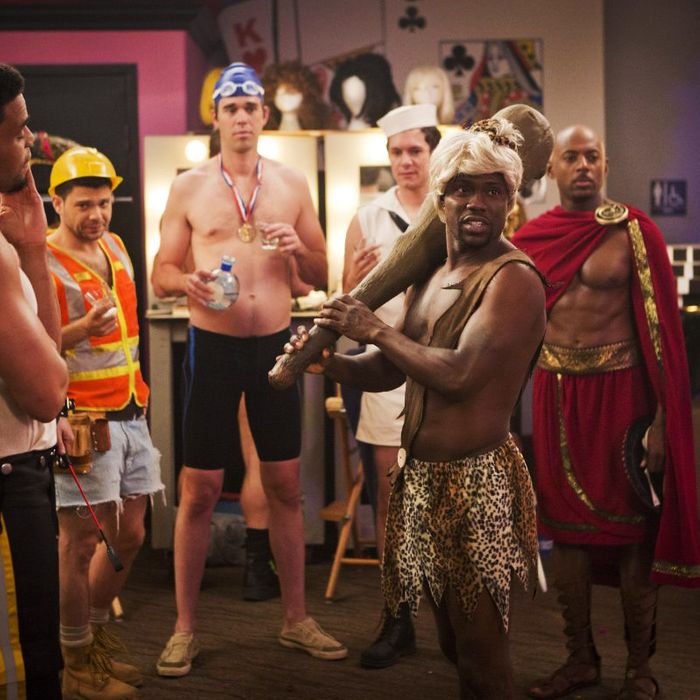 Photo: Matt Kennedy/Screen Gems Productions, Inc.
The 2012 romantic comedy Think Like a Man may have been based on a self-help book (Steve Harvey's Act Like a Lady, Think Like a Man) but it actually worked. Thanks partly to a talented and energetic cast, and also to the fact that the book itself was used as little more than a story prop, the film didn't try to make too many overarching points about men and women — it was content to let us sit back and enjoy the battle of the sexes. Even less beholden to Harvey or his book, this sequel brings back the same cast and creative team, but it's a lot messier and, at least at first, a lot less fun.
This time, we catch the characters as they arrive in Las Vegas for the wedding of mama's boy Michael (Terrence J) and independent-minded single-mom Candace (Regina Hall). Everybody's moving along on the path to stability. Onetime freak Zeke (Romany Malco) is now settled into a possibly headed-to-marriage relationship with Mya (the insanely beautiful Meagan Good). Talented chef Dom (Michael Ealy, still a dreamboat) and corporate big shot Lauren (Taraji P. Henson) can't keep their hands off each other — even though each is about to be confronted with work opportunities that may threaten their romance. Committed stoner Jeremy (Jerry Ferrara) and his taskmistress wife Kristen (Gabrielle Union) are trying to have a baby and so, the pot's off limits. Meanwhile, through a rather hilarious misunderstanding seen in flashback, diminutive busybody Cedric (Kevin Hart) has been chosen as the best man. And even though none of the men seems particularly keen on getting their freak on, Ced is determined to show everybody a good time — which of course means that everything will soon go to shit, Hangover-style.
The earlier film actually found an entertaining way to portray the challenges of maintaining lasting relationships between comically mismatched partners. This time, these conflicts are used as little more than color, as the film opts instead to try and give us a frantic, exhausting journey through a night in Sin City. The guys and the gals go on their respective bachelor and bachelorette parties, and a variety of by-the-book misunderstandings and confrontations ensue. Meanwhile, some truly uninspired (but definitely shouty) narration from Hart tries to tie everything together, occasionally peppering in lame attempts at comedy: "Damn! That was like being blocked from behind by LeBron!" he yells in voice-over after Michael's mom interrupts the bride and the groom making out. "Damn! Rejected!" he yells after Mya chastises Zeke for his sordid past. (He says "Damn!" a lot.)
The film is at its best when it tosses away any and all interest in narrative clarity or continuity and just grooves on the energy of its likable, attractive cast. At one point —  no joke — the movie basically becomes an extended music video for a cover of Bel Biv Devoe's "Poison" featuring the female cast members, complete with an identifying music video bug in the corner. It's utterly stupid, and glorious. I also have to give props to a hilarious subplot featuring Dennis Haysbert playing Candace's smooth-talking Uncle Eddie. Think Like a Man, Too is mostly uninspired and insipid, but it rallies, and builds up enough comic steam by the end that you might find yourself amused.