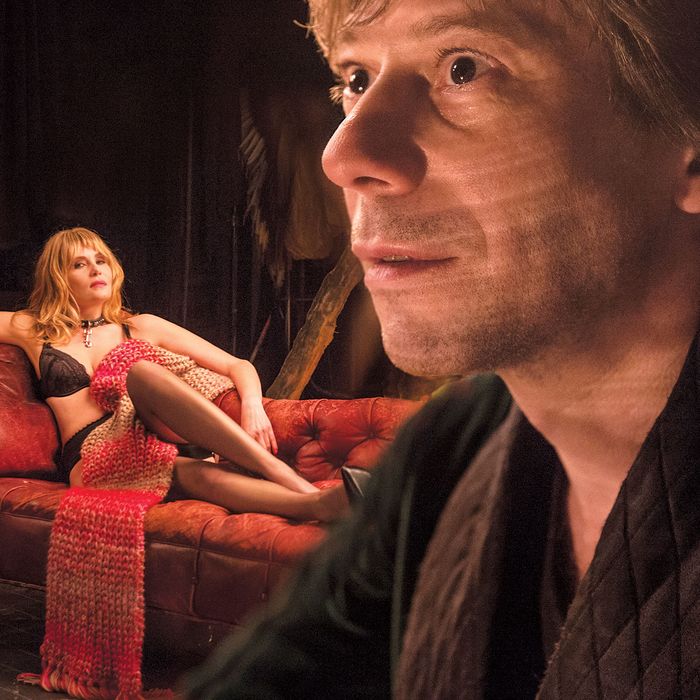 Emmanuelle Seigner and Mathieu Amalric in Venus in Fur.
Photo: Guy Ferrandis/Sundance Selects
It's not hard to guess why Roman Polanski was moved to make a film of David Ives's brilliantly silly play Venus in Fur. The tale of an arrogant male writer-­director who's increasingly emasculated by an auditioning actress, the project offers a juicy role for his wife, Emmanuelle Seigner, and an opportunity for him—given his resemblance to actor Mathieu Amalric—to stylize his own come­uppance. So Venus in Fur is both kinky and can pass as a form of self-flagellation. One additional, not-small thing: It allows him to demonstrate, with a minimum of means, his superb craftsmanship.
Apart from translating the play into French, Polanski and co-screenwriter Ives stick close to the source. A punkish, gum-cracking actress named Vanda (Seigner) arrives late to an empty theater for an audition and begs the playwright, Thomas (Amalric), to let her read for the part of "Vanda" (quelle coïncidence!) in a theatrical version of Leopold von ­Sacher-Masoch's seminal 1870 novella, ­Venus in Furs—from which was derived the ­cherished diagnosis masochism.
What follows is one mad, switchback dramatic curve after another. It turns out that Vanda knows the script a good deal better than her early babblings suggest, and, between line readings so assured they leave the writer open-mouthed, she challenges Thomas's (and Sacher-Masoch's) dominatrix. "Vanda," Vanda argues, is the sort of male projection that both overestimates a woman's power and justifies the misogyny that keeps her in her place. Ives's argument is riotously self-contradictory. On one hand, Vanda condemns Thomas for writing about women without seeing the world through their eyes. On the other, she's a mythic destroyer after all.
The play is best enjoyed as a goof on both feminist deconstruction and the male artist's masochistic fantasies. It's exhilarating proof, like much of Ives's work, that parody can rise to the level of art. Clinching the case on the New York stage was the actress Nina Arianda, who negotiated every fantastical transition without seeming to break a sweat: The ditz, commanding thespian, mouthy grad student, and avenging goddess were all on the same magnificent continuum. As her antagonist, Hugh Dancy gazed on her with more horror than he does on Hannibal Lecter.
In Polanski's hands, Venus in Fur holds the screen, but the casting dims the dazzle. Seigner works hard to earn the pedestal that is Vanda, which is the rub: Fine as she is, you do see her sweat. In the opening scenes she reminded me of amateur Eliza Doolittle, but she does much better as ­Sacher-Masoch's dominatrix, her diction high-flown, her coquettishness cunning. Amalric is more convincing, but too much of a hangdog. The erotic pas de deux I saw onstage becomes two ill-matched actors in separate spheres.
In part, Amalric's weakness is Polanski's doing. The actor is sometimes framed like Benjamin in The Graduate, a puny figure dwarfed by female flesh. But the direction, on its own terms, is witty, elegant, and resourceful. Every composition, every camera movement evokes Thomas's dwindling power and Vanda's control of the space. The director has always relished the Grand Guignol, and he brings a vampire-lover's glee to the tracking shots that open and close the movie—taking us into and out of the theater as if it's a crypt—while composer Alexandre Desplat supplies a delicious danse macabre. If you didn't see the play onstage and don't know what you're missing, this ­Venus in Fur has its demonic, masochistic charms.
*This article appears in the June 16, 2014 issue of New York Magazine.