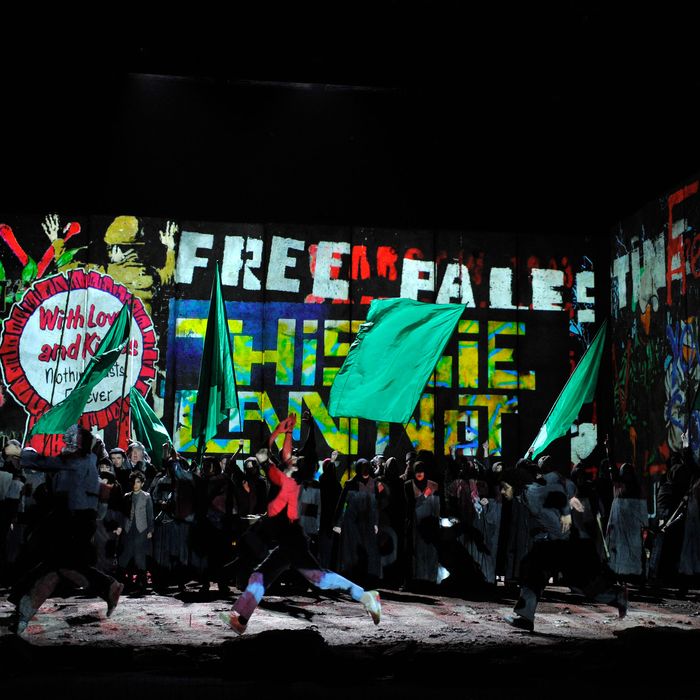 From the English National Opera's production of The Death of Klinghoffer in 2012.
Photo: Robbie Jack/AP/Corbis
All over Europe, people who had no idea that the Metropolitan Opera was planning to broadcast its new production of John Adams's The Death of Klinghoffer in November have just discovered that it won't. The opera, which deals with the terrorist hijacking of a Mediterranean cruise ship and the murder of an American Jew, Leon Klinghoffer, has been dogged by accusations of anti-Semitism ever since its 1991 premiere. There will be time when the production opens at the Met in the fall to chew over the work's politics and prejudice. For now, the company's general manager, Peter Gelb, prodded by the Anti-Defamation League, has decided that (a) no, it's not anti-Semitic; (b) it's a masterpiece; (c) it's perfectly fine for the Met to perform it for its heavily Jewish audience (and donors); and yet (d) actually, it might be better if European audiences didn't get another look, since some of them might mistakenly find support for their own distasteful ideas.
At first glance, this seems in line with previous calls for self-restraint. If you don't want to provoke racial incidents, don't insult an ethnic group or its religion. This time, though, the logic is more contorted. It would have been an expensive and mortifying choice, but Gelb could have decided that yes, The Death of Klinghoffer is offensive and should not be shown — especially not in New York. He might also conceivably have argued that opera in general goes directly to the emotions, bypassing the brain, and therefore should be treated with caution. Instead, he came up with an exquisitely delicate appeal to hair-splitting: The piece isn't anti-Semitic at all, but it might incite anti-Semitism.
If that's really the case, exactly whose prejudices is the Met worried about inflaming? Latent anti-Semites in the broadcast audience who find their unspoken bigotry validated by Adams's persuasive music? Maybe, but I suspect that Gelb is more spooked by the possibility that showing the opera in Europe (where it has played, without incident, to live audiences in half a dozen cities) would incite haters who haven't seen it at all. The mere hint that anti-Jewish propaganda is being distributed around the world by an American institution of great prestige would gladden the hearts of thugs from Budapest to Baghdad, causing them to rampage. This occasions the question: If anti-Semites can be stirred up by an opera they haven't seen, what difference does it make whether the Met broadcasts it or not? Before, a Klinghoffer screening would have remained a quiet, relatively esoteric affair; now not screening it has become a global story, fodder for a thousand anti-Semites' conspiracy theories. Sure: An opera that shows the murder of an American Jew by Palestinian terrorists could incite anti-Semitism — but so does being Jewish.