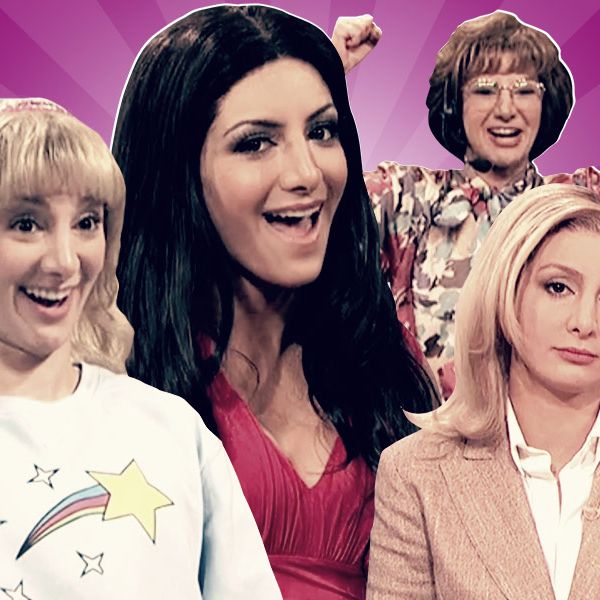 With Nasim Pedrad implying this weekend that her time on Saturday Night Live was over (she's going to focus on the new Fox show Mulaney), we wanted to look back at her run on the show. After years spent with the Groundlings, Pedrad joined the show in September of 2009, at the start of its 35th season. Over her five seasons, Pedrad was a solid cast member, but was never able to truly break out. Though she had a few noteworthy impressions, Pedrad's best moments came in original characters — she most often played weird, awkward, precocious little kids. Nasim Pedrad, this is your SNL life.
Kim Kardashian (premiered 11/14/2009)
Pedrad did her Kim Kardashian impression in her audition, so when the newest season of Keeping Up With the Kardashians approached, Pedrad was more than ready. Pedrad performed as Kim 13 times, far more than any other character. Pedrad's Kim Kardashian wasn't just dumb; she was completely empty.
Lil Blaster (premiered 12/05/2009) 
Pedrad is short. It might seem like a minor point, but, as Cheri Oteri showed (and Noël Wells will likely show), a small stature can open many opportunities. Besides allowing Pedrad to frequently play children, as we'll see below, sometimes it's just funny to have a character be small. The Kickspit Underground Festival's Lil Blaster was one of those times. Pedrad, in a terrible blonde wig, was perfectly scrappy in the role.
Ravish (premiered 3/3/2010)
Ravish was Pedrad's first in what would become a long line of little-kid characters who spoke like adults and yet still were unmistakably children. Ravish, a young Indian boy who dreams of being a talk-show host one day, has all the rhythms of a late-night host, but the obvious hidden insecurities of a little kid.
Bedelia (premiered 4/10/2010)
Though Ravish came before Bedelia, Bedelia was a stronger character and gave the audience a better sense of what to expect from Pedrad. Pedrad doesn't necessarily make her characters idiots or jerks – they are more likely to be awkward and a bit off. Bedelia, whom Pedrad created, isn't just a kid obsessed with her parents; she is like a mini adult who only relates to them.
"Helen Mirren's Magical Bosom" (premiered 4/29/2011)
Pedrad co-wrote this sketch. Her wide, nearly crying eyes completely sell the simple but very funny premise.
Arianna Huffington (premiered 2/11/2012)
When working on this, I was actually surprised to learn that it wasn't until the second half of her third season that Pedrad premiered her Arianna Huffington. It felt like such a classic impression that I thought it must've been around longer. Pedrad has called Huffington her favorite character to play. "It's really cool to talk about politics on Update through the lens of a smart, sassy woman," she told the Notre Dame and Saint Mary's student-run newspaper, The Observer. Adding, "She herself has a great sense of humor, so it's fun to play someone who's totally competent."
"First Date" (premiered 9/15/2012)
This is maybe Pedrad's strongest sketch from her five seasons on SNL. In it, she displays an ability to instantly jump into characters while remaining natural and grounded in the scene.
"Tippy" (premiered 2/16/2013)
Tippy maybe typifies Pedrad's time on SNL better than any other sketch. It was well performed and a good idea, but for whatever reason, it didn't pop. It felt like the type of character that should've been a hit (like so many Kristen Wiig characters), yet this was the only time we saw her.
Shallon (premiered 10/26/2013)
Shallon had a nice little run this past season, appearing three times. Again Pedrad is playing a little kid who talks with the confidence of an adult. This time, however, instead of an awkward nerd, Shallon is the classic cool kid whom everyone follows blindly. If she stayed on the show, maybe Shallon could've become a thing.
Heshy (premiered 11/02/2013)
Heshy appeared on SNL twice this season. Again, Pedrad is playing a non-idiot whose confidence makes her awkward to the onlooker. It's a solid character that some people loved and others just respectfully appreciated – not unlike Pedrad herself.
And that sounds about right. After Wiig left (and especially after Bill Hader and Fred Armisen departed), SNL felt more like an ensemble than it had in quite a long time. So, sure, Pedrad never had a breakout sketch, but after five seasons, she's conveyed a sense of what she can do and what her brand of comedy is. You can't really hope for much more.