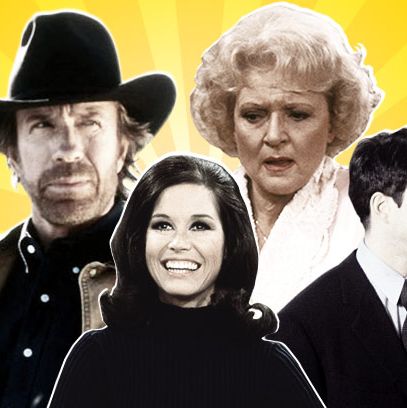 Orphan Black is an off-the-beaten-path show in a lot of ways. It's brainy sci-fi that's not afraid of its funny side; its star plays several different roles; the central mystery is intriguing without overwhelming the character-driven stories of the series. It's a good show, and you should watch it. But by far the most surprising part of the series is that it airs on on Saturdays. Saturdays.
There are not a lot of first-run scripted shows on Saturdays in prime time. Orphan Black, which airs its second season finale tonight, is on BBC America, which also shows Doctor Who on Saturdays when it's in season; Starz's new drama Power airs Saturdays, and come August, Outlander will take over that slot. But that's about it! Cable stations today very rarely put scripted shows on on Saturdays, and networks have given up: Enjoy your reruns, occasional crime newsmagazine shows, and maybe some Cops here and there. Saturdays are a TV wasteland.
But it wasn't always like this. In fact, a lot of terrific, popular, or terrific and popular shows used to air on Saturdays.
Essential comedy classic Your Show of Shows aired on Saturdays, from 1950–53. That was a popular night for radio-to-TV series, too, like Ethel and Albert, Meet Millie, and Leave It to the Girls, but variety shows were just as popular — particularly The Jackie Gleason Show, which morphed into The Honeymooners, which aired, you guessed it, on Saturdays for the '55–56 season. Gunsmoke aired on Saturdays from 1955–67 (and then moved to Mondays for another seven seasons). Have Gun — Will Travel. Perry Mason. Some iteration of The Lawrence Welk Show was on Saturdays for more than 15 years. Bonanza premiered on Saturdays. The Defenders won its three best drama Emmys having run on Saturday nights. Flipper, Gilligan's Island, I Dream of Jeanie — Saturday, Saturday, Saturday. And it wasn't reserved for cornball comedies either: Get Smart, a best comedy Emmy winner in 1968 and 69, was also a Saturday show.
In 1970, The Mary Tyler Moore Show premiered on Saturdays, where it remained for its entire seven-season run. In 1973, you could sit down on Saturday night and watch All in the Family, M*A*S*H, The Mary Tyler Moore Show, The Bob Newhart Show, and then The Carol Burnett Show. For the rest of the decade, CBS maintained a pretty robust Saturday, eventually introducing The Jeffersons and Alice to the bloc too. In 1977, The Love Boat and Fantasy Island both debuted as part of ABC's lineup. Rhoda spent some time on that night, as did Welcome Back, Kotter, T.J. Hooker, and Taxi.
Things really picked up again in 1985, when Golden Girls premiered on Saturdays, along with 227. Amen premiered a year later, and then 1988 saw the debut of Empty Nest. Sisters, truly one of the underappreciated '90s dramas, aired on NBC on that night for its entire tenure. Brooklyn Bridge was there in '92 and '93. The Commish too, for five seasons. Dr. Quinn, Medicine Woman, and Walker, Texas Ranger — both Saturday staples for years and years — debuted in 1993. Touched By an Angel and Early Edition followed, providing CBS with a earnest lineup for the ages. JAG is probably the last successful show to launch on Saturdays, and that debuted in 1995 — and NBC canceled it. (The show went on to find long-term success on CBS, though on a different night.) The Practice is the last show to air on a Saturday to win an Emmy, and it only barely counts: It aired half a season on Saturdays in 1997.
The last significant network show to debut on a Saturday was Freaks and Geeks, all the way back in 1999. And, as everyone knows, the show was a creative success and a massive ratings failure. By the end of the 2003–04 season, none of the networks were airing original scripted programming at all on Saturdays: ABC, CBS, and NBC had movies. Fox had two episodes of Cops and America's Most Wanted, the same lineup it had since 1994. Through out the '00s, CBS and NBC dabbled in newsmagazines — 48 Hours, Dateline Saturday— but mostly it was just reruns and movies. CBS tried in at mid-season 2011–12 to air original comedies, and several shows since then have aired at the end of the week merely as burn-offs.
As things stand now, there are no current plans for any network shows to air on Saturdays, and the vast majority of cable stations aren't airing anything scripted either. (Or even a good documentary-style reality show.) Part of this is because fewer people are watching TV on Saturdays, but there's also a chicken-and-egg problem: Now viewers are used to the idea that nothing's on on Saturdays, so even if something were on, we'd probably assume it was inferior or just a sad little also-ran.
But maybe this is where cable stations, particularly ones outside the HBO/Showtime/AMC realm, can claim some ground. Nickelodeon had its SNICK lineup for many years, and the aforementioned BBC and Starz shows are staking their territory. Saturday is also prime Netflix time, though for that company's purposes, it's not really important whether you're watching their original series or their licensed ones. The era of fully programmed Saturdays is gone — but it would be lovely to have a few more options back in the mix.