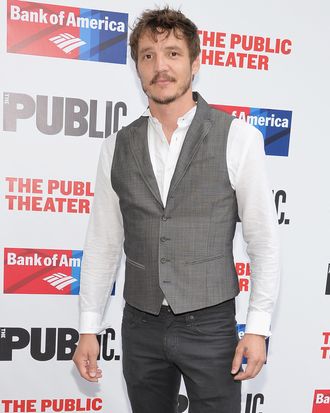 Photo: Mike Coppola/Getty Images
When we ran into Game of Thrones fan favorite Pedro Pascal at last Monday's opening of Much Ado About Nothing, he admitted that he hadn't yet watched the show's fourth-season finale, which had aired the previous evening. "I refuse to watch it in a compromised manner," he told Vulture, citing the perfectly reasonable excuse of having been busy performing in the final preview of his new play. "But I'm gonna see it on my tricked-out TV when I get the first opportunity." We bumped into the actor who played Dornish prince Oberyn Martell again last night at the Public Theater Annual Gala and got a quick update on the situation.
Have you seen the Game of Thrones season finale yet?
Yes, I have. It was astonishing.
Which parts did you enjoy?
Well, I thought the fight between Brienne and the Hound was, like, the most mind-blowing battle that I have ever seen — and that's saying a lot coming from me. It was the most visceral … if visceral experiences can be surpassed on a show like that, I feel like it was by the end of the tenth episode. I was just absolutely breathless in excitement. And the amount of events that actually sort of exploded, one after the other, was just astonishing. It's amazing to kind of see the show outdo itself in a way.
What are you hoping to see next season?
I'm really curious about everyone going to Dorne. I would love to see what happens with my character's daughters. And I would like to go and see what beautiful things Indira Varma will be doing as Ellaria Sand. You know, in carrying my legacy, hopefully.