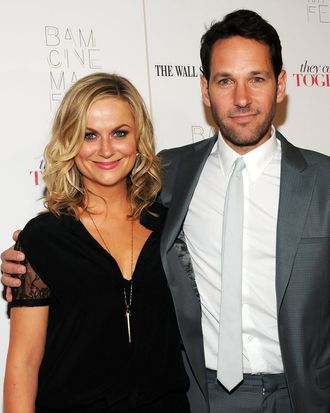 Photo: Desiree Navarro/Getty Images
Borrowing heavily from Nora Ephron, Woody Allen, and Jane Austen, They Came Together parodies the classic (near-extinct?) rom-com.  Written by Wet Hot American Summer's David Wain and Michael Showalter and shot over 23 days in Brooklyn, the film stars Paul Rudd and Amy Poehler as a pair of unlikely lovers; she owns a candy store, and he works at a big candy conglomerate that's threatening to put her store out of business. (See: You've Got Mail.) Beyond the obvious meet-cute jokes, the film makes fun of familiar rom-com tropes like the wise best girlfriend, the goofy but smart younger brother, the dinner-party setup, and New York City itself. "I have heard many directors and actors say that New York is another character in the movie," Wain told Vulture last night at a BAMcinemaFest party for the film, sponsored by Black Velvet, at No.7 in Brooklyn.  "To me it is just the most idiotic thing to say. So I just felt like saying it over and over again. I put it in the credits of the film, put it on the poster, and say it in every interview." 

Below, the cast of the film — which also includes Bill Hader and Ellie Kemper, along with appearances from Jason Mantzoukas, Christopher Meloni, Michael Ian Black, Max Greenfield, Ed Helms, Kenan Thompson, Jack McBrayer, and a sword-wielding Michael Shannon — shares their favorite rom-coms with Vulture.

Paul Rudd
Annie Hall is pretty amazing. A lot of the Woody Allen ones are pretty great, but I also love Defending Your Life. Lost in America. Albert Brooks has some — Albert Brooks had a series of movies back-to-back that rivaled just about anything.

Amy Poehler
Say Anything is a big one for me.
Which romantic comedies have you watched the most?
Does Vacation count at a romantic comedy?

David Wain
What have you watched the most?
Well, probably Heaven Can Wait, because we had it on Betamax … the Betamax was invented in 1980, so I watched that over and over and over, and I watched a lot of the Woody Allen movies over and over and over.
What's your favorite scene from Heaven Can Wait?
Well, I think my favorite moment from Heaven Can Wait is when Joseph Pendleton, played by Warren Beatty, is telling Mr. Jordan that he doesn't want to go back to heaven. He wasn't to stay in Leo Farnsworth's body, and he says, "You must abide by what is written." And he's like, "I'm not going to do it, Mr. Jordan, I love her." And he says, "You must abide by what is written." And then they shoot the cannon for the sunset, and at the same time, Charles Grodin's character shoots him with the gun and he falls down into the well, context, you have to understand. And then he comes out of the well, back in his old sweatsuit, with his clarinet from the beginning of the movie, and the music from the Dave Grusin score comes on, and it's just absolutely incredible.

Ellie Kemper
My favorite romantic comedy is Bridget Jones's Diary. I have watched it more than once. Most recently I watched it over Christmas with my little brother. I always cry when she's singing "All by Myself."
What's your favorite scene?
I think the knock-down, drag-out punchfest between Colin Firth and Hugh Grant — it just goes on forever and ever and ever, and also they're fighting over a girl, which makes me happy.

Jason Mantzoukas
I've seen Annie Hall like 30 or 40 times. It's a movie that I watch constantly. If it's on, I watch it, and it's one of those movies that I started watching when I was a kid and have always just adored it. I love the scene where they've broken up and Diane Keaton calls Woody Allen to come over and kill the spider, and then she has a breakdown. I do have a real fondness [for it]. What I love about Annie Hall is how really funny it is, but how really raw and emotional it is, in a very sad way. That I love.