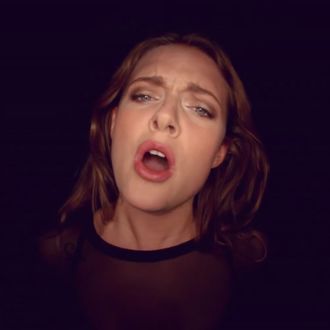 Last week, the Swedish pop singer Tove Lo made her American TV debut on Late Night With Seth Meyers; she's climbing up the Hot 100; and she's about to tour with Katy Perry. It is time to learn who she is! Here's what you need to know:
It's pronounced "Too-veh Lu."
But she doesn't mind if you say it phonetically.

Her song "Habits" is climbing up the charts as you read this.
It's currently sitting at No. 63 on the Billboard Hot 100, but it's headed in the right direction. (Up!)
She got her start as a songwriter for some people you might have heard of.
Before she released any music of her own, she studied under Supreme Swede Max Martin and wrote songs for Gavin DeGraw, Adam Lambert, Lea Michele, Girls Aloud, and Cher Lloyd.
Her name is actually Ebba Tove Elsa Nilsson.
Tove Lo has actually been her nickname since Nilsson was a child. "There was this lynx at a zoo that was called Tove, and that I totally fell in love with," she said last fall. "It was my dear godmother who decided to call me Tove Lo, after that lynx. It stuck."
Yes, she knows Icona Pop.
Tove Lo grew up outside of Stockholm, where she spent some time living with fellow Swedes Caroline Hjelt and Aino Jawo (better known as Icona Pop). She later wrote several songs on the band's self-titled EP, including "We Got the World" and "Ready for the Weekend."
She'll be touring with Katy Perry.
Perry announced late last month that Tove Lo would join her and Australian pop singer Betty Who for two weeks down under. It's Tove Lo's largest tour to date.
And she's very popular among famous teens.
"Habits is so so good, that chorus!!! you could have a full ~top 40 smash~ situation on your hands," Lorde tweeted in November.
She wrote her single "Not on Drugs" during Hurricane Sandy in New York.
According to Tove, she spent time in a studio with electricity but no internet or phone service during the massive storm. Somehow this resulted in "Not on Drugs."
She's already got a clothing line, based on the lyrics from Truth Serum.
She modeled for it, too.
She and Robyn went to the same music school.
Ah, and there's the Robyn connection you were waiting for. Tove Lo is certified; get onboard.