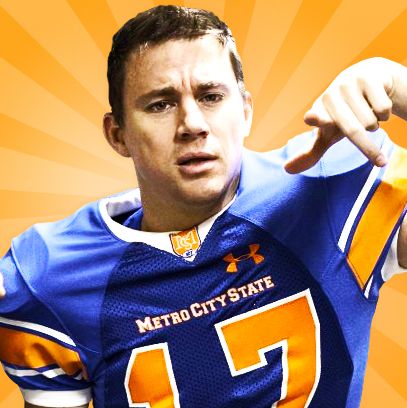 Photo: Maya Robinson and Photo by Columbia Pictures
Was everyone sleeping on Channing Tatum until two years ago, when he won over audiences with the irresistible combo platter of Magic Mike, 21 Jump Street, and The Vow? In his review of the new 22 Jump Street, Variety film critic Scott Foundas admits that "Tatum has been too good too many times now to still be deemed a revelation," but still muses that he might be "a very deft comic actor who only belatedly came into a full sense of just how funny he can be." I don't fault people for being surprised by Tatum's acting chops — his screen persona is all about that element of surprise, since he often plays against his lunkhead looks by startling you with unexpected feats of graceful physicality and offbeat comic timing — but I do think he's always had them, and here's some pre-2012 proof.
A Guide to Recognizing Your Saints
A year into his movie career, Tatum impressed as a charismatic Astoria tough guy in Dito Montiel's 2006 film A Guide to Recognizing Your Saints. "Mr. Tatum, who has the bullish physicality of a young Brando, is an electrifying actor," wrote New York Times critic A.O. Scott, "and I suspect we'll be seeing a lot more of him after this breakout performance." Tatum strutted away with every scene he shared with the movie's lead, Shia LaBeouf, and as you'll see in the clip above, Saints tapped into a scary, menacing side of the actor that few of his movies since have picked up on. Still, the film only made half a million dollars in limited release, and was overshadowed by Tatum's more mainstream work in the dance flick Step Up the previous month.
She's the Man
Yes, the Jump Street series shows off Tatum's comedic bona fides to their best effect, but our man has always been sublimely silly. Check out this little clip from the Amanda Bynes vehicle She's the Man, and just try to resist Tatum when he opens that flip phone. Can't be done.
Stop-Loss
The 2008 film Stop-Loss was supposed to confirm Ryan Phillippe as a viable Hollywood leading man, but your eye was drawn instead to another talented hunk who was literally laboring in the trenches. Back from the Iraq War, Tatum's soldier Steve can't cope with his PTSD and starts digging a foxhole in his front yard, which worries his fiancée Michelle (Abbie Cornish). It's another terrific turn from Tatum, though the fact that he spent his most significant scene shirtless and glistening in his underwear may have proved too distracting for most moviegoers. (Not a complaint! Just an observation.)
Dirty Dancing
We know now that Tatum is one of our most skilled physical performers, whether he's running through impressive dance choreography in Magic Mike or pummeling himself on the wrestling mat in the upcoming drama Foxcatcher (a film that gives him his best role yet). Still, it'd be wonderful if Hollywood could offer him a comic vehicle that really took advantage of his innate physical gifts, which are on display in this hilariously weird re-creation of a scene from Dirty Dancing, where Tatum's Swayze parody gyrates in front of Charlyne Yi as Jennifer Grey. (Just go with it.) Those body rolls! That delightfully sinuous head-banging! The moment he mounts the bed, and Yi! He takes that silliness seriously.
Morgan and Destiny's Eleventeenth Date: The Zeppelin Zoo
Physical gifts like those put Tatum in the realm of silent-movie stars, and he played toward the notion in this purposefully antiquated comic short starring his pal Joseph Gordon-Levitt. Tatum's the baddie and not afforded nearly enough screen time, but the format change proves him game for anything.
The Son of No One
Tatum reunited with his Saints director Dito Montiel for this 2011 flop, which I can't quite recommend. And yet! Tatum is so good in it — while the other, more venerable members of the cast are so awful and hammy — that the film offers the distinctly discombobulating experience of watching scenes where Tatum out-acts people like Al Pacino and Ray Liotta. The best scene comes early, where he's putting his young daughter to bed and Tatum effortlessly improvises a touching rapport with the child actress opposite him. He's such a natural improviser, in fact, that one of the primary delights of 22 Jump Street is how bad at it his character is supposed to be: In a jinx challenge with Jonah Hill where the two partners are supposed to read each other's minds and shout out the same things, he hilariously flails, starting with "Paper clips! Bananas!" before grasping for "I don't know!" and "Words!" When you're in an improv scene with Jonah Hill and you're the one earning the close-up, that's how you know you're good.