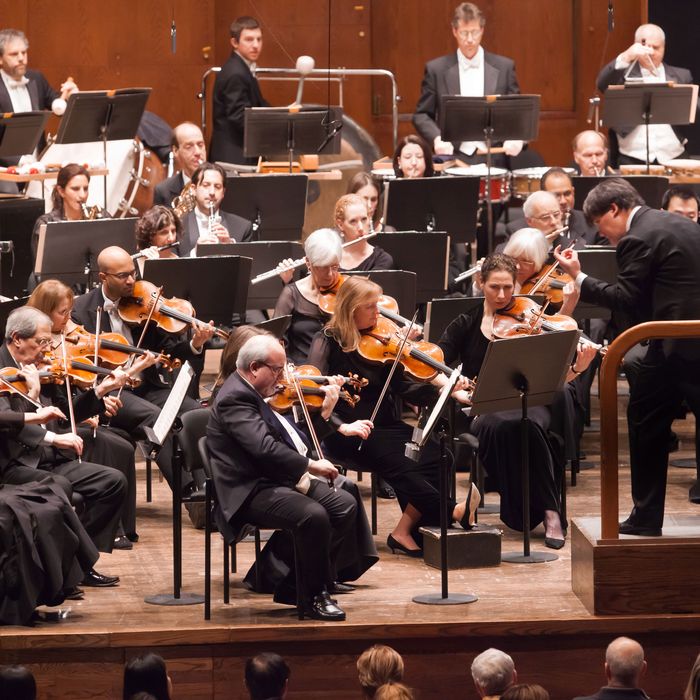 Dicterow (center) at work with Alan Gilbert on the podium, 2012.
Photo: Chris Lee
Violinist Glenn Dicterow is retiring after 34 years as New York Philharmonic concertmaster — the orchestra captain who sits within striking range of the conductor's left elbow. A few weeks before his final appearances, in Beethoven's Triple Concerto (June 24–28), Dicterow talked with Justin Davidson in his Avery Fisher Hall studio to reflect on an astounding track record: about 6,000 concerts, including 219 in which he served as soloist, led by 200 conductors, in 174 cities from Quito to Kuala Lumpur.
So, to begin with: Congratulations.
On making it 34 years? I'm a survivor, I guess.
How do you get to be concertmaster of the New York Philharmonic? Do they tap you on the shoulder?
I came to New York after spending nine years with the Los Angeles Philharmonic thinking I would never go back to an orchestra. I wanted to focus on solo and chamber music. But in 1980, Zubin Mehta asked me to try out for all of January, and at the end of the month they offered me the job.
What is the job, exactly?
It's not just about playing all the great solos. You have to be able to communicate subtle ideas of style and the phrasing very clearly and quickly to the rest of your colleagues.
Isn't that the conductor's job?
Yes, but the concertmaster is a bridge between the conductor and the orchestra. We have two days to learn what that week's conductor's is about. If there's a technical issue for the strings — say, the conductor really wants a clear diminuendo, or wants people to play very lightly with the tip of the bow — I have to make sure that happens. When you have this many string players, you want to take out an insurance policy so that you're guaranteed to get your diminuendo, even if some people are daydreaming.
If you're encountering a conductor for the first time, how long does it take you to decide whether to take that person seriously?
It's my job to take them seriously whether I like it or not.  But you know pretty quickly who's in command and who's completely out to lunch. A great conductor can get on the podium for a rehearsal and, without saying a word, transform the orchestra's sound within 30 seconds.
What about conductors who are less than great? Do you have to compensate for their failings?
If it's not clear what the conductor is indicating, then the section leaders have to step in. We communicate with our eyes and lead from the chair. Mostly, the conductor's not aware it's happening.
Can you give me an example?
Say the strings have a pizzicato [a note that's plucked, rather than bowed]. If I nod my head just as we get to the note, I'll be the only one playing.  I have to give a cue well ahead of the beat. You have one shot to get it right — no adjusting afterwards.
I understand how you learn to translate the intentions of conductors you know well. But what about someone you've never seen before?
That can be tricky. The first time Kurt Masur conducted the New York Philharmonic in Beethoven's Fifth, he just shot out his fists at us without warning. How are you supposed to know what that means?
And what's the answer?
You have to get used to very different styles. Alan [Gilbert] is very precise and rarely makes a mistake; his beat is large and easy to see. But last week we had Bernard Haitink, who's a great conductor but moves the tip of the baton in a radius of about five inches. We have to be very versatile.
You mentioned that a conductor can change the orchestra's sound almost immediately, but does the Philharmonic have a distinct sonic personality?
Oh, absolutely. You know you're listening to us right away. The sound is honest, not brash, but direct. It's a very New York attitude that spills over into our music-making. Other orchestras may be more precise, but our approach is visceral. We can really turn it on.
So if a new member of the violin section, say, hasn't yet internalized that attitude, do you have to inculcate it?
I don't personally go and New Yorkify them, but they get the message. If someone's coming from the Cleveland Orchestra, say, they'll find that we want a bit less finesse, and a more rugged style.
Are you the sheriff? Does it fall to you to keep the peace?
That's a big part of the job. When I got here, there were people who didn't speak to each other. You'd be told the flutist doesn't talk to the oboist, and there were real, physical fights. We don't have that anymore.
What do musicians argue about?
In the string section everyone has a partner, and some people hog the music stand. I do that because I can't see very well.
That sounds very New York: people getting into each other's space. I imagine you have a lot of clashing egos, too.
Oh, yes. First-chair brass players really are stars. Virtually every note they play is a solo. And the strings are full of would-be soloists with bills to pay. You have to sit in an orchestra and get along with someone who might not be as good as you — or might be better. You all have to make music together.
Will you miss that?
I'll miss certain special moments in Mahler and Bruckner, but I won't miss the frenetic pace. There's not another orchestra that works harder than we do. With the amount of music that gets thrown at us every week, you have to be ready to go immediately: It's strenuous. And in the summer, when we go to Vail, you have to hit the ground running at an altitude of over 8,000 feet. That does stuff to your brain.