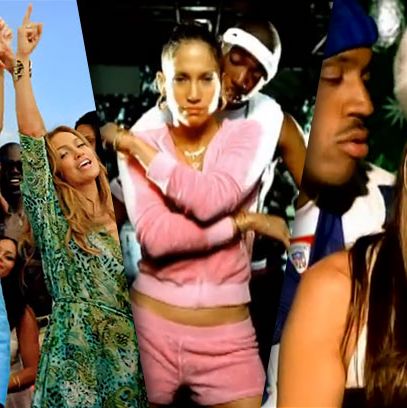 Jennifer Lopez released A.K.A., her eighth studio album, this week, and wouldn't you know it: Half of the tracks are collaborations. That's become Jenny's thing; in fact, none of her solo singles has achieved a Top 10 slot since "Love Don't Cost a Thing" peaked at No. 3 in 2001. In honor of Lopez's history of relying on song partners, we ranked each of her collaborations below.
27. "I'm Into You" featuring Lil Wayne
Apparently not even Jenny was into Weezy's verse, since she cut him from the song's video almost entirely. If only we could, like he suggests on his rap, "leave that old shit in the restroom."
26. "Worry No More" featuring Rick Ross
We as a country need to agree to stop tacking Rick Ross onto pop songs. His predictable lyrics—"addicted to fast money/white Lamborghini," as he raps here — add nothing, and he clearly recorded this in one of his Wingstop franchises thousands of miles away from Jenny's studio.
25. "Same Girl" featuring French Montana
French aimlessly floats in and out of "Same Girl" with no enthusiasm or any desire to be there. Maybe he signed a contract for two songs and wanted out when he saw the "I Luh Ya Papi" video? A nation's dreams of FrenchLo are dashed.
24. "Booty" featuring Pitbull
Know only this: Pitbull starts the song off by calling Lopez "bootyful."  It's as sexy as a bag of rocks.
23. "Feelin' So Good (Bad Boy Remix)" featuring P. Diddy and G. Dep
Here's another duet with J.Lo and her former man-candy. "It ain't fair now/boo let your hair down," Diddy rhymes on a remix that should've been tossed on a dusty shelf just like Wheezy the forgotten squeaky penguin from Toy Story 2.
22. "Goin' In" featuring Flo Rida
Is it even possible to have chemistry with a robot that a record executive taught how to rap? This answers that question: sort of? Flo Rida dabbles in Spanish, shouting "somebody tell them please/that the club is mi casa," but it just sort of sits there like a cup of water you left out overnight and drink in the morning by mistake. It's fine, but something's sort of off.
21. "Feelin' So Good" featuring Big Pun and Fat Joe
Who mixed this? Someone who hated J.Lo, apparently. Pun sounds good, though.
20. "Do It Well" featuring Ludacris
It's clear that these two haven't ever met, because there isn't the slightest spark to be found here. Luda at least delivers the Spanish more convincingly than Flo Rida could.
19. "Troubeaux" featuring Nas
"Benny Medina might wanna pay me to leave ya," raps Nas. We'll pay you instead.
18. "Get Right" featuring Fabolous
It's nice that the two New Yorkers are on a song together, but eh, this is pretty dull.
17. "AKA" featuring T.I.
Here T.I. invokes a higher power when rapping about J.Lo's ass: "You act like you want it I give you the business/Tear that shit up, girl, as God as my witness." Why does T.I. keep rapping about tearing people's asses up in pop songs? Not appropriate, T.I.
16. "Live It Up" featuring Pitbull
J.Lo brings out Pitbull's best on "Live It Up," a goofy, not-gross sense of humor that borders on parody but comes off as genuine excitement instead. Enthusiasm is good!
15. "Acting Like That" featuring Iggy Azalea
This duet is actually pretty historic, as J.Lo has a record of never collaborating with ladies. For this trap burner, she enlisted rapper of the moment Iggy Azalea for a girl-power anthem. It mostly works.
14. "All I Have" featuring LL Cool J
Now that LL Cool J is firmly embedded in the NCIS universe, it's hard to remember his days as an extremely talented rapper. While this is definitely one of his softest appearances — "I don't believe you wanna leave like this/I don't believe I just had my last real kiss," really, Todd? — he and J.Lo have a nice thing going. Also, it's fun to remember the old days.
13. "I'm Gonna Be Alright (Track Masters Remix)" featuring 50 Cent and Nas
"Alright" is peak 50 Cent territory. I'm pretty sure I had this song on a Now compilation when I was a kid, and I liked it as much then as I do now, which is a lot. Look how young and fresh Nas looks in the video! I miss that Nas. New Nas is sad and uses a TelePrompTer onstage.
12. "Dance Again" featuring Pitbull
Pitbull goes for subtle sexuality on "Dance," a welcome change of pace from the typically in-your-face-horny rapper. (Especially since he's on this list like, 400 times.)
11. "Love Don't Cost a Thing (Schoolyard Remix)" featuring Fat Joe
"Jenny it's all about you," Joe raps before ceding this very dated remix entirely to Lopez. While it doesn't hold a candle to the original, the rapper does dedicate most of his verse to actually, you know, talking about the singer rather than going off on an unrelated tangent like some other collaborators on this list.
10. "Hold You Down" featuring Fat Joe
Wind chimes and Fat Joe don't jell quite like you'd hope they would, but the rapper's verse about the passing of Pun — and how J.Lo helped him through it — is pretty touching. Joe later called it a "friendship record." Friendship is a form of chemistry, too.
9. "Baby I Love U!" featuring R. Kelly
R. Kelly is kind of the master of slow-jam duets, and this one is goofy enough — "critics and paparazzi/who gives a damn what they say?" — not to offend. J.Lo is feeling it, too.
8. "Tens" featuring Jack Mizrahi
Lopez enlisted NYC ballroom rapper Jack Mizrahi for a clever "Vogue" takeoff, a campy club anthem complete with a Britney jab ("We don't work bitch/we serve bitch"). "I turnt it, right?" J.Lo says with a giggle at end of the song. She did!
7. "On the Floor" featuring Pitbull
The first of Lopez's five (!!!) collaborations with Pitbull over the past three years is the best of the bunch: cheesy and still memorable. Best of all, Pitbull only says "donk" a couple of times, which is the metric by which we should judge all Pitbull songs from here on out.
6. "No Me Ames (Tropical Remix)" featuring Marc Anthony
It's pretty awkward now, given the divorce, but this a tribute to the chemistry J.Lo and Marc had before they even shacked up together. Sorry it didn't work out, kids.
5. "Dame (Touch Me)" featuring Chayanne
This is the only duet J.Lo ever recorded with Chayanne, which doesn't make any sense because this is a slinky and passionate salsa track with a pretty timeless sound. Sorry, Chayanne, Flo Rida came calling, I guess.
4. "Jenny From the Block" featuring Styles and Jadakiss
I'll say this: Jenny had more going with her rappers than with the super-awkward Ben Affleck, who appears in that video. Never forget Ben Affleck's awkward performance in this video.
3. "I Luh Ya Papi" featuring French Montana
Yes, yes, a thousand times yes to this Detail production. Even French Montana is on his game! Why is he dating Khloe? Why can't he date J.Lo instead?
2. "I'm Real" featuring Ja Rule
I mean, this is a damn classic. Ja Rule just got out of jail, J.Lo; did you lose his number?
1. "Ain't It Funny" featuring Ja Rule & Caddillac Tah
If you haven't sung along to this summer bop while driving in a car with the windows down at some point, you've only lived half a life. Hello, Ja. Please never go away again.