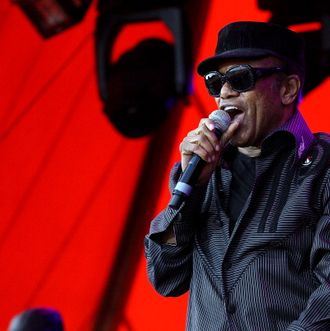 The R&B and soul great Bobby Womack — who sang "If You Think You're Lonely Now," played backup for Sam Cooke, and got a shout-out in Mariah Carey's "We Belong Together" —  died on Friday night, announced his XL Recordings publicist, Sonya Kolowrat. The cause of death is currently unknown. He was 70 years old.
For much of his career, Womack was the musician's musician, and he did not achieve the fame of his contemporaries like Marvin Gaye, Stevie Wonder, or Curtis Mayfield, but held their respect. Much of his early success came in the shadows of others, as when he played guitar for Sly Stone on There's a Riot Goin' On and Aretha Franklin's Lady Soul. Peter Gabriel released a statement saying, "[Womack's] songs and his voice have been so much a part of the fabric of so many musical lives … He was a soul legend."
Womack was born in Cleveland to a religious household where he and his four brothers formed a gospel group, the Womack Brothers, that was discovered by Sam Cooke. Cooke signed them to his label, SAR Records, and repackaged them as the Valentinos. A month after the Valentinos released "It's All Over Now," the Rolling Stones released their version, which shot up to the top of the charts in the U.K. — a pattern that would continue with other white musicians like Janis Joplin.
In 1968, Womack would begin his career as a solo artist with Fly Me to the Moon, and follow that with songs that would define his oeuvre like "If You Think You're Lonely Now," "Lookin' for a Love," and "Across 110th Street." He had a late career renaissance in 2012 with the critically acclaimed album The Bravest Man in the Universe.

Watch this great clip of Womack performing "If You Think You're Lonely Now" for the birthday of another great, Richard Pryor: