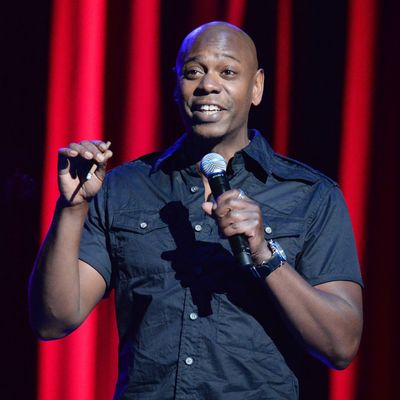 Photo: Kevin Mazur/WireImage/Getty Images
Dave Chappelle performed at Radio City Music Hall last night — his first of a nine-show engagement. With rumors of special guests (on top of those already announced, like Nas, the Roots, and Erykah Badu) and well-documented horror stories of Chappelle's past outbursts hanging over the evening, how did it go down? Here's the word from those who were there:
"But while there are many sharp bits, they rarely build momentum. The show wandered and strangely fizzled at the end, squandering several big laughs that would have made strong closing jokes. At his best, Mr. Chappelle weaves long stories, finding laughs before and after the joke. When he introduces a bit as one of the worst he's ever written, he seems to use it as a challenge, establishing the premise of a friend who pitches him terrible movie ideas with precise characterization and a sense of suspense." —New York Times
"In fact, large chunks of his riffs on raising kids and navigating marriage ended up at the same place as a lot of Bill Cosby routines — if Cosby had suddenly developed Tourette's and begun chain-cursing. After 10 years of marriage, Chappelle mused, 'You don't talk. You have nothing left to say.'" —New York Daily News
"He not only feels better, he looks better too. He has transformed himself from skinny Chappelle into in-shape, jacked Chappelle. Just look at the current poster for this Radio City run, which shows him wearing a sleeveless shirt, holding a lit cigarette in his hand, with his muscles bulging." —The Daily Beast
"Delivering his eclectic material in a laconic, laid-back style that featured him barely moving from his staked-out, center stage position, Chappelle wowed the wildly enthusiastic crowd with elaborate bits about Donald Sterling, Paula Deen, Rob Ford and Barack Obama. Referring to the former, he commented, "In America, there's an 80-year-old white man with racist tendencies … didn't see that coming" before launching into a hilarious routine imagining Sterling addressing his team before the leak of his infamous audiotape. He described hiring the newly unemployed Deen as his personal chef and making her dress up like Aunt Jemima." — The Hollywood Reporter
"The crowd ate it up, and you could see Chappelle was in his element, puffing cigarettes on a stage and soaking up laughter. This wasn't going to be another Hartford debacle; even when the topic of him abandoning his show inevitably came up at about the halfway point via a yelling audience member, Chappelle didn't let it phase him. "It was dramatic, yeah," he said, referring to his hiatus from public life. "But I'm happy now." — Rolling Stone
"But Chappelle's vivid storytelling, laconic delivery and unparalleled commentary on race in America were just as sharp as they were nine years ago. Bits — 'pieces' he wryly called them — included imagining Paula Deen as his personal chef, himself as a pregnant transgendered person and Lil' Wayne guest-starring on CSI." —The Associated Press
Also, he's still quite serious about hecklers … And everyone got a free t-shirt!