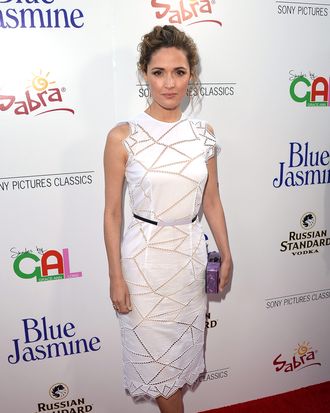 Rose Byrne poses inside the David Jones city store just after it opened its doors for its Boxing Day sales on December 26, 2013 in Sydney, Australia. Boxing Day is one of the busiest days for retail outlets in Sydney with thousands takaing advantage of the post-Christmas sale prices.
Photo: Jason Merritt/Getty Images
After a seamless transition from small-screen dramas to big-screen comedies (seriously, what can't this woman do?), Rose Byrne is setting her sights on Broadway. The Damages and Bridesmaids star has joined James Earl Jones and Masters of Sex's Annaleigh Ashford in a revival of George S. Kaufman and Moss Hart's 1936 comedy You Can't Take It With You. The play follows two families, the eccentric Sycamores and the straight-laced Kirbys, who are brought together when a Sycamore daughter and Kirby son fall in love. Byrne will play Alice Sycamore, one of the lovebirds and the "normal" daughter in a family of crazies. No word on whether she will also be the only one in the family with an Australian accent, but hey, it worked for Neighbors.