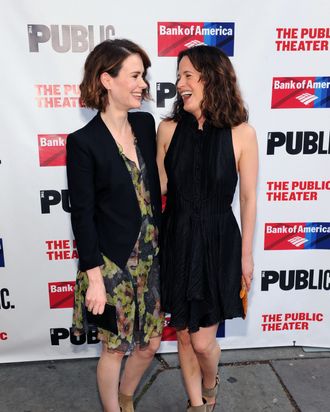 Sarah Paulson and Elizabeth Reaser.
Photo: Craig Barritt/Getty Images
You might think you have an idea about what's going on with Sarah Paulson's role as conjoined twins Dot and Bette on the upcoming season of American Horror Story: Freak Show — but, surprise! You have no idea. We spoke with her at the opening night of the Public Theater's free Shakespeare in the Park production of Much Ado About Nothing, where she remained contractually coy about Bette and Dot's backstory, but revealed that the photo she shared on Twitter was actually a digital mock-up of a two-headed Lana Winters (her character from AHS's season two, Asylum): "Everyone thinks that is the character of Dot and Bette in terms of the way I look — that's just what the company came up with [to] digitally show the two heads to Ryan. They used a picture of me as Lana Winters because it was in the period. So that's not what I'll actually look like as Dot and Bette."
How long did Paulson have to keep quiet about her new dual identities? "I've known about this since the middle of last season," she admits. "I know how much people want to know and how much they actually like to be surprised, and I knew that I could never do anything until Ryan told me that I could and once I got the go-ahead." Guess there are still some surprises to come. The big one being something Paulson herself isn't even clued into yet: "I just don't want to be the one who gets killed, you know?" Good luck, Sarah.