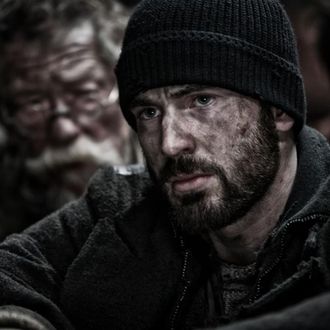 Is the summer movie season starting to seem a little bit repetitive to you? Starting next week, every moviegoing weekend in June will bring yet another studio sequel to the multiplex, but there is some salvation to be found, as long as you know where to look. On June 27, Radius-TWC will release the highly anticipated Snowpiercer, a unique sci-fi tale starring Chris Evans, Tilda Swinton, and Octavia Spencer, and directed by Bong Joon Ho (The Host). Vulture can exclusively debut the film's U.S. theatrical poster.
Set in 2031, Snowpiercer follows a motley crew of characters who've managed to survive on a frozen, uninhabitable Earth by piling into the film's titular train. In the back of the train live the have-nots, including Evans, who've gotten so fed up with their cruel treatment by the privileged people in the front section that they start a revolution, banding together to fight their way to the train's head. What that means for you, the viewer, is an abundance of Bong's visual imagination as the have-nots make their way through increasingly wilder train compartments, though nothing in the film is as outrageous as Tilda Swinton, who plays a villainous, deliciously frumpy martinet destined to lock horns with Evans.
Check out the poster below and start getting excited: Though the film went through a little bit of behind-the-scenes drama on its way to release, the version of Snowpiercer out June 27 will be Bong's full, acclaimed director's cut.