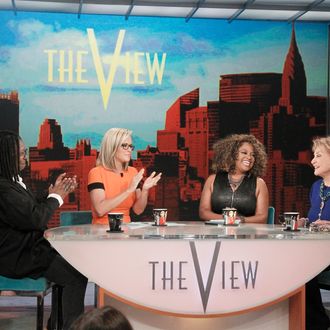 Today, both Sherri Shepherd and Jenny McCarthy announced that they will be exiting The View, leaving Whoopi Goldberg as the only host to survive what appears to be a major house-cleaning at ABC's daytime talk-show staple. Shepherd announced her departure in a statement this afternoon, saying: "It's been seven wonderful years on The View and after careful consideration it is time for me to move on. I am extremely grateful to Barbara Walters and [executive producer] Bill Geddie for giving me the opportunity. I look forward to the business opportunities that lay ahead for me and I am incredibly grateful to my View family and my fans for supporting me on this journey."
A few hours later, her co-host Jenny McCarthy joined the mass exodus, tweeting:
While both women seemed to indicate that the move was of their own volition, TMZ is claiming that they were fired, adding that executive producer Bill Geddie appears to be out as well. A statement from ABC seemed to suggest the same. "The View will be moving in an exciting new direction next season and ABC has made decisions to evolve the show creatively," the network said in a statement. No word on who will be coming in as replacements, or whether the show will now just be Whoopi Goldberg enjoying her morning coffee alone, which, frankly, we would watch.