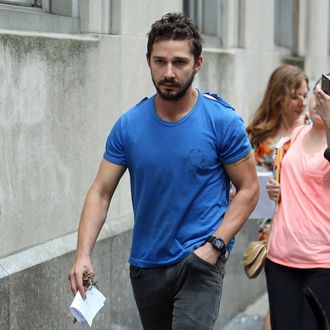 According to video obtained by the New York Post, Shia LaBeouf briefly chased a man through Times Square yesterday, prior to his arrest at a performance of Broadway's Cabaret. The video, which can be seen at the Post's site, is supported by testimony from an unnamed publishing-industry employee and his girlfriend, who claimed that LeBeouf was after a bag of McDonald's.
"He really wanted whatever was in that bag. He had so much focus … If there were French fries in the bag, maybe he really wanted to eat them, " a witness said. He added, "He was dodging people and and yelling, 'Yo, come on!' … He was on a mission. It was so bizarre."
TMZ, however, has photos that definitely show that the man Shia was chasing after held not a bag of McDonald's, but rather a tan cap that was presumably not made of French fries.
We will continue to update this bizarre and unfortunate story as it unfolds.