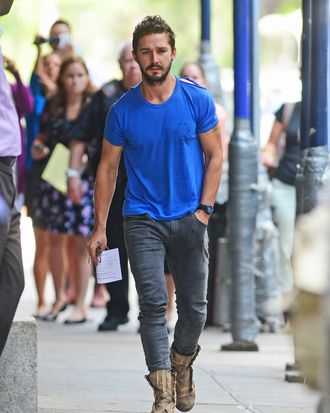 Photo: Steffman Turgeon/Splash News
Here's another item for the long list of Shia LaBeouf's erratic behavior: On Thursday night, he was escorted out of a performance of Broadway's Cabaret in handcuffs after causing a disturbance during the first act. According to Variety, police say LaBeouf was arrested during intermission after smoking inside the Studio 54 theater and acting "loud and disruptive." Cast member Danny Burstein announced on Facebook, "Ladies and gentlemen, this is your places call for Act II. Also, to let you know, Shia LaBeouf has just been escorted from the building in handcuffs." He's been charged with two counts of disorderly conduct and one count of criminal trespassing.
LaBeouf's night was reportedly off to a strange start even before he made it to the theater. Two theatergoers told CBS New York that they saw him wearing a ripped shirt and chasing a homeless man on their way to the theater. Others said he was stumbling inside the theater before the show. "Honestly, I wasn't thinking of drunk or drugs. I was thinking he was working on a role, because it was that extreme," said witness Tina Marie Miller. "If we didn't know who he was, we'd assume he was a bum, literally, from how he looked and how he was acting."
An Instagram user posted this photo, which appears to show LaBeouf exiting the theater in handcuffs:
Tony-nominated composer Benj Pasek described the scene:
If you want even more colorful (and unconfirmed) details, look no further than the New York Post. The paper reports LaBeouf was "incoherent" when approached by police, and tried to walk away from them, but fell flat on his face. Supposedly, when police ignored his demands that they remove the handcuffs, he threatened, "I'll fuck you up," called one officer a "fag," and promised to ruin his career. Sources say he was eventually muzzled with a face mask because he wouldn't stop spitting at the officers.
A spokesperson for Cabaret released a statement confirming only that LaBeouf "was disruptive during act one and escorted out of Studio 54 at intermission." The actor's rep has yet to comment.
This morning, Cabaret star Alan Cumming also tweeted about the incident:
Robert Moses of Good Day New York tweeted a photo of Shia being released from custody, and the AP reports that he has a court date set for July 24.
And video:
Yesterday afternoon, a passer-by encountered the actor on the street.
The New York Post has video and TMZ has pictures showing LaBeouf chasing a man through Times Square yesterday evening prior to his arrival at Cabaret.
This post has been updated throughout.