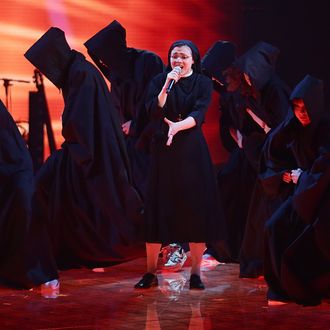 Photo: Stefania D'Alessandro/Getty Images
You remember that video of the Italian nun singing Alicia Keys's "No One" that went around the internet a while back? Sister Cristina Scuccia, a contestant on Italy's The Voice (or, The Voice of Italy), won the entire thing on Thursday — yes, wearing her nun's habit and crucifix the entire time. She grabbed 62.3 percent of the vote, thanking "the man upstairs" for her big win. Here's that impressive video:
And here she is singing "Girls Just Wanna Have Fun" — not a one-trick pony!