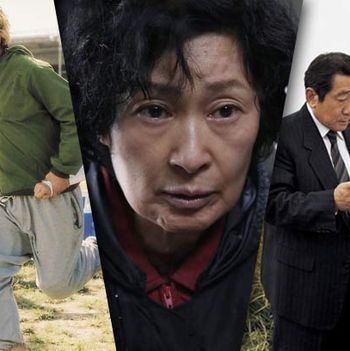 Photo: Showbox Entertainment, CJ Entertainment
Last year, Quentin Tarantino likened South Korean director Bong Joon-ho to Steven Spielberg, but that doesn't mean that many American filmgoers have ever heard of him. That's likely to change this weekend, with Bong's stateside debut, Snowpiercer – an action-packed sci-fi saga about a rebellion aboard an elaborate speeding train that houses the last human survivors of an environmental apocalypse. Fantastically inventive and gripping, Bong's latest is merely par for the course for the 44-year-old director. A filmmaker with a gift for injecting nuanced characters, lively humor, and complex interpersonal and familial dynamics into large-scale genre pictures — be they serial-killer police procedurals, monster movies, or murder-mystery thrillers — Bong's work has an electricity rivaled by few contemporaries. To prepare you for his maiden English-language effort, here's a rundown of his past output – subtitles be damned, his is a diverse and daring canon with universal appeal.
Incoherence (1994)
Bong's first calling-card was Incoherence, the third and final short he made while completing a two-year program at the Korean Academy of Film Arts, and which screened at the 1995 Vancouver and 1996 Hong Kong International Film Festivals. Comprised of three vignettes and an epilogue, its tales involve, respectively, a university professor who struggles to hide his Penthouse magazine from a student about to enter his office; a jogger who gets a paperboy in trouble by tricking him into drinking stolen milk; and a drunken man who struggles to find a bathroom late at night. In all of these segments, Bong's clever plotting and sharp editorial structure help the material build to unexpected punch lines, all of which then lead to an epilogue in which his badly behaving protagonists are featured on TV espousing hypocritical opinions about the root causes of societal decay. Exhibiting Bong's dry sense of irony as well as his formal interest in symmetrical storytelling, it's an auspicious student film (viewable on YouTube here, here, here and here) that prefigured the tone and style of his subsequent feature debut.
Barking Dogs Never Bite (2000)
Picking up where Incoherence left off, Bong's Barking Dogs Never Bite is a semi-surreal social satire about the relationship between conformity and happiness. In an apartment complex, an unemployed grad student (Lee Sung-jae) — frustrated by his inability to get a professor position, and harried by his nasty, pregnant, breadwinning wife — snaps when a neighbor's dog won't stop barking. His response is to kill the dog, only to learn that it was the wrong pooch. What ensues is murder, and misunderstanding-fueled craziness in which Lee's protagonist crosses path with a young woman (Bae Doona) and two different wackos with a taste for canines. Bong creates empathy with his wayward characters through long, patient pans and poignant close-ups.
Memories of Murder (2003)
Bong's sophomore feature was a drastic turn toward the dour. Taking a real-life investigation from the late '80s as its inspiration, 2003's masterwork Memories of Murder charts the efforts of detectives Seo (Kim Sang-kyung) and Park (Song Kang-ho, who'd subsequently become Bong's favorite leading man) to solve a string of grisly murders committed by a serial killer. It's a case that, from the outset, is sabotaged by the local police's wholesale incompetence and corruption, which Bong details with a satiric eye that's less ha-ha funny than depressingly bleak. Park and company's bumbling methods and torture-happy interrogation techniques serve as a damning critique of institutional amorality that, when paired with the killer's crimes, create an overarching a panorama of malevolence and misery. Like David Fincher's Zodiac, Bong's procedural — defined by hauntingly composed cinematography and a superb lead performance by Song — is a despondent rumination on the difficulty of ascertaining truth and justice. In this instance, law enforcement's eventual failure turns out to be a preordained outcome born from prior, individual, and systemic shortcomings.
The Host (2006)
Moving from serial killers to rampaging monsters, Bong fully established his Spielberg-ian credentials with The Host, a breakout hit abroad and at home that still stands as South Korean's all-time box-office champ. Bong's blockbuster concerns a family whose lives are torn apart by an amphibious goliath that abducts the clan's youngest daughter. Bong's depiction of that unholy beast's emergence from the Han River results in one of last decade's most rousing action sequences, primarily because — generating surprise, suspense, and horror by fixating on the perspective of his protagonists (primarily Song Kang-ho's dim but protective father) — it so skillfully meshes the epic with the intimate. By filtering its titanic mayhem through one dysfunctional family's eyes, The Host elicits both thrills and genuine pathos, not to mention ominous terror from its vistas of hazmat-suited officials responding to the destruction left in the toxic monster's wake. Though saddled with a somewhat-sketchy sociopolitical critique about U.S. military misbehavior (they're responsible for creating the monster via reckless pollution), it does nothing to undermine the greatness of Bong's film, which — sorry, Godzilla! — remains the best creature feature of the 21st century.
Mother (2009)
After following up The Host with a droll contribution to 2008's anthology Tokyo!, Bong crafted yet another tale of familial devotion — albeit of a far more twisted sort. Mother recounts the plight of an unnamed acupuncturist widow (Kim Hye-Ja), whose simple-minded son Do-joon (Won Bin) wants nothing more than to sleep with a girl and not be slandered as a "retard." When Do-joon is accused of murdering a local girl with a promiscuous past, his mother works overtime to exonerate him. That leads to an investigation that exposes society as rife with deviant sexual and violent urges (including suggestions of mother-son incest). It's Bong's most assured Korean film, one that manages to lace its story with sociopolitical commentary without sacrificing its suspense, and which ultimately proves equal parts hilarious, haunting, and horrifying.