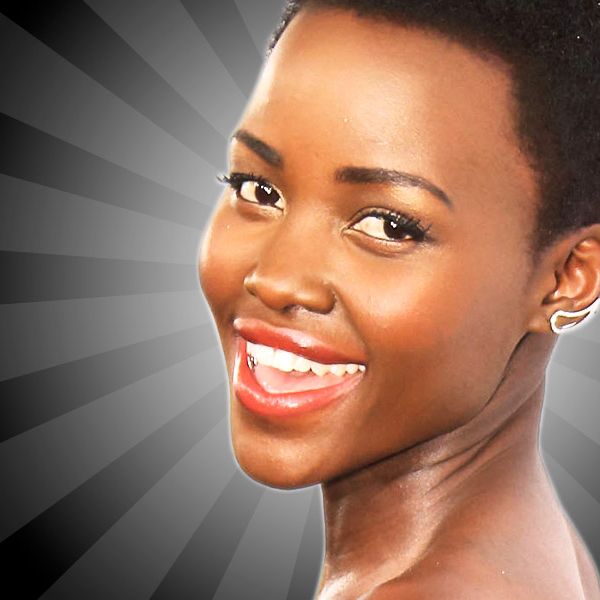 Photo: Maya Robinson and Photo by Getty
Even while she was on the promotional trail for 12 Years a Slave, Lupita Nyong'o dreamed about future roles set in a galaxy far, far away."I definitely love fantasy and would want to be in a fantasy project," Nyong'o told Shadow and Act months ago, a wish that came true today after the 31-year-old Oscar winner finally joined the biggest fantasy project Hollywood has to offer, Star Wars: Episode VII. What does this announcement mean for Nyong'o's career, and for the movie? Here are some of the things we've been thinking about since the news of her casting broke this morning.
Nyong'o needed this pop.
Last fall, Nyong'o's 12 Years co-star Alfre Woodard was asked about the evolving treatment of black actresses in Hollywood and said, "You know when we'll know that things have changed? You know that brilliant, stunningly beautiful, and poised Lupita Nyong'o? 12 Years a Slave is an incredible launch of a career … We'll see the trajectory of her path and what she's offered after that. Then we'll know whether things have changed or if Lupita is consigned to playing second banana."
For a while there, Woodard's wariness proved all too prescient, as Nyong'o was offered follow-up roles that were hardly worthy of her Oscar-winning talent. She booked one, a motion-capture part in Jon Favreau's live-action retelling of The Jungle Book, but was otherwise pursued for supporting roles in an aborted Daniel Craig courtroom drama and a Jake Gyllenhaal boxing movie where she would have played a social worker (Nyong'o wasn't even considered for Gyllenhaal's love interest, a role that went to Rachel McAdams). If a white actress with ample beauty and brains had just won the Oscar for her film debut, you can bet the offers wouldn't have been as meager.
With that in mind, then, Star Wars came along just when Nyong'o needed it. Her career momentum is restored, and her ascent to the Hollywood A-list now comes complete with an A-list project. Because of narrow-minded casting directors, Nyong'o will always have a tougher time of it than many of her other colleagues, but the certainty of Star Wars will afford her plenty of breathing room in the years to come.
Who will she play?
There was a hot rumor last month that Nyong'o was being courted to play Asajj Ventress, a Jedi-killing villainess canonically tied to the Clone Wars that bridge Episodes II and III of the Star Wars saga. I'm inclined to believe that Nyong'o has taken on a new role, though, since director J.J. Abrams has voiced a desire to disentangle Episode VII from the morass of Star Wars spin-offs that have come before him. Still, Nyong'o may yet have ties to an original character: In January, THR reported that Abrams was searching for "a twentysomething female actress who is either of mixed race or black" to play a descendant of Obi-Wan Kenobi. Could this be Nyong'o's role?
This helps ameliorate the movie's woman problem.
April 29 should have been a day of great cheer for Star Wars fans: The first major cast announcements were revealed, accompanied by a picture of the actors engaged in their first table read. There was just one problem: Aside from Carrie Fisher and newcomer Daisy Ridley, every other actor in the photo was a dude. "Hey Star Wars — Where the Hell Are the Women?" went an io9 headline. "What does it say about our ingrained concepts of gender roles that we assume half the population doesn't belong in our films?" asked Devin Faraci. Abrams quickly assured the trades that there was still one "substantial" female role to be cast, and by adding two fan-favorite actresses today — in addition to Nyong'o, Game of Thrones star Gwendolyn Christie is also joining Episode VII — that issue has at least been addressed. Still, it makes us wonder …
Why did it take so long for Nyong'o's deal to be made?
Abrams first met with Nyong'o back in February, and she's been linked to Episode VII ever since. So why did it take until June — after Episode VII has already been shooting for weeks — to announce her? Was Nyong'o still in negotiations when the cast initially assembled in London for that April table read? Or did Abrams continue to cast a wide net, meeting with other actresses (newcomer Maisie Richardson-Sellers was heavily rumored at one point) for a role that he would eventually return to Nyong'o for? If Nyong'o drops out of The Jungle Book sometime in the next few weeks, we'll have part of our answer: Nyong'o may have picked up that project when it looked like Star Wars wouldn't pan out, as their shooting schedules will likely conflict this summer. Indeed, when Vulture spoke to her at Cannes two weeks ago, Nyong'o wouldn't say a single thing about The Jungle Book. Was she already planning her exit from Favreau's film?
J.J. Abrams is admirably committed to diversity.
In addition to Nyong'o, Abrams cast Attack the Block star John Boyega in what we're all assuming to be the new trilogy's male lead, and rumor has it that some suits were squeamish about adding Boyega to a series that has so far been dominated by young blond men. Abrams, though, has long fought such entrenched thinking: He's cast black leads in several of his TV shows like Person of Interest, Almost Human, and Undercovers, and he co-created Lost, which can still boast one of the most diverse ensemble casts ever on television. Abrams has brought together some of the best actors in Hollywood for Episode VII (we'd see any movie starring Nyong'o, Adam Driver, and Oscar Isaac, even if it didn't feature lightsabers) and the fact that he's included so many people of color (relatively) in the mix is a wonderful, important thing.
Can we get Lupita a lead role now?
We're as excited as anyone that Nyong'o booked this project, but you know what would have us even giddier? A movie where her name was No. 1 on the call sheet! (We'd even settle for No. 2.) It'll be nice to see Nyong'o in that Star Wars credit crawl, but she'll still be an ensemble player listed after Harrison Ford, John Boyega, Daisy Ridley, and the new film's other leads. You'll surely get an action figure out of it, Lupita, but make sure your next move is your own movie, and may the force be with you.