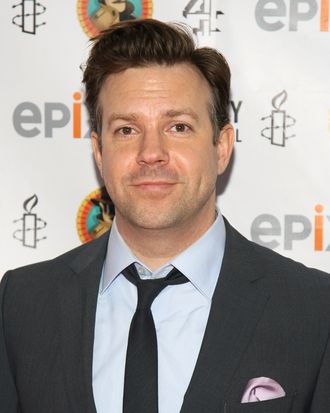 Actor Jason Sudeikis attends Amnesty International's Secret Policeman's Ball 2012 at Radio City Music Hall on March 4, 2012 in New York City.
Photo: Neilson Barnard/Getty Images
Well this sounds pretty great: Jason Sudeikis is in talks to join Owen Wilson, Kristen Wiig, and Zach Galifianakis in an untitled heist comedy from Napoleon Dynamite director Jared Hess and producer Lorne Michaels. The film, formerly titled Loomis Fargo, is based on the true story of a 1997 North Carolina armored car heist. Galifianakis will star as an armored car driver who gets persuaded by a gang of dim-witted criminals to steal almost $20 million from a bank vault, with Wilson as the leader of the gang, Wiig as Galifianakis's love interest, and Sudeikis as a hit man. No word yet on a new title, but we're optimistic that whatever they come up with can't possibly be less catchy than Loomis Fargo.