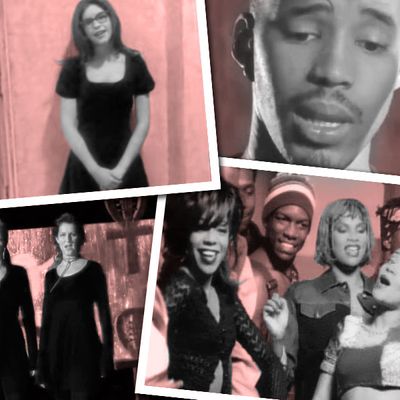 This next week marks the 20th anniversaries of The Lion King and the ubiquitously televised white Ford Bronco chase involving murder suspect O.J. Simpson. Both events seem like they could have happened just yesterday or, well, precisely 20 years ago. To find out how different that era really was compared to today, I'm using this installment of my Somewhere in Time column to set my DeLorean GIF on a crash course with the Billboard singles charts of June 1994. As we will soon discover together, it involves a few pumps, a few bumps, and at least one grind, all of which are perpetrated by then-jailbait Alicia Silverstone and Liv Tyler.
40. John Mellencamp, "Wild Night"
We did not deserve Me'Shell Ndegeocello. After she made waves with Plantation Lullabies and its viciously sexy first single "If That's Your Boyfriend," John Mellencamp gave her a leg up on this Van Morrison cover. And then, with a mixture of credibility and name recognition at her back, she led off her next album with "Leviticus: Faggot," a exploration of homophobia within the African-American family unit that managed to be terrifying, heartbreaking, beautiful, and danceable all at the same time. It didn't chart, because you can't get the word faggot on the radio unless you're a straight person using it as a pejorative; just ask Dire Straits and Eminem.
39. Hammer, "Pumps and a Bump"
Speaking of credibility, after "Addams Groove," Hammer was starving for it. So he released this track, with the sinuous synth line of Dr. Dre and the booty fixation of Sir Mix-a-Lot. He also released two different videos for it: one with him in a gangsta-style Oakland Raiders getup, and one with him in a leopard-print bikini bottom that is stretched to its very limit. Which would you rather watch? I THOUGHT SO. Please, banana hammock, don't hurt 'em.
38. Aerosmith, "Crazy"
In 2014, "Crazy" is — by a 3-to-1 margin — the most-viewed video on this list, and it's not hard to see why: A pre-Clueless Alicia Silverstone and a pre–Empire Records Liv Tyler escape Catholic school (via a window in the "GIRL'S" room [sic, and sigh]), change clothes in a moving convertible, exchange clothes in a gas-station photo booth, then immediately climb a stripper pole. It's like if Thelma and Louise had been written by Bud Bundy.
37. M People, "Moving on Up"
In June of 1994, I had just graduated from college and moved to New York City to build a new life for myself. First order of business: Meet other gay men. So I picked up a copy of HX, or Next, or whichever tiny gay magazine you would pick up in 1994, and flipped straight to the bar listings. Immediately, I identified a problem: I lived on the Upper East Side, the area in Manhattan with the fewest gay bars. There was only one, and it was down on 59th Street, but its write-up caught my eye: "Older gay men mix with a young, entrepreneurial crowd." Young businessmen? Why, I'm in advertising, I thought. That sounds perfect. I showed up, eyes bright, tail wagging, and immediately identified a much larger problem: "young entrepreneurial crowd" meant "male prostitutes." I nursed one Bud Light, received no cash offers, and went back to Dorrian's, where an idiot like me belonged.
36. Mariah Carey, "Without You"
Not bad, but everyone knows "Ken Lee" from Bulgarian Idol is the crucial "Without You" cover.
35. Melissa Etheridge, "Come to My Window"
If you told me the first few seconds of this video were hidden-camera footage of Juliette Lewis just going about an average day, I would believe you.
34. Domino, "Sweet Potato Pie"
Here's the deal: This song is actually called "Sweet Potatoe Pie" [italics mine], but the chyron within the video spells it the correct way, and I am so petrified that someone out there might think I don't know how to spell potato that I am going against Domino's wishes and doing it properly. He pulled a similar spelling trick with his previous single, "Getto Jam," which you may recognize as the exact same song as this one.
33. Richard Marx, "Now and Forever"
On the Friday of my first week in New York, everyone whom I'd met and decided I did not like — to a person — said, "I'm going to the Hamptons." That's the beauty of New York City on summer weekends: It's like the Rapture, if God had awful taste. And so it was that on the second such Friday, while I was at some unlimited-draft-beer happy-hour sports-bar nightmare with the small group of people I'd decided I did like, the bartender took a phone call, said, "You're kidding," and immediately switched all the televisions away from NBC's broadcast of Game 5 of the NBA Finals over to CNN, where Al Cowlings had just pulled O.J. Simpson's white Ford Bronco onto the northbound 405.
Anyway, long story short, this is how we know who Kim Kardashian is.
32. Erasure, "Always"
For all Erasure's many accomplishments, I will forever associate this song with "Robot Unicorn Attack," and I have to imagine they're happy with that. I, however, was a restless soul, determined to find peace. My people must exist in New York, I figured, I just have to find them. So the night after my escort adventure, I pulled out my HX or my Next or whatever, determined that the area with the most gay bars in it was Chelsea, and made a beeline for Champs, the brand-new gay sports bar on 19th Street. There I was met with a sea of chiseled jawlines, broad shoulders, weak calves, and zero eye contact. Oh, no, I thought, this porridge is too cold.
31. Salt-N'-Pepa, "Whatta Man"
Boy, those "My Name Is Not Susan" and Eddie Murphy "that's not iiii-it" references did not stand the test of time, did they?
30. Beck, "Loser"
To be 22 and single in New York City is to go out a minimum of five nights a week until 4 a.m., go home, sleep for three hours, get up and go to work, and somehow be just fine. And if you need a little nap in the middle of the day, you can catch a quick 15 by sitting on an office toilet with your pants up and your head on the toilet-paper roll. With any luck, you can avoid thinking thoughts like is this a problem until you're 28 or so.
29. Crash Test Dummies, "Mmm Mmm Mmm Mmm"
And to recover from all of this bad behavior requires Sunday brunch, which in 1994 means hearing Crash Test Dummies' "God Shuffled His Feet," along with Annie Lennox's "Medusa" and anything by Gipsy Kings, the Brand New Heavies, and Seal. I harbor a strong suspicion that k.d. lang's "Ingenue," when played in full, contains a subliminal recipe for hollandaise sauce.
28. Céline Dion, "The Power of Love"
Comedy equals tragedy plus time, we all know that. But comedy plus tragedy plus broken Franglish plus impressively durable mascara plus time equals Céline Dion's interview with Larry King after Hurricane Katrina. Watch, and feel all of the emotions.
27. Aaron Hall, "I Miss You"
On a related note, the video for this song is basically "Tyler Perry Presents the First Ten Minutes of Up."
26. Da Brat, "Funkdafied"
Years later, Da Brat would come to MTV and guest-host TRL for a day. I was out in Times Square with the screaming teens, and a few minutes into the show, my earpiece exploded with chatter. "Boobs," said several overlapping voices in the control room, "Boobs. We see her boobs. Boobs!" And then a production assistant pulled Ms. Brat aside during a commercial break and told her what we had all somehow failed to notice before the show went live: Under the camera lights, her shirt was completely sheer. Back from break, Da Brat buttoned her denim jacket, apologized for showing young America her "tig ol' bitties," and threw calmly to video No. 8. She remains the very definition of funkdaficiation under pressure.
25. Heavy D and the Boyz, "Got Me Waiting"
Decent, but the best thing Heavy D did in 1994 was sign Soul for Real to Uptown Records, paving the way for 1995's "Candy Rain," which is the greatest R&B song with "rain" in the title, followed closely by Oran "Juice" Jones's "The Rain" (But only for the spoken-word part at the end, during which Jones goes off on his "cold busted" two-timing girlfriend by saying "My first instinct was to run up on you [and] do a Rambo," "Silly rabbit, Trix are for made kids," "You without me is like corn flake without the milk," and "It's my world — you're just a squirrel trying to get a nut").
24. General Public, "I'll Take You There"
From the movie Threesome, which features a brief mid-three-way clinch between Josh Charles and Stephen Baldwin. I don't remember a single other thing about Threesome, yet I still consider it one of my top ten favorite films.
23. Céline Dion, "Misled"
At that first job, I had a co-worker who would occasionally use a word that sounded like "MY-zled," which from contextual cues I deduced meant "deceived" or "misguided." It wasn't until much later that I figured out she was mispronouncing misled. Out of concern that she might use it in a meeting, I once privately attempted to correct her: "Earlier, when you said that you might have been MY-zled by that CPM chart, were you saying that you had been mis-led?" "Uh, yeah, Dave," she said to me, her eyes radiating condescension. "Those words mean the same thing."
22. Joshua Kadison, "Beautiful in My Eyes"
Curtis Stigers. Russ Irwin. Mark Cohn. Mark Curry. Joshua Kadison. The early '90s were desperate to make the white-soul-balladeer-with-the-black-and-white-video thing happen.
21. Collective Soul, "Shine"
Toward the end of my senior year, I had started sending out résumés to various advertising agencies, and by late spring I was getting close to a job at Saatchi & Saatchi. I drove from Massachusetts down to New York City for my final interview, and as I dressed in my hotel room — Z100 playing this very song on the clock radio — I realized to my horror that I had forgotten to pack socks. A suit and wingtips with no socks? Unthinkable, I thought. Presumptuous! Foolish! I sprinted through a Walgreens on my way to the office, grabbed the first pair I could find, and hastily threw them on at a bus stop.
And that is how I got hired for my first grown-up job wearing a pair of ladies' black thigh-high stockings.
20. R. Kelly, "Bump N' Grind"
Given what we know about R. Kelly in 2014, it goes without saying that he would have no moral objection to simple bumps or grinds.
19. SWV, "Anything"
One of two songs on this chart from the movie Above the Rim, and oh, who am I kidding, you can't notice anything but Coco's fingernails in this video and neither can I.
18. Elton John, "Can You Feel the Love Tonight"
I will now reveal that I have never seen The Lion King; this whole thing of grown-ups proudly consuming and having opinions on children's entertainment is actually a fairly new development. Plus, seeing movies would have cut into my draft-beer/chicken-wing budget, so I missed all the blockbusters of this epic summer — Speed, True Lies, Forrest Gump — and I have yet to do my remedial viewing. I regret nothing.
17. Tim McGraw, "Don't Take the Girl"
This video is basically "Larry the Cable Guy Presents the First Ten Minutes of Up." Jeez Louise, between this, that Aaron Hall video, and the first season of ER, dying in childbirth was hot, hot, hot in '94.
16. Tevin Campbell, "I'm Ready"
If you need an example of the dangers of the closet, observe the case of Tevin Campbell, a furiously talented young singer who was run out of the music business on a rail after soliciting sex from an undercover cop in one of those parks where down-low gay guys used to meet. Come back, Tev! There's tolerance and Grindr now!
15. Mariah Carey, "Anytime You Need a Friend"
Here we see a more restrained Mariah Carey: The coda of this song clocks in at a mere 90 seconds, in contrast to the following year's "One Sweet Day," whose vocal-fireworks grand finale is actually still going on. (Incidentally, to leave this song off Mariah's 25 Best Singles in favor of "When You Believe" is inconceivable. Dobbins and Weber, I'm starting beef.)
14. Lisa Loeb, "Stay"
Lisa's face as she says that final "stay" at 2:40 is more honest and emotionally affecting than all of Reality Bites.
13. R. Kelly, "Your Body's Callin'"
In the 1990s, the best thing on television was New York City's channel 35, the cable-access station that played Zionist lectures during the day and hardcore pornography at night. Its signature program was The Robin Byrd Show, a talk/variety extravaganza on which New York's finest exotic dancers would exotically dance and then sit for a freewheeling group interview. It usually went about like this. At the end of every episode, Robin would gather all the guests and, while lip-synching her song "Baby Let Me Bang Your Box," pretend to blow or finger each one. It was beautiful, and though I think he's doing a heck of a job so far, Seth Meyers might want to give it a whirl.
12. Jon Secada, "If You Go"
Definitely one of my top five favorite '90s Latin pop-stars with obvious adult braces.
11. Enigma, "Return to Innocence"
Oh! Also, the nighttime commercials on channel 35 were all for 976 sex-chat hotlines, and most of them were set to Enigma songs. To this very day, when I hear "Sadeness," I say to myself, in the voice of porn legend Sharon Mitchell, "MMM — are you having a bondage fantasy, my dear?"
10. Prince, "The Most Beautiful Girl in the World"
Prince has pulled most of his videos from YouTube, so you'll have to make do with this fan-made one, which, for some reason, features mostly Kate Bush.
9. Big Mountain, "Baby I Love Your Way"
Yet another one from Reality Bites. Between this and Will to Power's 1988 "Baby I Love Your Way/Freebird" medley, few songs have taken more of a beating than this one. And it's not even the worst soundtrack song on this week's Hot 100; that honor goes to the B-52's version of "Meet the Flintstones," which sits at No. 42 and looks and sounds exactly like what you'd expect, which is to say "a dream you would have after eating Fruity Pebbles and mescaline just before bed."
8. Ace of Base, "The Sign"
An entry-level advertising salary allowed me no CD budget in the summer of 1994, and New York commercial-radio playlists are the stodgiest in the nation. So to expose myself to new artists (and ear germs), I visited the listening stations in Tower Records on 86th and Lexington, where I spent hours with Dave Matthews Band's Under the Table and Dreaming, Soul Coughing's Ruby Vroom, and the self-titled debut from G. Love & Special Sauce, a band led by my longest-standing crush. G. Love: serving high-level Weed Dealer Hotness™ for two decades and counting.
7. Toni Braxton, "You Mean the World to Me"
Toni Braxton's voice allows her to overcome the Kelly Taylor from 90210 wardrobe and Selina Meyer from the last few episodes of Veep haircut.
6. Aaliyah, "Back & Forth"
Anything Aaliyah-related is just going to bum us all out, especially a video with the creep who married her when she was 15 (allegedly [but I mean come on]). So instead, let's focus on the freshly completed 1993-94 television season, which gave us such enduring classics as Saved by the Bell: The College Years, Glenn Frey in South of Sunset, and The Mommies. Caryl and Marilyn; they were real friends, and that's why it worked.
5. Warren G, "Regulate"
Ugh, Jesus, here's Nate Dogg. Death is all around us. Go tell a loved one how you feel about them before it's too late.
4. Ace of Base, "Don't Turn Around"
This song's been around the block more than even "Baby I Love Your Way." It was written in the mid-'80s by Diane Warren and Albert Hammond (father of Albert Hammond Jr. of the Strokes), who gave it to Tina Turner, whose label made it the B-side for "Typical Male," after which it passed on to British children's TV-show host Kim Goody, R&B singer Luther Ingram, reggae band Aswad, the cast of Fame, and Neil Diamond before landing with Ace of Base, who surgically removed all of the song's emotion and turned it a worldwide hit. It has been everywhere and seen everything. "Don't Turn Around" is the Forrest Gump of songs.
3. Janet Jackson, "Any Time"
Until I watched this video just now, I'd forgotten that there was a moment in the mid-'90s when some guys thought their best hairdo option was to make their whole head look like a pineapple.
2. Madonna, "I'll Remember"
From With Honors, a forgotten movie about a bunch of Harvard students who take in a homeless Joe Pesci, starring pre–George of the Jungle Brendan Fraser (also starring in Airheads that summer!), post–The Cutting Edge Moira Kelly (also the voice of Adult Nala in The Lion King that summer!), and Patrick Dempsey (just starting the long crawl out of his awkward stage!).
1. All-4-One, "I Swear"
We can call All-4-One a transitional boy-band, a New Kids on the Block or 'N Sync for girls who entered puberty between late April and early July of 1994.
Now, here's something I swear actually happened: That second Friday night in New York City, after O.J.'s Bronco chase ended peacefully in Brentwood, after run-ins with young hustlers and snooty Chelsea boys that would have sent a less-determined person back home to St. Louis, I ditched my co-workers, hailed a taxi, and said something only a lonely, restless 22-year-old with a bellyful of cheap draft beer would dare say to a New York City cab driver: "I'm new here. Take me somewhere great."
On the way downtown, my guy said: "It's going to be hard to live here at first, but after a few weeks, you won't be able to live anywhere else." I tried to believe him. He dropped me at a place called the Monster on Sixth Avenue, a club where Middle Eastern gay men hang out. I made some new friends there, whom I accompanied to the Duplex for cabaret, where I met people who took me to Squeezebox at Don Hill's to dance to punk music with drag queens, where I met people who brought me up to Club USA, where I made out with a stranger and rode "The K-Hole," a three-story slide whose name I didn't understand. It was an adventure. It was what I came to New York for. I was just going to have to do it myself. I stumbled out of Club USA into a sunny summer Saturday morning, raised my arm to hail a taxi home, and up pulled the same cab driver who had brought me downtown.
"Well?" he asked.
"I'm staying."