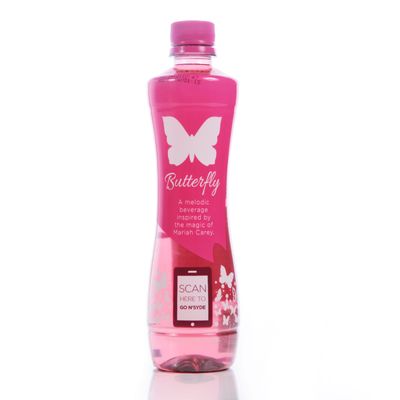 Do you love Mariah Carey? (Clearly.) Do you love juice? (Who doesn't!) Well, in addition to the album she just released, our Elusive Chanteuse has also birthed a drink: Butterfly is "a melodic beverage inspired by the magic of Mariah Carey." What's more, this Mariah Carey–themed drink appeals to all five senses. Since we here at Vulture are nothing but service-y, we will now review the drink by sight, smell, touch, sound, and (obviously) taste.
What does Butterfly look like?
A shampoo bottle? A feminine hygiene product?
Well, this: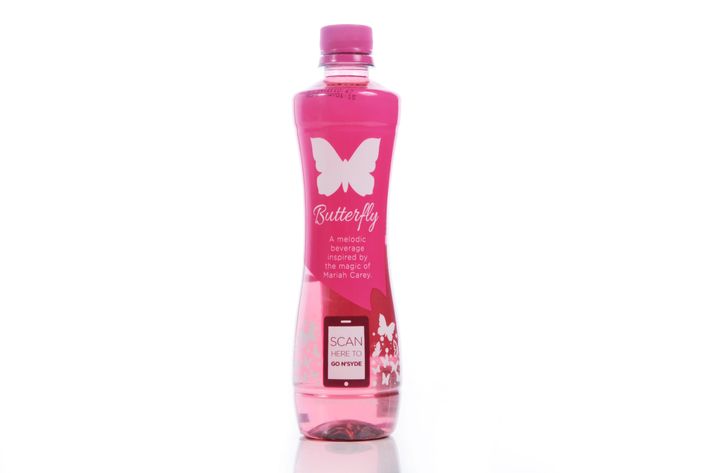 And here's the back: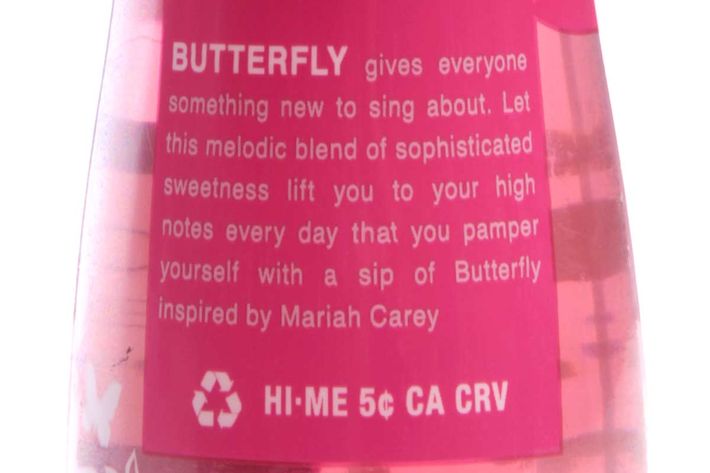 What does Butterfly feel like?
It has Mariah's shape, that's for sure. All smooth curves, with a tiny waist in the middle. Like a SmartWater wearing a flattering belt.
What does Butterfly smell like?
The first perfume (or "body spray") you ever bought for yourself at the mall. ("Bath & Body Works's Sun-Ripened Raspberry Body Splash," says Amanda Dobbins.) A melted Popsicle. Cough syrup (the good kind). A headache. 
What does Butterfly sound like?
The drink may be named for Mariah's spirit animal, but it definitely does not sound like a matching ballad. (Bottling the tears from the "Butterfly" video can be something Mimi works on for her next beverage.) Butterfly the Drink tastes immediately like the the entirety of "Fantasy," with hints of "Dreamlover" and the chorus "I'm That Chick" ("Got flavor / Like ice cream"). Its aftertaste is each and every remix of "You're Mine (Eternal)," "Oh Santa!" (the awful follow-up to "All I Want For Christmas"), and "Touch My Body."
Most importantly! What does Butterfly taste like?
"If I drank fruit juice, left it out for a few days and then poured warm water into the cup." —Gilbert Cruz
"It tastes like a less subtle Vitaminwater, the fruit-punch-flavored one. A mixture of the pink and red Starbursts." —Margaret Lyons
"A brighter, fruit-forward Communion wine. Also some Dimetapp in there." —Amanda Dobbins
All correct. Butterfly has notes (not the musical kind!) of artificial sugar, but a closer look at the ingredients reveals that sugar (real sugar) is the second ingredient. So, basically, Butterfly is so very sweet that it tastes like it's fake. It tastes like a highly suspect spring-break cocktail. It tastes like it's been left out too long, even when it's chilled. It tastes like something you'd drink once in a Vulture taste test, then never again.