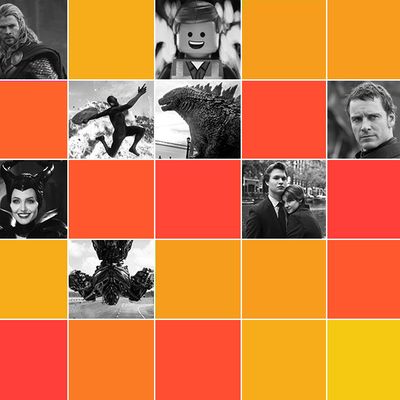 We're almost halfway through the summer-movie season, and still no would-be blockbuster has come out that can threaten the box-office dominance of two hits released way back in February and April. Twin terrors The Lego Movie and Captain America: The Winter Soldier, each boasting a $256 million gross, have put all the summer movies released since to shame: Expensive entries like X-Men: Days of Future Past, The Amazing Spider-Man 2, Godzilla, and Maleficent will all fall far short of that high box-office watermark, and none has had an opening weekend as lucrative as The Winter Soldier's $95 million haul.
That ought to change this weekend, when Transformers: Age of Extinction will likely notch the year's first debut over $100 million, but even that looming success story comes with a caveat: Age of Extinction is the only one of this summer's remaining contenders that's projected to make more than $250 million domestically. Compare that to this coming winter, when several films — including Interstellar, The Hobbit: The Battle of Five Armies, and The Hunger Games: Mockingjay, Part 1 — will likely breeze past that box-office benchmark, and it's clear that the script has been flipped. For the first time in the modern moviegoing era, the bulk of our biggest blockbusters will come from outside the May-to-August corridor.

Is it time, then, to sound the death knell for the summer-movie season, as David Ehrlich recently argued at The Dissolve? Not quite. Yes, 2014 has given us an especially weak summer season that lags behind last year's, and 2015's summer-movie lineup has a whole lot of question marks, too (that is, after the sizable exclamation point that Avengers: Age of Ultron is sure to represent). Summer 2016, though, is already so blockbuster-choked that Captain America 3 and Batman v. Superman: Dawn of Justice are currently scheduled to open on the same day. The summer-movie season is too big and too lucrative to ever fade away completely, even if, like many of the franchises it plays home to, it has to suffer through a few underwhelming installments.
But, as Ehrlich's piece also points out, this weak summer season does throw the rest of the year into greater relief, and that's where the real seismic shifts have occurred. No longer does Hollywood stuff all of its blockbusters into the summer months and leave the rest of the year barren. Now, when it comes to mega-budget product and franchise-worthy returns, the movie schedule truly has become year-round.

Look no further than the Hunger Games franchise, which is poised to become, on average, the highest-grossing film series ever to bypass summer entirely. The Hunger Games: Catching Fire was released last November and earned a staggering $424 million, making it 2013's biggest grosser; if Mockingjay, Part 1 (out November 21) can pull off the same feat, it'll be the first time in well over a decade that two consecutive years at the box office were topped by non-summer movies. And this may be only the beginning: Next winter, we'll get both Mockingjay, Part 2 and Star Wars: Episode VII, while December 2016 boasts Avatar 2, the sequel to the highest-grossing film of all time. The box-office crown that was for so long destined to go to the year's biggest summer spectacular is now in permanent play.

Look, too, at March's sequel-spawning Divergent, which earned a robust $149 million, far more than last summer's wannabe-franchise-starters Pacific Rim, The Lone Ranger, and White House Down. In years past, a studio might have weighed that gross and considered it proof that the Divergent sequels could play in the summer big-leagues; instead, execs at Lionsgate/Summit opted to stay put, promptly announcing that the three remaining Divergent movies would all boast March release dates over the next three years.

It's a trend that's been a long time coming. The Lord of the Rings franchise was one of the first to prove its might outside the summer-movie season, while the success of the Twilight series (which released all but one of its installments in November) and the Harry Potter franchise (which split its release dates evenly between summer and winter) proved to Hollywood that blockbusters needn't require warm weather. Recently, the out-of-season sequels to Thor and Captain America actually outgrossed their summer-set originals, and the James Bond movies, which have come out in the fourth quarter since 1995's series reboot Goldeneye, have only gotten bigger and bigger, culminating with the $304 million gross of 2012's series high Skyfall. If there was any doubt that audiences have a year-round appetite for blockbusters, it's gone now.

Still, there's more to the schedule shake-up than that: Many of the movies that hit big outside the summer corridor feel fresher than their summer brethren and play well to underserved audiences. For far too long, the summer movie season treated women like second-class citizens, and female-dominated mega-franchises like The Hunger Games, Twilight, and Divergent consequently sprung up elsewhere. Every so often, a movie aimed at women lands on the summer schedule and pops in a big way — like Bridesmaids in 2011, or this year's The Fault in Our Stars — but Hollywood executives continue to treat those as anomalies, ensuring that they'll never disrupt a superhero-soaked summer schedule aimed primarily at young men.

Sometimes you get the feeling that they don't even know what they're sitting on. Disney surely expected that, of its two big animated films last year, summer sequel Monsters University would handily outgross the November-slated Frozen; you could sense it in the timid Frozen ad campaign, which was so cagey about the fact that it starred two female characters that it buried them in snow for the movie's poster. But in the end, Monsters U. was no match for all the little girls who powered Frozen to a staggering $400 million gross, the biggest non-summer take for an animated film ever. Disney had tried to sell Frozen like a summer movie, taking every step to make its campaign as boy-friendly as possible, but the audience that feels most neglected by summer movies showed up instead. This was their time, and the message came through loud and clear.

But will the studios listen? The signs are plentiful that we want different types of blockbusters released outside of the summer corridor — that movies led by women can do big business, and riskier properties can pay off — but executives may be more besotted by those sterling grosses earned by off-season entries Captain America: The Winter Soldier and Thor: The Dark World, and instead start scheduling summer-ready sequels anywhere they feel like it. If the rest of the calendar simply looks like summer from now on, Hollywood will have missed a major opportunity to shake things up, since movies released in the spring and fall are succeeding because there's a palpable hunger for something different out there. To save the summer-movie season, and to preserve the potent power of the off season, we've got to explode the old notions of what it means to make a blockbuster. Fortunately, explosions are something that summer movies can do quite well.