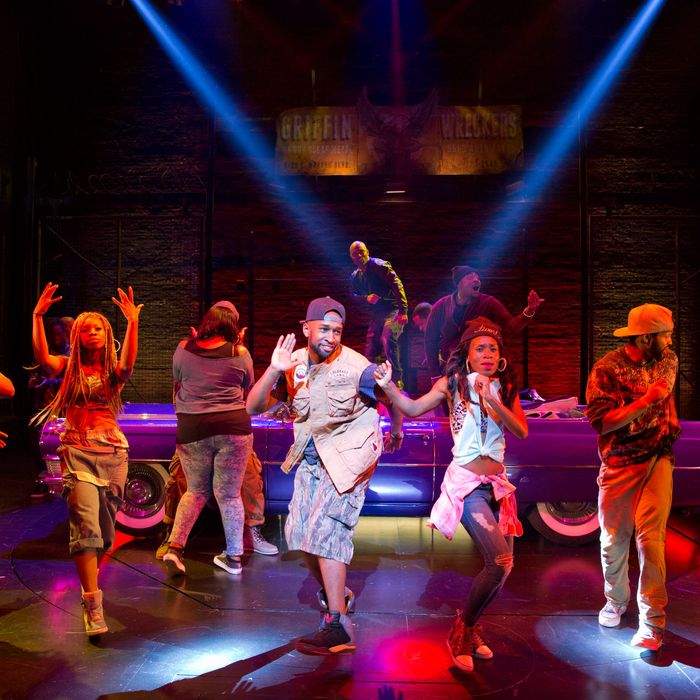 As opening lines of musicals go, it's a long road from "There's a bright golden haze on the meadow" to "They got a nigga / Shedding tears, reminiscing on my past fears / Cause shit was hectic for me last year." But if it's clear we're no longer in Oklahoma!, it's harder to say exactly where the asymmetric beats of Holler If Ya Hear Me land us. It's not even clear that this "new American musical inspired by the work of Tupac Shakur" (as the title page of the script carefully puts it) is a musical, at least in the traditional sense. Indeed, Holler If Ya Hear Me asks us — admirably if sometimes too artlessly — to rethink everything we assume we know about the form and content of musicals, and by extension about the kind of lives musicals are capable of reflecting. 
The show's ambition to remake the theater couldn't be more literal: The Palace has been converted from a traditional Broadway house into something more like a stadium, with its orchestra drastically foreshortened and steeply raked to meet the balcony after just nine rows. (Some 600 seats were eliminated in the process.) The former rear orchestra section is now given over to a few uncaptioned exhibits on loan from the National Museum of Hip-Hop, including a baby-blue tracksuit apparently worn by someone, and a pair of Timberland boots customized with portraits of Mandela and Obama. If the latter retrofit feels dinky and confusing, the bigger one, much mocked in theater chat rooms in anticipation, actually succeeds, all but hurling the audience into the action. 
That dichotomy is evident throughout: smart, evocative choices alternating with hackneyed, off-putting ones. In the latter category unfortunately falls much of the book, cobbled by Todd Kreidler around the Tupac catalog with the proviso that he not tell the actual Tupac story. (Afeni Shakur, the rapper's mother and one of the producers, did not grant those particular rights.) Thus hampered, Kreidler, a longtime assistant to August Wilson, has come up with a jury-rigged mash-up of tropes from sources as diverse as The Piano Lesson, In the Heights, and West Side Story. The result is oddly vague, given the specificity of Tupac's lyrics; it's not even clear where the action takes place. The program somewhat disingenuously suggests "a Midwestern industrial city," as if to throw us off the scent.
The characters are likewise generic. John, who raps those opening lines, is an ex-con trying to stay clear of trouble; Vertus is the neighborhood drug kingpin; Corinne the sassy girl who switched from one man to the other. But that love triangle leads nowhere; all the women, including the formidable Tonya Pinkins as Vertus's mother, are almost inevitably accessories to the plot. Instead the action hinges on the killing of Vertus's younger brother — an innocent "house child" who liked to read comic books — and the question of how or whether his death will be avenged. You can almost write the rest from these clues. Suffice it to say that another life is lost before the curtain, and the dream of a less violent place is chorally illustrated. "Nothin but peace love / And street passion / Every ghetto needs a thug mansion" is a pretty good gloss on "Somewhere."
Tupac's words are inherently strong, if you get over your distaste for eccentric stresses and rhymes so slant they're almost perpendicular. As substitutes for songs in a dramatic context, though, they're hit-or-miss. They certainly pack a wallop of information, if you can grasp them as they come at you in mile-a-minute sixteenth-note barrages instead of stately quarter-note promenades. But because they are first-person observations from one point of view — Tupac's — they can't handle the work of characterization. (Individual Tupac numbers are often divvied among several actors, blurring their differences.)
With almost no sonic, let alone comic relief, the show therefore has a big problem with stylistic monotony. Emotional monotony, too. One of the things traditional melody does in musicals is lift a story out of itself, achieving through unself-conscious beauty (or the attempt at it) a plane in which the specific and the general — the characters and the audience — can merge. And while some viewers, presumably younger than I, may get this effect from Tupac's words (as arranged and in some cases musicalized by Daryl Waters) I found it impossible. I'm not even sure that's what Tupac himself was after. He wasn't a dramatist, after all. He was writing to express only himself, and because he was astonishingly complicated, that was compelling enough.
But a musical of this size needs to create more complications than even Tupac contained. Holler If Ya Hear Me is, in that regard, content with way too few, not just in the sketchy book but also in the staging. The director Kenny Leon, fresh off his Tony award for A Raisin in the Sun — a play Tupac once appeared in — seems to have been in a bit of a rush here, relying too often on stereotyped or shorthand gestures, movement patterns, and effects. (Wayne Cilento's choreography is well performed but lacks thrills.) There are too many moments where you have no idea what is going on or, worse, where nothing is going on. And secondary characters are treated almost like set pieces: wheeled on and wheeled off. Luckily, Leon has for the most part been effective with his principal cast. Saul Williams, the spoken-word artist, makes a powerful theatrical debut as John, his dignity and anger in precarious equilibrium. And if Christopher Jackson does not portray Vertus as a very scary drug lord, that turns out to be a more interesting choice. 
Jackson is usually the only person on stage who seems to recall that he's in a Broadway show. (He's been in plenty, including the hip-hop-heavy In the Heights.) Everyone and everything else is — there's no other phrase for it — deadly serious. Of course, so was Tupac's worldview, and world. One interpretation of rap (at least before it got gentrified) is that it's poverty music, expressing in a content-dictates-form manner the deprivations of a certain segment of black urban life. In that context, melody itself might be an affectation. It's only fitting, then, that a story about unending cycles of violence should express itself in this new way, just as Maxwell Anderson and LeRoi Jones found new forms of poetic drama to encompass their generally tragic vision. But musicals are hybrid monsters; they eat their sources and mix them with delight. And so while I admire Holler If Ya Hear Me's attempt to add its new voice to the medium, there's only so much rage it can take. Which is, I suppose, the point. 
Holler If Ya Hear Me is at the Palace Theatre.