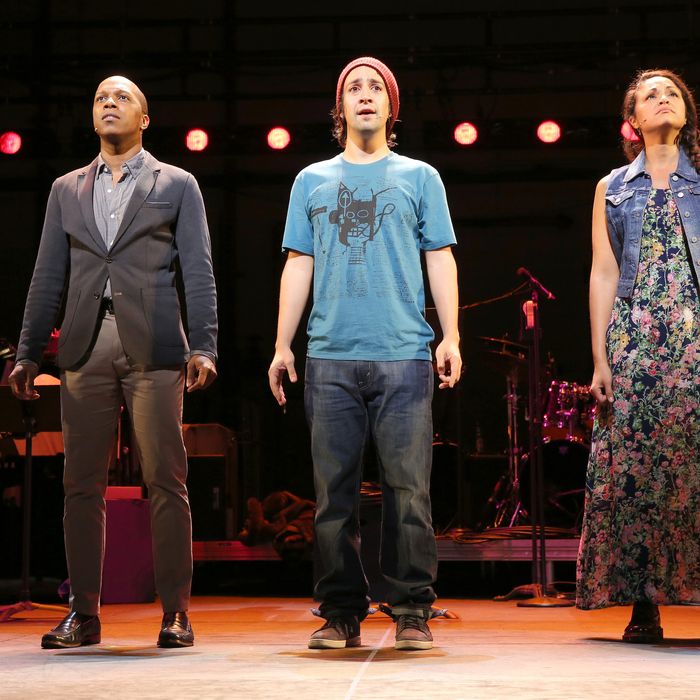 Leslie Odom Jr., Lin-Manuel Miranda, and Karen Olivo in the Encores! production of tick, tick … BOOM!
Photo: Joan Marcus
The plight of promising young artists is a subject that's infinitely fascinating to promising young artists. If they fulfill that promise, the rest of us may retrospectively find the plight fascinating as well. Gypsy, Merrily We Roll Along, even Jersey Boys show us how successful performers or creators got that way despite various adversities. We wouldn't be interested if they hadn't. 
Jonathan Larson is an in-between case, and his Bildungsroman musical tick, tick … BOOM! — the first offering of this summer's Encores! Off-Center series — is an in-between work. It's so autobiographical it sometimes feels like the unedited jottings of a journal marked 1990; the main character, named Jon, is a "promising young composer" who works (as Larson did then) in a diner to support his songwriting habit. He has a dancer girlfriend and a gay roommate and a reading of a musical called Superbia in the works. (All true.) But with his 30th birthday approaching he begins to hear the clock of his life ticking by, with the inevitable boom to come; hence the title. Neither a success nor a successful sell-out, what has he got to show for himself? He decides to give up and go into marketing; he changes his mind. That (along with the girlfriend's departure and the roommate's out-of-the-blue bad news) is the whole plot. 
But for those who know what happened to Larson after the events described in tick, tick … BOOM! the title, and thus its story, may have additional resonance. Though the show itself, which Larson performed as a one-man rock monologue called 30/90 and then Boho Days, went nowhere at first, many of the themes and devices got recycled into Rent, which ran for 12 years on Broadway. Of course, by then he was dead: The ticking bomb of his undiagnosed aortic aneurysm exploded on the morning of that blockbuster's first Off Broadway preview in 1996. He was 35. Later, the playwright David Auburn shaped the tick, tick … BOOM! material into a three-person musical; its promising run at the Jane Street Theatre in 2001, starring Raúl Esparza, was interrupted by the more literal explosions of September 11. It hobbled along for a few more months, but basically disappeared after that into the cult underground of regional stagings and cast album collectomania.
Thirteen years later, it's a natural for Encores! Off-Center, which is giving it top-drawer exposure in an emotionally vibrant production directed by Oliver Butler and starring Lin-Manuel Miranda as the songwriter, Karen Olivo as the girlfriend, and Leslie Odom Jr. as the roommate. It's no criticism of the series or the artists to say that the result reveals the show's faults as much as its promise. I call tick, tick… BOOM! an in-between case because Larson never had the chance to apply to it the mature storytelling discipline that might have allowed for a more robust narrative and sucked some of the narcissistic haze from the room. (Rent was a marked improvement.) And though Auburn was able to divvy up the songs sensibly enough, providing balance among the characters and a roof-rattling showstopper for Olivo in "Come to Your Senses," the underlying first-person architecture is still annoyingly evident. And limiting: The songs inevitably describe rather than demonstrate conflict. Only one, called "Therapy," in which Jon and his girlfriend fight about fighting, actually stumbles into drama:
I feel bad that
You feel bad about
Me feeling bad about
You feeling bad about
What I said about
What you said about
Me not being able to share a feeling
But the rest, though mostly tuneful and clever, seem like they could have been meant for almost any other show. In that sense tick, tick… BOOM! is not just a story about learning to write but a record of it.
Larson knew it: The final number is called "Louder Than Words." Still, he couldn't help noodling around with puns and pastiche when he should have been aiming higher. It may be, as Jon says in the show, that his ambition in tick, tick … BOOM! was to "put rock onstage — real rock, not warmed-over easy-listening pop," but his palette is too musical-theater and, yes, pop, for that, with doo-wop ditties and minuets and even a loving satire of Sunday in the Park With George:
Sunday
In the blue
Silver chromium diner
On the green
Purple yellow red stools
Sit the fools …
He didn't need rock; he needed a harder place to write from.
Butler, who directed Will Eno's The Open House earlier this year, was therefore smart to resist the urge (as he also did in that dour comedy) to underline the obvious. Instead he understands that this sad and somewhat navel-gazing tale benefits from simple beauty and warmth. The non-set set by Donyale Werle (mostly lighting rigs and theatrical detritus) and the colorful lighting by Mark Barton are among the loveliest I've seen at Encores. So too the cast. Olivo, who has for the most part left the New York stage, amply demonstrates, and not just vocally, why she needs to return. Odom smartly plays against the tragic implications of his character with lightness and charm. But in particular, Miranda's stupendously likable take on the main character, and his full emotional commitment to even the cliché aspects of the writing, goes a long way toward diluting the material's goo. If Esparza sang the hell out of the score on the original cast recording, that's exactly what Miranda (not nearly as good a singer) doesn't do; he sings the hell into the score. A rather ordinary youthful dilemma seems for a minute at least, if not for 90, to be so much more, even without reference to the tragedy that soon overtook its author. Even better, the gloom is sometimes interrupted by surprise cloudbreaks of joy.
That's nice, if not quite sufficient. What Jon wonders about Superbia — "Is it good enough for Broadway, that magical street of dreams? Is it too good for Broadway, that shameless commercial whore?" — is also worth wondering about tick, tick … BOOM! And though the answers may be no and no, it has found a perfect home at Encores! If only that home weren't such a very short sublet.
tick, tick … BOOM! is at City Center through June 28.