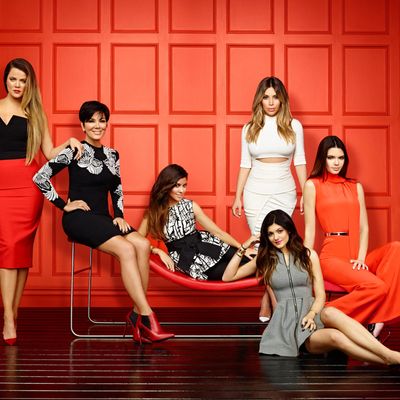 NUP_158672_3531.JPG
Photo: Brian Bowen Smith/E!
Although it may feel like the Kardashian family never leaves the spotlight, their reality show, Keeping Up With the Kardashians, has actually been on hiatus for the past several months. Therefore, we've had to take it upon ourselves to track the cabal's every move in magazines, blogs, and on Twitter and Instagram. But KUWTK often incorporates outside gossip by either "correcting" rumors or adding another element to an existing story. (Whether or not a reality show ever includes any truth is debatable, but neither does the actual reality of being a Kardashian, so we're on even ground.)
Since we last saw the clan, in E!'s Kimye proposal spectacular special, so much has happened. Here is a list of things that we demand be included this season:
The "royal" wedding.
Naturally, this is the top thing that we'll all be waiting for. Kim and Kanye's nuptials will likely get plenty of screentime on KUWTK. We would even go so far as to predict a multiple-episode arc! Don't forget, there's layers of drama embedded below the surface of this party: Brody Jenner's missing invite, Rob's blowout and return to L.A., Beyoncé and Jay Z's snub, a Lana Del Rey cameo (!) … Even Jaden Smith might pop up.
Rob :(
If you caught Sunday's mid-season premiere, you'll know that KUWTK has already jumped headfirst into the whole Rob situation. He's unhappy, unhealthy, and, worst of all, surrounded by a family who puts appearances before all else. Not that Rob shouldn't do his damndest to get well, but the company he keeps perhaps isn't the right group to help him do so. Will we see this "story line" culminate at Kimye's wedding — where Rob flies to Florence only to end up fighting with his family and leaving before the thing even begins?
Khloe and … French Montana?
Not too long ago, Khloe and husband Lamar Odom had their own spinoff newlywed TV show. It was adorable. They were, for that moment, the heart of the Kardashian clan: a couple clearly in love who actually enjoyed being around each other. But things happen: Odom was caught in a drug scandal, and Khloe is (fingers crossed!) moving on … to a Bronx-based rapper named French Montana. The Kardashians haven't owned up to the relationship yet, but it's pretty clear. We're gonna need some serious French Montana cameos this season.
Kourtney is pregnant again.
Kourtney is the most underrated Kardashian. She doesn't take anyone's shit! Her oft-bitchy dryness sharply contrasts with the demeanor of the rest of the family. Even her baby daddy, "Lord" Scott Disick, isn't quite sure how to interact with her. And they already have two kids. Well, make that three. She just announced that she's with child once more. Pregnancies make great reality TV.
The Jenner sisters.
Hopefully, the boringness of the Jenner sisters in real life will reflect back onto their reality show and we will see less of them. Because they are boring.
What is going on with Bruce Jenner?
Oh, God, Bruce. He's the Kardashian underdog and always has been. But now with Bruce and Kris breaking up, and rags claiming that he's undergoing gender-reassignment surgery, there's a lot to untangle.
Welcome to the "world," North West.
How much Baby North will we get on KUWTK? Not that much, so far. But with Kourtney's kids Mason and Baby Penelope already regulars (and don't forget that Kardashian Kids Klothing line to push!), we're hoping for some more Baby North in upcoming episodes.