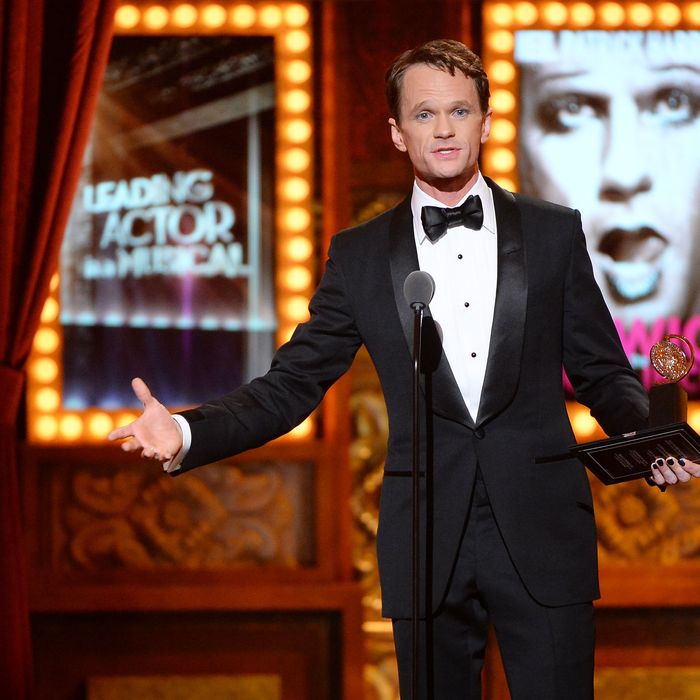 Photo: Theo Wargo/2014 Getty Images
Last night's Tony Awards presentation capped off, or at least put to rest, the 2013-2014 Broadway season, which featured very strong if not record ticket-sales of about $1.27 billion. Yay, money! The season also featured, incidentally, some good performances and shows, a few of which were honored with tiny sculptures during the three-hour telecast on CBS. (An hour of tech awards went unbroadcast beforehand.) The results were, as happens in generally good seasons, chaotic and unrepresentative, even more so because a goodly number of excellences went unrecognized thanks to the hopeless peculiarities of the nominating process. (More on that another day.) Worse than the award results, though, was the inability of people who represent all that great work to make good television out of celebrating it. Live-blogging the event with hilarious Julie Klausner, I nearly missed the lack of personality and emotion onscreen, except when Audra McDonald won her sixth award and cried us a river to show how she does it. But the Tonys are what they are, to paraphrase a Broadway gay anthem. (That's redundant, as the telecast also showed.) My suggestion: Let's just have Audra sing the whole show next year. Until then, here are a few highlights, lowlights, carps, and commendations from the sidelines.
THE TELECAST
Like your sister's girlfriend, it was lazy and dull and weird. The writers pulled off the amazing trick of making host Hugh Jackman's natural charm seem smarmy, with inexplicable musical numbers (why was he hopping?) and too many gay jokes. (It's different when Neil Patrick Harris, America's Most Relatable Homosexual™, makes them.) The special material throughout was subpar, at least by the standards of recent seasons. (Where have you gone, Lin-Manuel Miranda?) And the choices of content, order, and inclusion were, as always, mystifying. You could feel (but not quite parse) the machinations going on behind the scenes.
SHAME, SHAME
It's one thing to shunt the tech awards to the unbroadcast first hour; no one but insiders know those artists, and since they are all superb, the contests are confusing and unfun. But exiling the awards for Best Score, Best Book of a Musical, and Best Choreography — and then reporting them, embarrassedly, in hasty bumpers to the main show — is unforgivable. (For the record: Jason Robert Brown won Best Score, for The Bridges of Madison County; Robert L. Freedman won Best Book of a Musical, for Gentleman's Guide to Love and Murder; and Warren Carlyle won Best Choreography, for After Midnight.) The people putting the show together are either ignorant of or actively hostile to what makes Broadway Broadway.
MUSICAL EXCERPTS THAT WORKED
Aladdin, gaudy but fun; Beautiful: The Carole King Musical, with "surprise" visit from Carole King; and Hedwig and the Angry Inch, with NPH licking Samuel L. Jackson's glasses.
MUSICAL EXCERPTS THAT DID NOT
Gentleman's Guide, which was impossible to follow if you don't know the show; Les Miz, whose staging of "One Day More" looked like a preschool pageant; and Violet, which led Julie Klasuner to think that the show is about a waif being attacked by a banshee.
PLAYWRIGHT, WRITE THYSELF
Nonmusical plays always get short shrift on the Tonys because it's difficult to figure out how to showcase them. This year, the producers tried having the authors themselves introduce B-roll excerpts from their nominated works. This did not solve the problem. Turns out playwrights are just as dull and uninformative as the voice-over artists who used to read PR copy. And now there's also an optics problem: five white guys in a row.
SPREAD IT AROUND
The eight performance awards went to actors in seven different shows. (Only Hedwig nabbed two: one for NPH, as expected, and one for Lena Hall.) Overall, the distribution was also fairly even. No one production swept up, but several musicals did creditably enough to help sales: Hedwig (4), Gentleman's Guide (4), Beautiful (only 2, but one of them was Best Actress in a Leading Role). Among the plays, it hardly matters. Three of the "big" winners — A Raisin in the Sun (3), All the Way (3), and Lady Day at Emerson's Bar & Grill (2) — are limited engagements, closing this summer.  The other, Twelfth Night (2), closed in February.
RUDIN V. WEINSTEIN
The two moguls went toe to toe. Rudin waved his magic wand and materialized three Tonys for his fine production of Raisin in the Sun, none of which were expected. (Extra classy points for letting director Kenny Leon accept the award for Best Revival.) Weinstein, a Broadway newbie, wielded his fairy dust to get a scene from his upcoming musical Finding Neverland, about the backstory of Peter Pan, featured right before the biggest award of the night. That's power. On the downside, the number was completely incomprehensible, with Jennifer Hudson apparently playing Belty Lady, a character J.M. Barrie forgot to write.
AUDRA'S NEXT MOVE
With her sixth Tony, for Best Actress in a Play, she has now exhausted all the performance categories and then some. Not to worry; she is attached to next season's revival of The King and I. She's the lighting designer.
THIRD TIME'S A CHARM
Having won the Best Supporting Actor Tony for his work as Olivia in the Shakespeare's Globe production of Twelfth Night, Mark Rylance did not in fact deliver an oddball poem by Oklahoma bard Louis Jenkins, as is his wont. This time he gave a lovely, appropriate, and well-spoken tribute to Sam Wanamaker, the American responsible for the creation of the famed London theater. But what's with the plummy British accent? Rylance, though born in England, left at age 2 and was raised in Connecticut and Wisconsin.
SAD FACE
For (1) Kelli O'Hara, who did not win, again, despite giving (in Bridges) one of the great singing performances in recent years. For (2) Isabel Toledo, whose costumes for After Midnight were not only brilliant in themselves but represented a fresh new look in clothing design for the stage. And for (3) old people, who, to judge from nearly every commercial during the telecast, are in imminent danger of stroke, cholesterolemia, fiber insufficiency, and painful urination.
BE GONE I SAY
Clint Eastwood; rehearsed backstage "antics"; any rap performance of pre-2000 musicals.