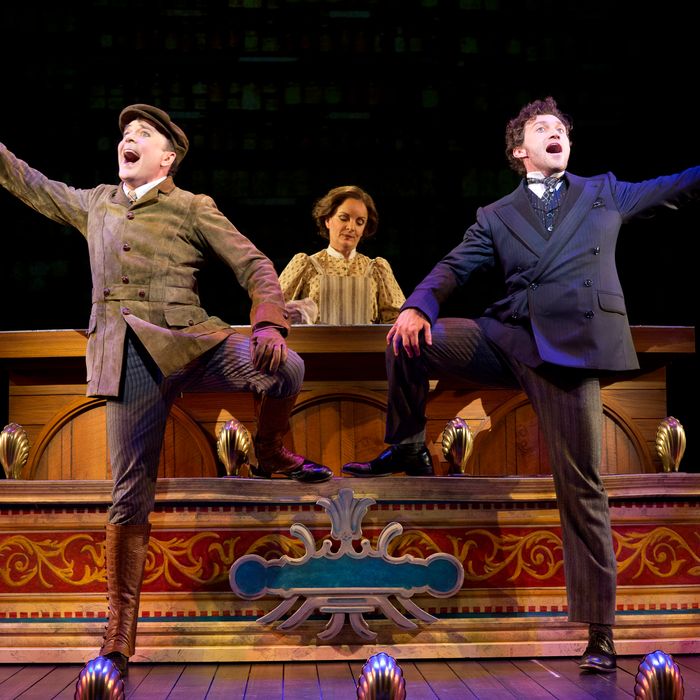 A Gentleman's Guide to Love and Murder is the front-runner.
Photo: Joan Marcus
By 6 p.m. tonight, the 800-some Tony voters who want to be counted must get their ballots to the accountants' office. I'll have just made the deadline with mine; even though most of the 26 categories presented no difficulties, a few turned out to be impossible. Well, not impossible; the whole point and stupidity of arts awards is that they force you to make choices among incomparable achievements, among nominees winnowed by incomprehensible methods. Thus the so-called snubs and thefts, which are actually not crimes at all, or not conscious ones. The nominations are a snapshot of various individual tastes as rendered, with insufficient granularity, by the distorting lens of the rules.
"Individual taste" is, I suppose, the problem; damn us for having it! You like Beautiful: The Carole King Musical for Best Musical, whereas I know you are wrong. Nevertheless, here's how I think the main awards will pan out — sorry, tech categories, you were all marvelous — and how (given the choices available) I wish they would. Oddly, despite all the algorithms and ineptitudes, the two are often the same.
MUSICAL
WILL WIN: A Gentleman's Guide to Love and Murder
SHOULD WIN: After Midnight
I don't care if it's a revue or a singspiel or a nightclub act, After Midnight is by far the most joyful musical that opened this year. But if the ambitious Bridges of Madison County (or even If/Then) had grabbed a fifth spot, as it should have, I might have missed the voting deadline while dithering.
MUSICAL REVIVAL
WILL WIN: Hedwig and the Angry Inch
SHOULD WIN: Violet
Both have returned from the wilderness in fine productions. But Violet is at a noncommercial theater. Hedwig so isn't.
LEADING ACTOR IN A MUSICAL
WILL WIN: Neil Patrick Harris
SHOULD WIN:  Neil Patrick Harris
Harris wins for the phenomenon of America's Most Relatable Homosexual doing this part. Your mileage may differ. I'll use "snubbed" just this once: Stephen Pasquale, in Bridges, should have been nominated.
LEADING ACTRESS IN A MUSICAL
WILL WIN: Jessie Mueller
SHOULD WIN: Kelli O'Hara
Mueller's terrific, redeeming one of the worst-written musical books in ages. Still, Kelli O'Hara in Bridges is doing (well, did) something transcendent. Listen to the CD.
FEATURED ACTOR IN A MUSICAL
WILL WIN: James Monroe Iglehart
SHOULD WIN: Joshua Henry
As Aladdin's genie, Iglehart might as well have worn a sign saying TONY BAIT. But Joshua Henry, in Violet, brings down the house without pandering.
FEATURED ACTRESS IN A MUSICAL
WILL WIN: Lena Hall
SHOULD WIN: Adriane Lenox
New Tony rule: Actors wearing genital prostheses win prizes. Lenox, in After Midnight, merely embodies a lost world in two bluesy songs.
DIRECTION OF A MUSICAL
WILL WIN: Michael Mayer
SHOULD WIN: Michael Mayer
The right level of overblown is perhaps the most difficult quality to stick. Mayer did it with Hedwig.
CHOREOGRAPHY
WILL WIN: Warren Carlyle
SHOULD WIN: Warren Carlyle
The sublime dancing in After Midnight blows everything else (including the surprising nod to Rocky for its fights) out of the ring.
SCORE
WILL WIN: Jason Robert Brown
SHOULD WIN: Jason Robert Brown
A mighty big consolation prize for Bridges, but deserved. (Brown will get the nod for orchestrations, too.)
BOOK OF A MUSICAL
WILL WIN: Robert L. Freedman
SHOULD WIN: Robert L. Freedman
Gentleman's Guide is clever enough in a very weak category. Woody Allen's nomination for Bullshit Over Broadway is insane.
____________________

PLAY
WILL WIN: All the Way
SHOULD WIN: All the Way
The whole category is B-minus at best. The Ridiculous Joneses — sorry, The Realistic Joneses — should have been nominated instead of Act One, which was a mess. Casa Valentina and Mothers and Sons split the gay vote, which doesn't exist.
REVIVAL OF A PLAY
WILL WIN: Twelfth Night
SHOULD WIN: Twelfth Night
The category, which also includes The Glass Menagerie, A Raisin in the Sun, and The Cripple of Inishmaan, could easily have been doubled with other excellent options: The Winslow Boy, Machinal, Waiting for Godot, et al.
LEADING ACTOR IN A PLAY
WILL WIN: Bryan Cranston
SHOULD WIN: Bryan Cranston
No one wants to hear Mark Rylance, the only credible opposition, read another crazy poem. Radcliffe, Washington, McKellan, Stewart, Quinto: all skunked.
LEADING ACTRESS IN A PLAY
WILL WIN: Audra McDonald
SHOULD WIN: Audra McDonald
Any other year Cherry Jones or Tyne Daly would win and deserve it. But McDonald, whatever you think of the "play" she's in, is doing something once-in-a-lifetime.
FEATURED ACTOR IN A PLAY
WILL WIN: Reed Birney
SHOULD WIN: Reed Birney
The three (!) Twelfth Night guys cancel out. Menagerie's Brian J. Smith was great in the unflashiest way imaginable. Birney wore a dress; 'nuff said.
FEATURED ACTRESS IN A PLAY
WILL WIN: Celia Keenan-Bolger
SHOULD WIN: Celia Keenan-Bolger
Another beautiful performance in Menagerie, but this one gets recognized because the role itself is famous in a category otherwise filled with relative unknowns.
DIRECTION OF A PLAY
WILL WIN: Tim Carroll
SHOULD WIN: John Tiffany
It's perhaps telling that all the nominees directed revivals. Tiffany's Menagerie had passionate defenders and critics. Carroll's Twelfth Night comes up the middle for the win. You could do worse.