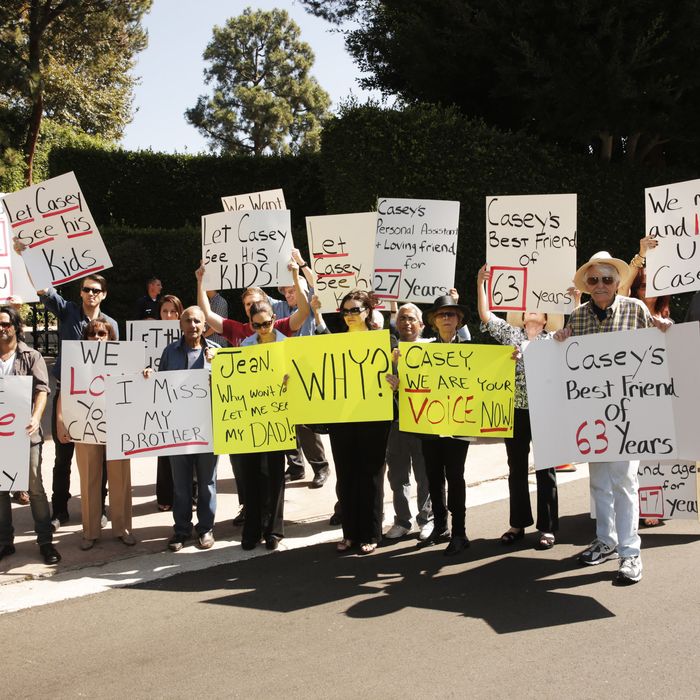 Photo: Todd Williamson/Invision/AP
In the wake of Casey Kasem's temporary disappearance from an L.A. hospital in mid-May, an ugly family feud surrounding the famous former radio-host has spilled out into the open. The 82-year-old Kasem, who has a form of the degenerative disease called Lewy Body Dementia, which leaves him unable to speak or move on his own, is at the center of a bitter battle between his wife, Jean, and his three kids from a former marriage. The children, Mike, Kerri, and Julie, allege that Jean (who most memorably starred as Loretta Tortelli on Cheers) has forbidden them from visiting their ailing father, and a battle over visitation privileges and the right to determine his medical care has raged in the courts over the past few months. Here's what we know about the saga so far:
October 1, 2013
1. The family conflict first becomes public when it is revealed that Kasem's children have not been allowed to see their father in months. Members of Casey Kasem's family, along with friends and former co-workers, stage a protest outside his house, holding up signs that read "We miss you, Casey" and "Let Casey see his kids."
2. In response, Jean Kasem allegedly calls the police and asks them to keep the protestors back.
3. "My dad is very sick, and we have been completely shut off from him for the last three months," Kerri Kasem tells the Daily News. "There is no money issue here, we just want to see our dad. We love him, and everyone knows his kids and grandkids are a source of joy for him."
4. Casey Kasem is said to have a net worth of approximately $80 million, which the kids maintain is not a factor in the dispute.

October 7, 2013
5. Casey's middle daughter, Julie, files a petition for conservatorship over her father, arguing that while he had signed a document in 2007 that put Julie and her husband in charge of his medical care, Jean Kasem has failed to keep them updated about his condition.
6. In response, Jean Kasem argues that Casey Kasem gave her power of attorney in 2011, invalidating Julie's 2007 conservatorship.
7. She calls the protest and lawsuit a "sham" and "a living nightmare," writing, "it is my sincere hope that Casey's physical surroundings coupled with the attentiveness of the medical providers and the love of his own home and wife and child are comforting to him."

Mid-November 2013
8. Jean and her lawyer file another written statement in court.
9. It alleges that "Casey's children had "single-handedly and irreparably shattered the lives of their father, his wife and youngest daughter …"
10. And that "… They are doing so with a professionally orchestrated media and legal campaign that has disgraced their father and vilified their stepmother …"
11. And that "… These children falsely claim that their stepmother is wicked and is keeping her husband prisoner in his home behind closed doors and that they no longer have access to him through no fault of their own …"
12. And that "… For reasons they know all too well, their presence at this stage would be toxic and extremely distressing for Casey, Jean and their daughter, Liberty, who have had enough of their cruelty."

November 19, 2013
13. The court upholds Jean Kasem's conservatorship over her husband, but mandates she work out a visitation agreement with his kids.

Early December 2013
14. Hilda Loza, a former maid and caretaker, wins $10,000 in a suit against Jean Kasem.
15. She accused Jean of abusive behavior, including falsely charging Loza with stealing items such as toilet paper and silverware.

December 18, 2013
16. Kerri and her brother Mike share their story on Piers Morgan's show. Morgan calls the situation "utterly horrendous."
17. Mike says that in a recent five-minute encounter with his dad, he had hurried to say all he needed to say, "in case that was the last time I'd ever see him."
18. Kerri talks about her new charity organization, Kasem Cares, which fights for the legal rights of adult children with ailing parents.

Mid-December 2013
19. In court a few days later, Casey's children Julie and Mike sign an agreement with Jean allowing them visitation rights.
20. Mike tells reporters that his father was in the hospital and that all the children had recently visited. "The deal that Julie and I signed, I don't think it would honor our father's wishes," Mike told THR. "But there comes a point when you have to decide how far you want to go. We felt things weren't going to get better."
21. Kerri Kasem, meanwhile, refuses to sign. "I'm not afraid of her; they are," she said, referring to Jean and her siblings. "This visitation agreement not only treats us like criminals, it treats my dad like an inmate. It's about money for her. It's about love for us."
February 2014
22. Inspired by Kasem Cares, California assemblyman Mike Gatto introduces legislation that would "provide reasonable accommodations for adult children who want to visit their parents."
23. In May, the bill passes a vote in the assembly.

May 6, 2014
24. Casey Kasem's children visit him at an L.A. hospital just before he goes missing.
25. "We had a wonderful visit with him Tuesday at Berkley East Convalescent Hospital — he was thriving there — and she yanked him out of there after hours," Julie Kasem tells THR.
26. "No one was allowed to visit. Jean visited [Casey] once in a while on the weekend," claims ex-wife Linda Myers Naylor in THR. "The kids got to see their dad [on May 6]; he mouthed, 'I love you.' Then his wife [Jean] went in that night, dumped him into a car and took him away. He had an IV plus a stomach feeding tube."
May 12, 2014
27. A judge orders an investigation into Casey Kasem's whereabouts when it is discovered that he has been removed from L.A. without the knowledge of his children.
28. Jean Kasem's lawyer says that he is "no longer in the United States" and "I have no idea where he is."
29. Meanwhile, his children speculate that he is on an Indian reservation in the state of Washington.
30. The judge appoints Kerri as her father's temporary caretaker.

May 14, 2014
31. Kerri Kasem files a missing-persons report.
32. Meanwhile, news breaks that Casey Kasem has been found at the home of some old friends in Washington. "We are grateful to the local authorities for finding my dad," says Kerri Kasem in a statement. "We are one step closer to bringing him home."
33. Authorities in Washington say that Casey Kasem was on vacation and not in danger when they found him. "We know he has an affliction, but he was alert, upright, dressed, groomed and cognizant of what was going on," says Deputy Scott Wilson. "We see a lot of at-risk adults and children. This wasn't anywhere close to being suspicious."
May 23, 2014
34. An L.A. court grants Kerri Kasem an expanded ability to make decisions about her father's medical care.
35. Jean Kasem's powers to do so are temporarily suspended.

May 30, 2014
36. At a hearing in Washington, Kerri testifies that her father had developed bed sores and infections during his time in Washington. The judge grants Kerri regular visitation privileges and the right to have a doctor examine her father.
37. After the hearing, Jean holds an impromptu press conference in which she plays audio of Casey moaning, claiming that he was upset about the court ruling. "He's crying, he's a man of very few tears," said Jean, claiming the courts were trying to "rip him away from his family."
June 1, 2014
38. Jean Kasem and Kerri Kasem get involved in a dispute after Kerri arrives with an ambulance to take her father to the hospital.
39. The fight involves Jean pelting her stepdaughter with a chunk of raw hamburger meat. Jean tells NBC News, "In the name of King David, I threw a piece of raw meat into the street in exchange for my husband to the wild rabid dogs." Casey is transported to the hospital. Later Jean says, "If you need to know why I did it — when a person is about to pass away, there are always rabid dogs."
June 2, 2014
40. Kitsap County Superior Court judge Jennifer Forbes says that if doctors approve, Casey Kasem can return to Washington with Jean.