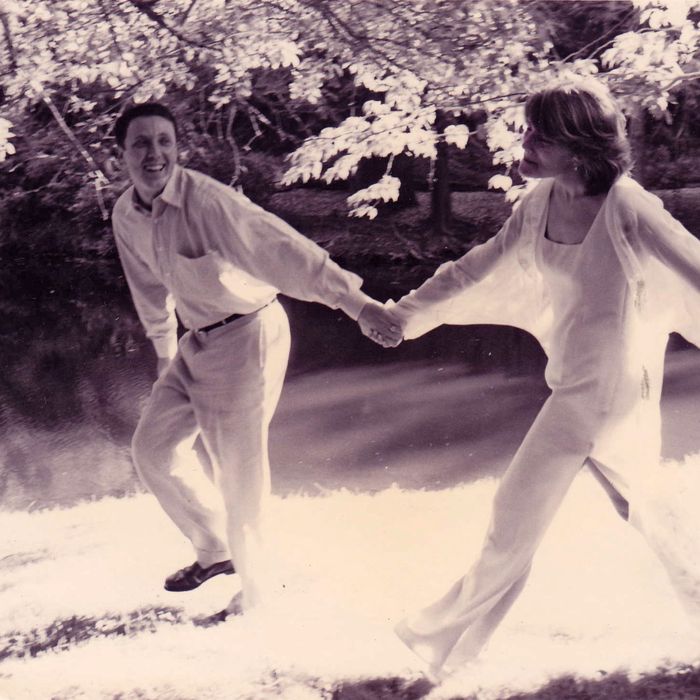 112 Weddings, which airs tonight on HBO, is such a good idea for a documentary that I'm stunned it hasn't been done many, many times before. Filmmaker Doug Block, who also made the excellent 51 Birch Street, has a side gig (all right, why kid ourselves: a rent-paying job) shooting and editing wedding videos. One day he decided to check in with some of his former clients and see how their marriages turned out. As the clickbait web sites say, the answers will surprise you. Then again, maybe they won't. Every marriage is unique, and in America, at least, nearly half end in divorce.
Despite the film's title, Block doesn't interview all 112 couples whose weddings he's covered — just a few of them. There are heterosexual couples and same-sex couples. Some followed up their ceremonies and receptions with long and/or happy marriages. Others basically peaked with the exchange of rings and got divorced a while later. Still others put on happy faces for Block's camera but seem to be hiding something, or tiptoeing around something. "It's the easiest day to make happy!" says a rabbi who officiated at a number of weddings chronicled by Block. "You've just thrown a ton of money and liquor into it, I mean, c'mon! A wedding is easy to make happy; a marriage is hard to make happy."
For every pair like  No. 71, Rachel and Paul, who say they're delighted with how things turned out and reflexively complete each other's sentences, there are couples who seem profoundly dissatisfied with each other, or with marriage generally, or who never really got to be couples because their attention has been poured into crises of other kinds, often involving children. One couple has a special-needs daughter, another couple a daughter with leukemia. You sense the unconditional love and devotion in their voices as they talk about the burdens they carry. But you also sense how exhausted and resentful they are, and how guilty they probably feel for feeling anything negative about the kids or each other. Among the most disquieting check-ins is with screenwriter David Bromberg, who recalls how his wife wrecked their marriage with her antidepressant addiction and volatile behavior, then mock-realizes, "Oh, wait, that was me!" It's a hilarious moment, but it also confirms why, perhaps, his ex-wife decided to let him fly solo in his interview.
Block seems to direct or produce mainly documentaries on intimate, earthbound topics. His films are not particularly edgy or hard-hitting or probing and show no indication of wanting to be any of those things. He has a light touch, and his camera's gaze is warm and kind. This movie is knowing, and sometimes ruefully ironic, without ever seeming smug. It seems to wish that every person who passes in front of its lens could be happy and is sorry that some of them aren't.