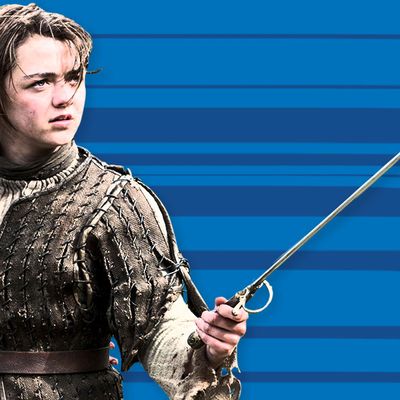 All this week, we're presenting our Vulture TV Awards, honoring the best in television from the past year. Vulture contributor Julie Klausner kicked things off with an epic opening monologue, and now we're dishing out the virtual hardware. Vulture writers have already honored Amy Schumer, H. Jon Benjamin, and The Fosters. Best Child Actor is up next, and we took this one to our first industry expert: casting director Allison Jones, whose impressive resume includes Freaks and Geeks, Arrested Development, and Parks and Recreation. Via a short phone interview with Vulture writer Jennifer Vineyard, Jones explains what sets Maisie Williams apart from her peers.
Note: This article has been updated to include a quote originally excised from the interview.*
TV Week Award Winners
Winner: Maisie Williams (Game of Thrones)
There are three outstanding kids on Game of Thrones, and I would have to say Maisie Williams is the most amazing. So are Sophie Turner (Sansa Stark) and Art Parkinson (Rickon Stark), but Art hasn't been on this season, and Sophie might not even be considered a child anymore at 18. But Maisie Williams, I have to say … Maisie Williams is really good. It sounds trite, but I think she's viciously talented. She's very natural and very watchable. Her character is vicious and could be considered very aggressive, and there aren't many young actresses who could play that role, Arya Stark. I don't know if that was her first role or not, I have no idea [Editor's note: Arya is indeed Williams' first role.], but she has so much integrity and so much dignity as that character. She's not bratty at all — and sadly, too many child performances could be considered bratty, or too precocious. But she's not precocious, she's just good. [During auditions,] she probably had a gravitas about her, and an intelligence that had to be with that character. She must have been only about 9 when she started [Editor's note: Williams was 13 when filming on Game of Thrones began.], but she had a real royal quality about her when the show began, so I'm sure they were jumping up and down when she came in the room. I can't imagine she was anything else but mind-blowing when she came in, because day one, from the first line that came out of her mouth, she was so strong. Oh God, she's impressive.
Honorable mentions: 
Hadley Delany and Ursula Parker (Louie)
I also think the two girls from Louie are outstanding, especially the younger one. That doesn't take anything away from the older girl, but Ursula Parker is only 10 or something. They're just incredibly natural, and even though that's the style of that show, kids can really screw that tone up. But those kids are unbelievably natural, and sympathetic, and able to be real. Very, very real. He kids around with them, and their reactions are so real. Like, they adore him, and they're wise beyond their years a little bit. Together, they're such real kids. They're not scene-stealer kids — they're just very present and very natural.
Troy Gentile (The Goldbergs)
It's just very tough to find natural kids. I work in L.A. mostly, and in L.A., they're coached and they're commercial, they're used to going out for a lot of commercials and stuff. There are still some very good kids when it comes to movies, but they tend to get overcoached by parents here. I remember for Freaks and Geeks, we [did not find] that many of the kids in L.A. They were from out of town. That helped immensely. And that acting style — to be real, to be natural — it's so tough! To look like you're not acting? It's tough for adults and kids. And I have to say, kids are all directable, but if they come in and they're just natural, it's amazing, actually. Yet it's also very tough to be a kid like Troy Gentile on The Goldbergs, who is an unbelievably funny kid. [Editor's note: The boyish Gentile is, in fact, a stealthy 20 years of age. Color us surprised.] He has the instincts of an old comic. And he's also amazing because he's not precious [or] bratty. He has such good comedy instincts. He's genuinely funny. Many kids are fake funny. Troy makes me laugh out loud, and not many kids do that.
* To appease the many insatiable Kiernan Shipka fans who have descended upon the comments section, we present to you a quote from Jones about the impressive 14-year-old Mad Men actress that we culled from the original interview due to editorial reasons:
Jones: Kiernan Shipka is also very good and very natural. You have to give the material some credit, because the show is so good, but she has an intelligence about her.